Aug 27, 2021
This week on Episode 520 of Priority One: the week belonged to Gene Roddenberry in celebration of his 100th birthday, the Star Trek Online community gets stirred up by some recent changes, and we look On Screen to Season 2 Episode 3 of Lower Decks!
TREK IT OUT
Edited by Thomas Reynolds
One Hundred Years Of Gene
By Elio Lleo
This week, the Star Trek community celebrated what would have been Gene Roddenberry's 100th birthday. If you've been following the Roddenberry social channels, you will have seen daily quotes from celebrities, writers, influencers, and more–each reading a different quote from Gene Roddenberry. We also reported on the development of a full digital archive of his works. This week, it's been announced that a biopic is in the works with Adam Mazer penning the script. Also at the helm of the film's development are Rod Roddenberry and Trevor Roth.
Image: Roddenberry Entertainment, via Deadline.
While we're on the topic of celebrating Gene's centennial, be sure to catch Rod Roddenberry on an interview with Fox11 Los Angeles. During the interview, Rod explains the point of the "ThinkTREK" initiative that has been going throughout the summer along with some personal anecdotes about his father.
And if that wasn't enough, even NASA got in on the celebration by hosting a conversation with scientists, engineers, and special guest George Takei, moderated by Rod Roddenberry. They even sent one of Gene's quotes into space by beaming the recording out towards the final frontier via their Deep Space Network. The panel is a little over 40 minutes long and spotlights the importance of infinite diversity in infinite combinations for the betterment of human-kind.
Vintages Of Future Past
By Cat Hough
If there's one thing we all enjoy around here, it's drinks [drink!–Ed.]. So when Star Trek Wines announced the addition of Andorian and Cardassian wines to its now six-bottle lineup, we could not be more excited to try them...unless the Cardassian one tastes like hot fish juice.
Please drink responsibly.
Ushaan
ing everyone in sight is not "responsibly." Image: Star Trek Wines.
Even if you're just a collector of really cool bottles, the Andorian Chardonnay is a lovely shade of blue and comes in a bottom-heavy clear bottle that is also festooned with a United Federation of Planets metal medallion. The Cardassian kanar bottle has a bit more pizazz [certainly one way to put it–Ed.]. Star Trek Wines states "the team conducted a rigorous multi-year search for an original Cardassian Kanar bottle, a unique, serpent-shaped vessel, originally utilized in the 1950s through the 1970s in Europe." They then rendered those bottles in 3D for accuracy, resulting in one of the "most fascinating bottles in the Galaxy."
Of course Cardassians would make a bottle you feel uncomfortable just looking at. Image: Star Trek Wines
As for the wine itself, the Andorian Chardonnay, priced at $50, is listed as premium Chardonnay from the Santa Lucia Highlands "aged 12 months prior to bottling" and has "delicious notes of citrus, peach and apricots." The Cardassian Kanar Red Wine Blend, priced at $60, is described as a mix of Cabernet Sauvignon, Merlot, Petite Sirah, and Petite Verdot. They say these combine into "a dark, rich wine with notes of ripe blackberries and juicy blueberries, velvety tannins, and a long, delightful finish."
Both of these new wines are available for presale at StarTrekWines.com and expect to ship sometime in November. Or, if you want to buy the whole six-bottle collection–what they call "The Full Armada," it's currently available for $299.
Logic And Honor: Collect The Whole Set!
By Rosco McQueen
The team from Topps and Mego toys, known for their scale figures have teamed up in the most logical way as part of their ongoing collaboration, with the release of the new Mr Spock 8 inch action figure. Spock is outfitted in his screen accurate Starfleet Command uniform and accessories as seen in 1979's Star Trek: The Motion Picture. The figure comes complete with phaser pistol, tricorder and an emotionless, logical facial expression (Vulcan nerve pinch not included.)
The 90-100 day shipping lead time is almost as long as the
spacedock scene
. Image: TOPPS.
But if your display shelf is looking a little too Federation vanilla, time to spice up the Breget lung with some grapok sauce! The legendary Dahar Master himself, Kor, son of Rynar can now be added to your collection, in 8 inch figure form. Also in a screen accurate uniform and accessories, the Kor figure is as seen in the 1967 episode of Star Trek, "Errand of Mercy". Both are individually available for $19.99 US.
Lamé is a good way to die. Image: TOPPS.
Quick News Roundup
Here are a few headlines that we didn't discuss but might interest you.
Via her Twitter account on August 23rd, Michelle Paradise announces that S4 of Discovery has wrapped!
George Takei will lend his vocals to a Star Wars project in Visions. He had previously voiced Separatist General Lok Durd in The Clone Wars. Takei joins an already impressive English-speaking voice cast, which includes David Harbour, Karen Fukuhara–and Boba Fett himself, Temuera Morrison.
STAR TREK GAMING NEWS
Edited by Thomas Reynolds
Mars, The Slip'N Slider Of War
By Cat Hough
The Infinity Lock Box returns and contains an all-new Tier 6 Starship, the Mars Pilot Escort [T6]. This ship features a 5/2 weapon layout and, since it is a Pilot Escort, a Commander Tactical/Pilot Specialist Bridge Officer seat, and a Lieutenant Universal/Intel Specialist Bridge Officer seat.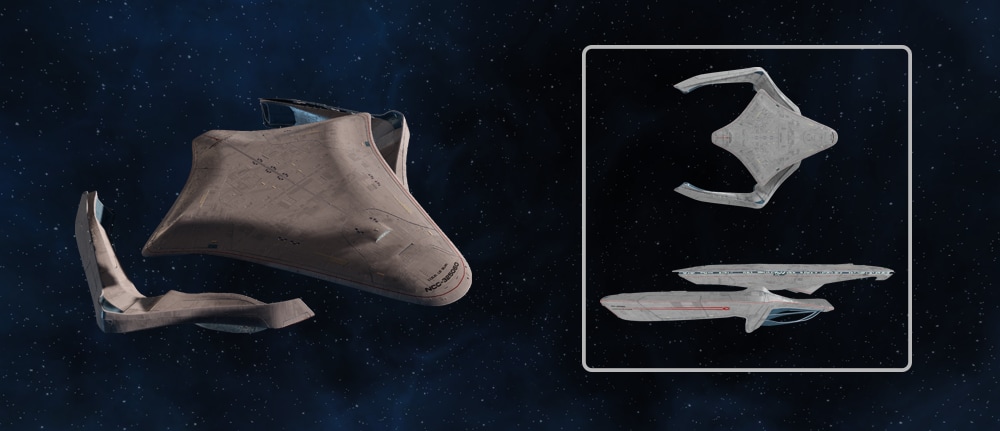 The U.S.S.
Le Guin
, NCC-325060. Image: Cryptic Studios.
It also comes equipped with a Universal Subspace Cavitation Matrix Console, which creates a subspace shockwave in normal space that will damage foes out to 5km from the impact point. This console also provides a passive bonus to Current and Maximum Engine Subsystem Power, as well as an increase to all weapon damage to foes within 5km. This ship also introduces a new Experimental Weapon, the Subspace Pocket Projector, capable of forming localized distortions in subspace that are then propelled toward a nearby foe. This distorts hull and shields, and slows their ship's ability to maneuver in normal space.

Getting
a piece of the action
: three pieces, to be precise. Image: Cryptic Studios.
Finally, leveling your Mars Pilot Escort will unlock the Improved Lock Trajectory Space Trait. While this trait is slotted, the recharge time of Lock Trajectory is reduced to zero, allowing the ability to be immediately re-engaged after it is turned off. [If they're not attached, does it matter which way it's pointing?–Ed.] Plus, you will be able to gain a reduction to the recharge times on Pilot Abilities, Cannon: Rapid Fire, and Cannon: Scatter Volley, whenever you deal Energy Weapon damage to a foe that is within your forward 90' firing arc (max once per 5 sec).
Dilithium Sinks Keep (Re)Rolling Along
By Rosco McQueen
In an effort from Cryptic to provide players with options for their stockpiles of dilithium, a new permanent way to spend dilithium has been added to the game. STO Staff Systems Director Jeremy "BorticusCryptic" Randall explained that starting on August 24, Personal Endeavor Reroll Tokens and Admiralty Assignment Pass Tokens are purchasable for 2,500 Dilithium apiece. This change will appear on console platforms on September 8.

One simple button couldn't be
too
controversial, right? Image: Cryptic Studios.
Previously players could earn the tokens through the respective systems as random rewards. That method has now been disabled. The hope is to balance the game's Zen exchange to a more sustainable level.