Aug 20, 2021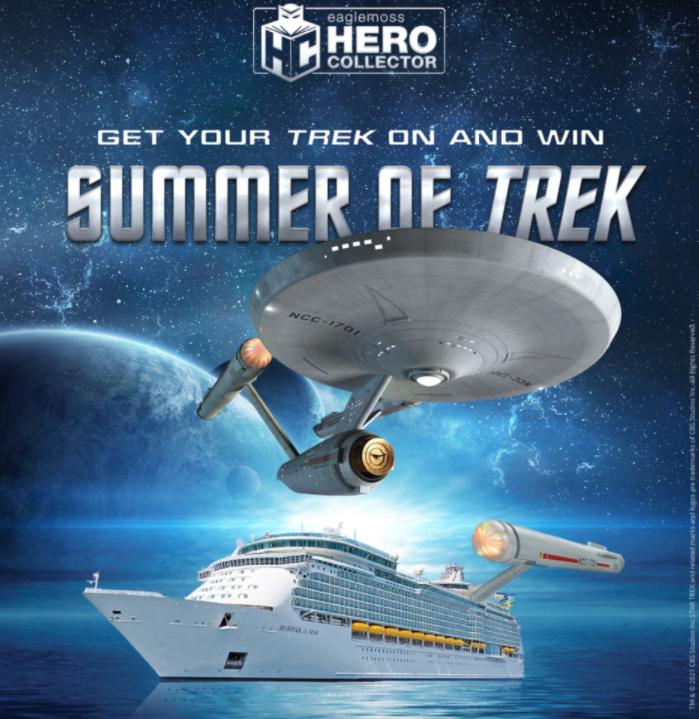 This episode of Priority One is brought to you by Eaglemoss Hero Collector's annual SUMMER OF TREK Sweepstakes. Score the year's best deals on the world's widest range of Star Trek collectibles and enter for a chance to win one of more than 250 incredible prizes – including the Grand Prize of an Ocean View Voyage for 2 aboard the SOLD OUT Star Trek: The Cruise V. For details and to enter, go to www.GetYourTrekOn.com
This week on Episode 519 of Priority One: Kurtzman and Trek, Gene Roddenberry's archive goes into an NFT digital world, and plenty of new Star Trek related products to add to your wishlist. In Gaming: rock out with your targ out when Mary Chieffo goes metal for Star Trek Online, and Modiphius has new goodies to add to your tabletop Star Trek Adventures!
TREK IT OUT
Edited by Thomas Reynolds
Kurtzman's Next 5-Year Mission
By Elio Lleo
Since we've been gone, quite a lot has happened. Although we'd love to cover it all, we'll have to narrow it down to the news that we think matters most—starting Alex Kurtzman's new 5-year/$160 million contract with Paramount+ to develop not only Star Trek, but other projects as well. The New York Times's Nicole Sperling published an article on August 1, 2021, featuring interviews with Kurtzman and other major players involved.
The article explores Kurtzman's past, present, and future projects for the studio and the hopes he has for the franchise. Something particularly interesting though, was the announcement that a "Starfleet Academy" series is in the works which "will be aimed at a younger audience." Also, according to Sperling:
Mr. Kurtzman, who wants to get much weirder with the franchise… points to a pitch from Graham Wagner (Portlandia, Silicon Valley), centered on the character Worf, that he calls "incredibly funny, poignant and touching. If it were up to me only, I would be pushing the boundaries much further than I think most people would want," he said. "I think we might get there. Marvel has actually proven that you can. But you have to build a certain foundation in order to get there and we're still building our foundation."
Becoming Props of Pure Energy
By Cat Hough
Announced at Las Vegas, Gene Roddenberry's personal archives are being comprehensively digitized on an unprecedented scale, with plans to do some fancy sci-fi things with the material. The joint effort between the Roddenberry estate, OTOY, and Light Field Lab, hopes to preserve thousands of photos, documents, and physical assets like starship models in extreme digital detail, preserving it for future study and recreation.
The Roddenberry Archives will use OTOY's blockchain-based computer rendering network to extensively digitize the Roddenberry estate's collection from the producer's work on the Star Trek franchise. Long time Trek writers Denise and Michael Okuda, artist Mike "Beeple" Winklemann, and comics legend Alex Ross are also contributing to the project.
Beyond the historical importance of maintaining the extensive archives, OTOY intends to leverage the assets for fan experiences. The company will work with display startup Light Field Lab to recreate a 1:1 scale holographic replica of the U.S.S. Enterprise as seen in the original series. It claims to be able to use the original models seen in filming the series to create a projected replica "indistinguishable from reality" for "one of the world's first fully immersive holographic installation experiences."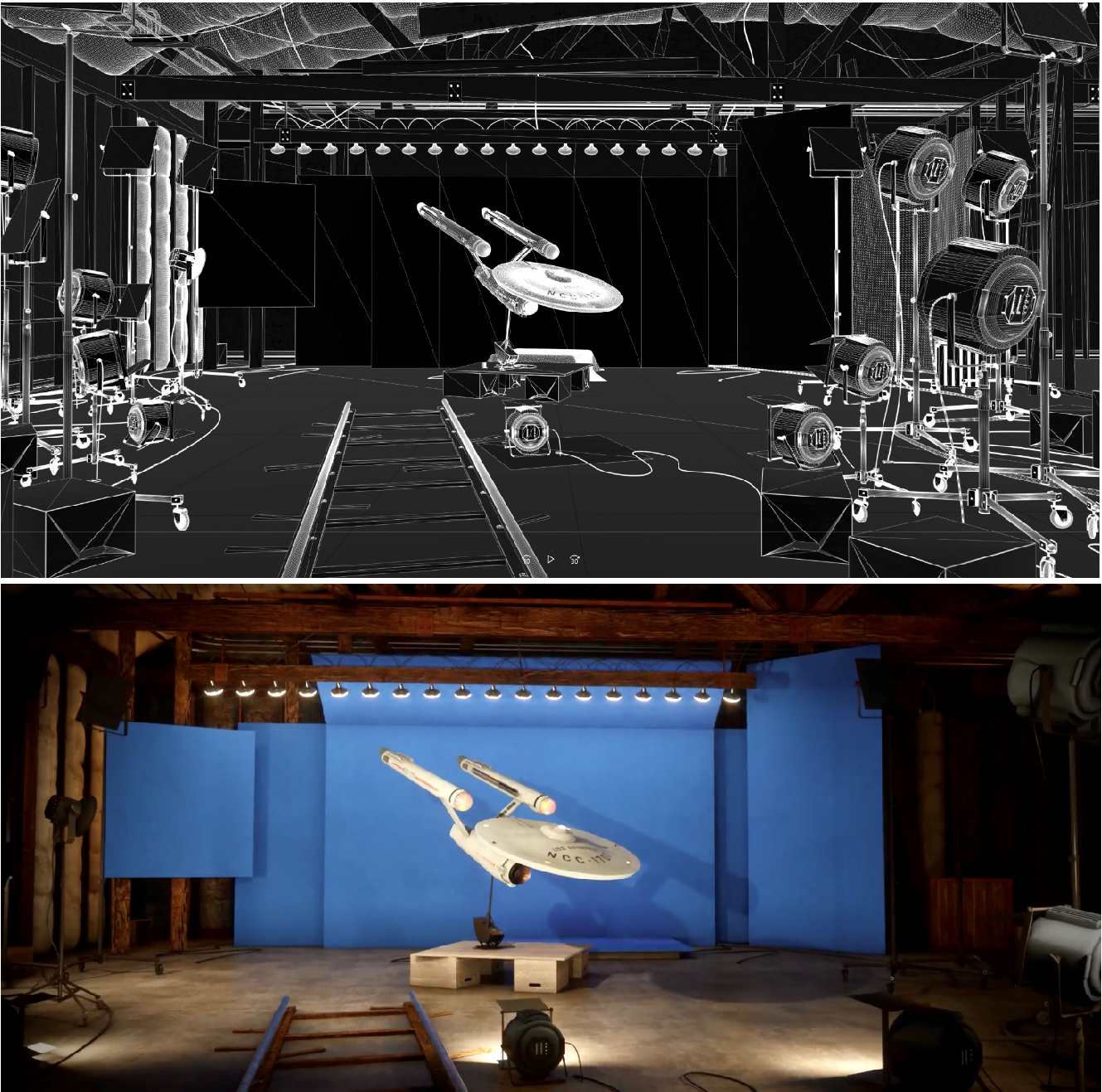 What is this, a starship for ants??? Image: OTOY.
Rod Roddenberry had this to say: "I cannot think of a more capable and innovative company to trust with these materials. OTOY's work will allow generations to experience my father's contribution to humanity with the greatest historical accuracy possible. This project will protect an optimistic vision of the future that has inspired so many and remains so important today."
Play(mobil)ing Into The Enemy's Hands
By Rosco McQueen
Speaking of bringing Star Trek to life, the classic Enterprise [no bloody A, B, C, or D--Ed.] is warping into your living room. Playmobil's newly-announced model starship comes complete with seven crewmembers (Kirk's two-handed punch and kung-fu grip not confirmed). The model itself is over a meter long with lights, sound, its own dedicated mounting and augmented reality app.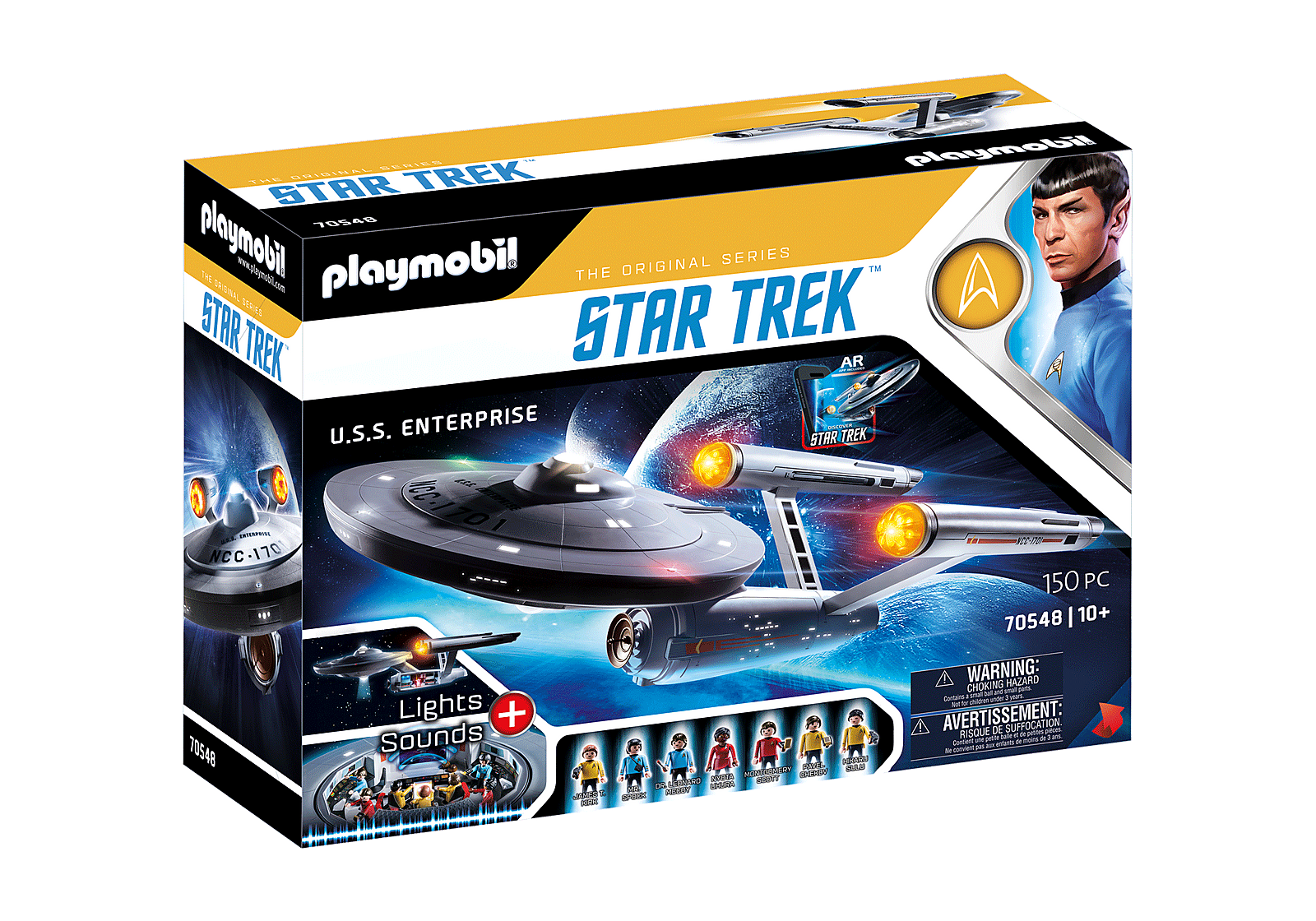 Of course
it's for my niece, that's
totally
who I'm buying it for. Image: Playmobil.
It's impressive in size and, according to the release, there are more technical details yet to be announced. I can't wait to hear more about what this toy collector's item has hidden away in the shuttle bay. But from the photos there is a lot to like, with light-up Bussard collectors and exceptional attention to detail. Plus, in a Playmobil first: Mr. Spock is the first figure in the company's history to have (Vulcan) ears!.
But if you're more into relaxing with a good book, then Titan Books has just the thing. Their latest release takes an inside look at the franchise's bad guys with Star Trek: Villains, the Federation's deadliest foes collected in one terrifying volume. The book features interviews with the actors behind the baddies such as Alice Krige (the Borg Queen), Christopher Plummer (General Chang), and Ricardo Montalbahn (KHAAAAAAAAN!) and profiles of alien foes such as the Romulans, the Gorn, the Dominion, and the Klingons. The book is available for pre-order now through Amazon in the US and Canada, and Forbidden Planet in the UK and Europe.
Boy bands in the future are going to be
wild
. Image: Titan Books, via Red Shirts Always Die.
Quick News Roundup
Here are a few headlines that we didn't discuss but might interest you.
In an interview with Entertainment Weekly about his involvement with the horror series Slasher, David Cronenberg also hinted that we may see his Star Trek: Discovery character in three episodes in Season 4.
A couple of interesting conversations were had in Las Vegas this year; although we weren't there to report on the events ourselves, be sure to visit TrekMovie.com for highlights like Rainn Wilson wanting to bring back Harry Mudd, and Kenneth Mitchell teasing a return to the franchise.
STAR TREK GAMING NEWS
Edited by Thomas Reynolds
Today Is A Good Day to ROCK
By Elio Lleo
Captains, while we were away, the most epic thing hit the internet. Something so awesome, that we feel as though we should add a faux cautionary disclaimer before talking about it: Priority One is not responsible for side-effects caused by the sheer awesomeness of the following story. The Mother of All Klingons—Mary Chieffo—joined forces with Star Trek Online and singer/songwriter Jason Charles Miller to produce a song for the ages: Steel and Flame!!
In celebration of this year's Klingon story arc in Star Trek Online, Mary Chieffo goes all out in an original heavy metal song—entirely in Klingon. In an interview with ScreenRant.com Mary spoke about collaborating with The Klingon Language institute to "come up with lyrics that fit rhythmically as well as translation-wise." This video deserves millions of views—so go! Watch it and share the targ out of it!!! 🖖🤘
Charting A New Path(finder) Forward
By Rosco McQueen
Thomas Marrone has been refreshing Star Trek Online starship models for some time now, and he has finally come full circle. On August 13 the lead artist for starship and UI teams shared some images of the refurbished model of the Pathfinder, the 25th century variant of the Intrepid class. It's a favourite of many players and the new model looks stunning. It's especially fitting for Thomas to bring the refresh to fruition, since the Pathfinder was the first starship he designed for Star Trek Online [Warning: clicking that link will make you feel incredibly old.--Ed.]
The Legendary Legacies of Romulus
By Cat Hough
While we're on the topic of ships: released to PC last week, the Legendary Romulan Warbird Bundle is now available in-game with the price of 12,000 Zen (roughly $120 USD). The bundle contains:
[T6] Legendary Scimitar Intel Dreadnought Warbird
[T6] Legendary D'deridex Miracle Worker Warbird Battlecruiser
1 Free C-store T6 Ship Coupon
2 Experimental Ship Upgrade Tokens
2 Ship Slots
3 Infinity Promo Romulan Survivor Duty Officer Packs
TOS Era Romulan Uniform
TNG Era Romulan Uniform
Reman Uniform
Reman Species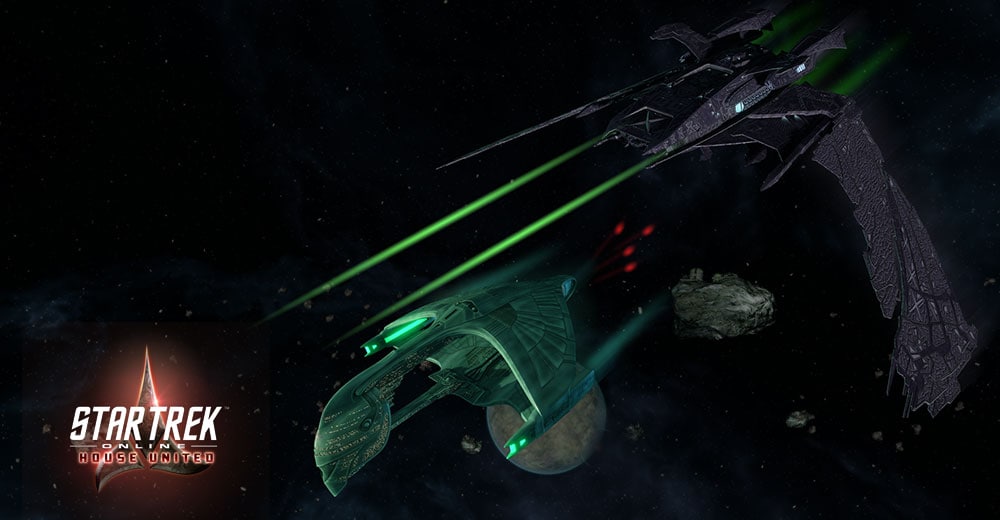 No one tell Tom Hardy. Image: Cryptic Studios.
Breaking The Boundaries Of Boxed Sets
By Elio Lleo
If you're looking to upgrade your tabletop Star Trek Adventures, well, now, you can wear it too! Modiphius' Tricorder Collector's Edition is a boxed set in the style of those old scientists' an Original Series tricorder. Inside you'll find division-themed dice, gamemaster and player guides, and a complete campaign scenario. So, if you'd love to cosplay and be ready to game at a moment's notice, be sure to visit Modiphius to find out more!
You can also use it as an improvised weapon, but I'd recommend against that. Image: Modiphius.