Apr 16, 2021
This week on Episode 504 of Priority One: We #TrekOut what Akiva Goldsman has to say about developing #StarTrek #Picard and Strange New Worlds, a sci-Fi documentary that will give you all the feels, and chairs (because, you know, lumbar support is important in the Multiverse). In gaming, Star Trek Online teases a new ship in their Infinity Lock Box, Modiphius has updates, and Scopley has patch notes for Star Trek Fleet Command.
This week's Community Questions are:
CQ: Where is your new Star Trek chair going? At your desk for commanding starships and taking down intergalactic baddies? Or in your living room facing your big screen TV where you can order the rest of your family around like the magnificent crew they are?
CQ: Are you a Star Trek Adventures player? If so, what new product excites you the most? If not, does any of these announcements pique your interest in the game?
Let us know on social media like Facebook, Twitter, or by visiting our website!
TREK IT OUT
Akiva Goldsman on Star Trek: Picard & Strange New Worlds
By Elio Lleo
Well, it's been a little over a week since First Contact Day and the virtual event held by Paramount+ that offered up so many tantalizing teases about the future of Star Trek. Fortunately, James Hibberd of The Hollywood Reporter had an opportunity to follow-up on some of those announcements with an interview featuring writer-producer Akiva Goldsman, co-showrunner on both Star Trek: Picard and Strange New Worlds.
Up first–how does Strange New Worlds compare to NuTrek, like Star Trek: Discovery and Picard? According to Goldsman, "Strange New Worlds is very much adventure-of-the-week but with serialized character arcs." But what about the visual style? Well, with respect to visual changes from what we saw on Discovery, Goldsman explained that they want "Strange New Worlds to be a different show. It's not Discovery. There are a few more reach-backs (to The Original Series) and the uniforms have been adjusted slightly, the sets are slightly different."
Image: Russ Martin/CBS, via The Hollywood Reporter.
As the interview progresses, Goldsman might have accidentally let his feelings slip when discussing lessons learned after completing Season 1 of Star Trek: Picard saying, "Figure out the end earlier. If you're going to do a serialized show, you have the whole story before you start shooting. It's more like a movie in that way — you better know the end of your third act before you start filming your first scene."
The interview goes on to discuss how Q might impact Picard (but those answers are vague) and his involvement with a Dark Tower series, and a Firestarter movie. But, this was an excellent interview that we encourage you all to read… so #TrekItOut!
The Definitive 80s Sci-Fi Documentary
By Rosco McQueen
The 1980's were a powerhouse decade for science fiction films. And that's judging it on sheer volume alone. In terms of Star Trek, we went from Wrath of Khan to the Final Frontier over the course of the decade. In between were myriad franchises, one-off films, and galactic adventures that captured imaginations of the young and old.
The team behind In Search of Tomorrow: The Definitive 80s Sci-fi Documentary aims to distill all of the mythos of 80's sci-fi into a four hour film. The project began production in 2019, and then launched a crowdfunding campaign in 2020, becoming one of the most successful Kickstarter documentary campaigns of all time.
Image: CREATORVC, via BloodyDisgusting.
The project has over 75 names included in the story, most recently adding director Ivan Reitman (Ghostbusters I & II), producer Gale Anne Hurd (The Terminator, Aliens), and actor Peter Weller. The news this week is the team is launching another crowdfunding campaign on Indiegogo to expand production efforts, add more interviews, and allow fans the opportunity to pre-order the film.
Taking A Seat From The Ready Room Table
By Rosco McQueen
Is the style of your table setting missing a final frontier flavour? Are your virtual ward room meetings missing that one essential piece of furniture to really Trek it up? Thanks to the collective efforts of Star Trek fans and artists, now you can finally track down that Trek chair you've always wanted. Yes, even Worf's uncomfortable bubble chair.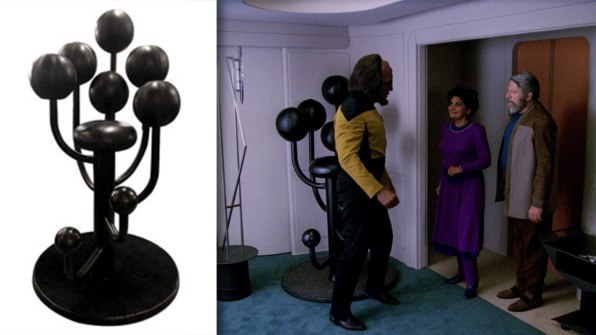 Image: CBS/Ex Astris Scientia, via Fast Company.
In an article on design website fastcompany.com, 3D artist Tadeo D'Oria from Buenos Aires explains how he went from creating purpose-built 3D models of Star Trek sets for role-playing games, to collating a database of props and sets across Trek movies and series.
"Other fans had already identified several of the chairs used through the series (mostly the original '60s show) and even created replicas. However because of my job doing essentially 3D reproductions of these chairs, having information about them was invaluable to me in order to work faster."
D'Oria has since worked on the TNG virtual set tour video game, Stage 9, which was eventually shut down by CBS. But not wanting to let the database go to waste, he collaborated with Bernd Schneider, who runs the site Ex Astris Scientia, to host the future furniture suite.
CQ: Where is your new Star Trek chair going? At your desk for commanding starships and taking down intergalactic baddies? Or in your living room facing your big screen TV where you can order the rest of your family around like the magnificent crew they are?
I'll Take "Favorite Starship Engineers" for 1,000
By Cat Hough
The search for the regular host on Jeopardy is still going through its interviewing process, currently featuring a slew of guest hosts, including Aaron Rodgers and Ken Jennings. But the field of candidates may have just gotten smaller, because now there's a petition making the rounds on Twitter in support of Levar Burton getting the job.
Earlier this week, the social media hype train started rolling with a tweet from Stephen Colbert showing his support for Burton and Star Trek in general. That was then followed by Dick Van Dyke tweeting his support and sharing the link to the petition. As of this recording, a little more than 231,000 people have signed the petition to have Burton be the next Jeopardy host.
Now here are a few headlines that we didn't discuss but might interest you.
First up, The Hollywood Reporter published an article on April 9th reviewing new dates for films planned by Paramount. According to the report, an untitled Star Trek feature film is slated to be released on June 9, 2023. No details about the film have yet to be announced… other than they have it on the calendar.
CBS and the Television Academy Partner to launch a "Star Trek Command Training" program. What does that mean? Well, graduate and undergraduate college students nationwide can apply to be a part of an 8-week, paid internship immersing you in the production process of the Star Trek Universe. Direct from StarTrek.com, "Selected interns will be actively engaged in writers' rooms, wardrobe design, on-set production, animation and post-production on Los Angeles-based programs and will earn up to $4800." Submissions for the Fall Session end April 28th at 5pm.
While we covered an interview with Akiva Goldsman a few moments ago, John de Lancie also caught up with Variety to talk about returning to the role of Q in Star Trek: Picard. Although he couldn't divulge any specifics about his role in Picard's life, the interview does explore de Lancie's life and times as Q in the Star Trek Universe. Perhaps most fascinating is how focused he is as an actor.
If you missed Saturday Night Live's April 10th show, you might have missed another Star Trek parody! In this latest Trek-themed sketch, Paramount+ is home to the new prequel series, Starcharter Andromeda–where a few fresh grads are abound with entitlement! Featuring Oscar-nominee Carey Mulligan, it's a work-place parody.
Remember captains, to learn more about these headlines, be sure to review the show notes for this episode at priorityonepodcast.com
STAR TREK GAMING NEWS
Jovian Raider added to Infinity Lock Boxes
By Rosco McQueen
The Discovery season three additions to Star Trek Online keep coming, with a new ship being added to the game's Infinity lock box. Starting April 15, captains will have a chance when opening an Infinity lock box to score a T6 Jovian Intel Heavy Raider. "Also referred to as a "Titan Raider" when it showed up in Season 3 of Star Trek Discovery, this ship was one of several led by the infamous and mysterious leader known as Wen, as it harassed the United Earth Defense Forces in a tense standoff."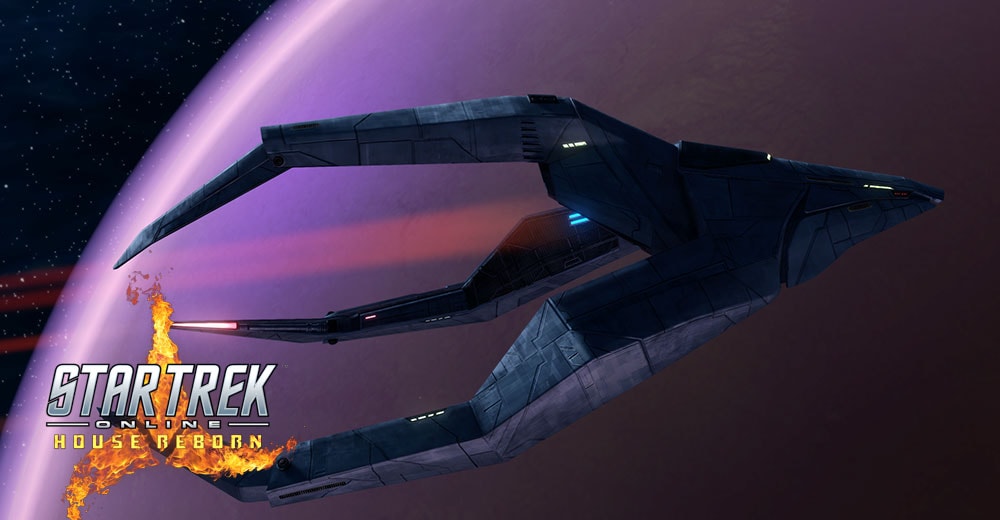 Image: Cryptic Studios.
The Raider will sport a five fore, one aft, weapon configuration, with five Tactical, three Engineering, and three Science consoles. The Bridge officer loadout looks adaptable to your build, with 1x Commander Tactical / Intelligence, 1x Ensign Universal, 1x Lieutenant Universal / Miracle Worker, and 2x Lieutenant Commander Universal stations.
The ship also comes with a universal console 'Harvester Mode" and an experimental weapon, the Threat Deterrent Charge Launcher. The weapon will trail enemy-seeking projectiles from your ship, which then deal electrical damage with an accuracy debuff.
Star Trek Fleet Command Releases Patch 29
By Cat Hough
Star Trek Fleet Command recently released its latest major update, Patch 29, which dropped a new story arc with 15 new missions. Plus, you can upgrade your fleet with a Second Research Queue, and get the all-new Franklin-A ship and choose from some other ship refits, and this patch also introduces Jaylah as a new epic officer. There were some significant game improvements and bug fixes implemented as well.
Image: Scopely.
Improvements include:
Letting the Change Resource Token Conversion sliders to max out at the amount needed for the current building.
Updates to UTC Time on the player profile.
Providing smooth camera transitions when selecting different items in the refit management window instead of a hard cut.
Viewing ship cosmetics in AR.
Bug fixes
Various localization issues have been fixed
Fixed an issue with a visual glitch when relocating in New Calgary
Fixed an issue with the HUD disappearing when returning from the player profile to the full scan screen for a station that relocated to another system
Fixed an issue within the "Skarrl" system, the sun has a disc that is vertical rather than horizontal.
Fixed the USS Franklin Impulse Speed research buff to reflect for all the docked ships.
Adventures In Project Management
By Elio Lleo
Adding to the First Contact Day celebrations, Modiphius Entertainment published a Project Manager video update highlighting the current state of the Star Trek tabletop adventure, plus upcoming expansions and items that will be available this year. For starters, the Shackleton Expanse Campaign is slated to release this summer with compatibility to play either as a Klingon or Federation character.
They're also planning to release a "TOS Tricorder Set" sometime during the third quarter of 2021. Included in the tricorder-shaped package is a pocket-sized rulebook, a 3-part campaign book, custom dice, and character sheets!
Jim Johnson, the Project Manager, goes on to answer some community questions–so, if you're a fan of these table-top adventures and want to learn more, be sure to watch the entire video.
CQ: Are you a Star Trek Adventures player? If so, what new product excites you the most? If not, does any of these announcements pique your interest in the game?