Nov 21, 2020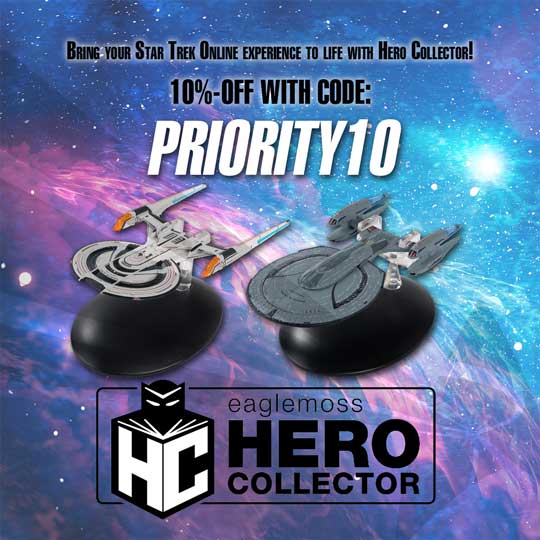 This episode of Priority One is brought to you by Eaglemoss Hero Collector and the brand new Official Star Trek Online Starship Collection. Check out all the exclusive ship models – including the U.S.S. Gagarin and the U.S.S. Chimera – at priorityonepodcast.com/ships and use code PRIORITY10 at checkout to get 10% off your purchase with FREE SHIPPING.
This week on Episode 487 of Priority One ~ We 'Trek Out' Streaming numbers, ViacomCBS BIPOC initiatives, what is "who will be the next Jeopardy host", and Brentwood. In Star Trek gaming, we talk about Star Trek Online's Tzenkethi Lobi Bundle, the dreaded Mudd bundle of also-dread, and STO's monetization model! Then we head On Screen to watch Star Trek: Discovery's newest episode - "Die Trying"
Of course, as always, before we wrap up the show, we'll open hailing frequencies for your incoming messages
Let us know on social media like Facebook, Twitter, or by visiting our website!
This Week's Community Questions are:
CQ: Do you think LeVar Burton should be the next host of Jeopardy? If so, did you sign the petition? If not, who should be?
AND
CQ: How do you feel about the selection and pricing of new STO Ships in 2020?
TREK IT OUT
by Jake Morgan
Where CBS All Access Measures Up
We love numbers! They can tell us so much about a wide variety of topics - or nothing at all. So take this exciting adventure with us, dear listeners, as we dive into the rush of alphanumerics - Streaming numbers!
This week, as they do most weeks, Business Insider ranked the top streaming shows for the week - and Star Trek: Discovery hit number 3 on that list! The ratings, provided by Parrot Analytics, placed Star Trek higher than "The Umbrella Academy" and "The Boys", but still looking up at "Stranger Things" and "The Mandalorian". Star Trek: Discovery's MetaCritic rating for the current season (93%) is also third on the list, topped by "The Boys" (97%) and the newest season of "Star Wars: The Clone Wars" (100%).
But, numbers. According to Forbes "The State Of The Streaming Wars", CBS All Access - the streaming platform that streams all-things Star Trek - has the lowest subscribers of any premium service; And they rolled Showtime subscribers into the CBS All Access tally. Netflix tops the list with 195 million subscribers, newcomer Peacock checks in with a solid 22 million, and CBS All Access? 17.9 million subscribers.
But what does all of this mean? Well, like I said in the intro - numbers can tell us so much, and at the same time so little.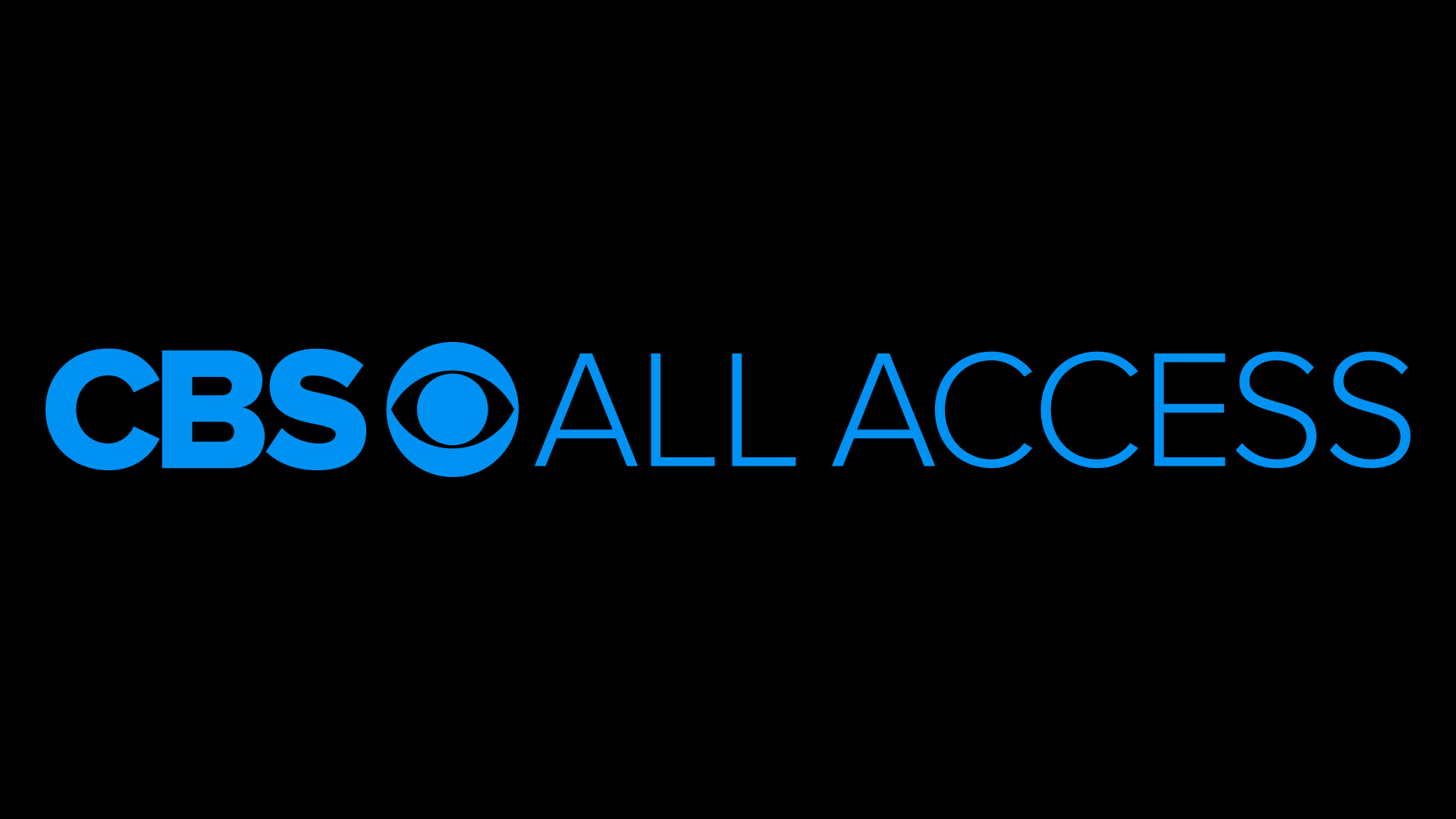 ViacomCBS' Plans For BIPOC Inclusion
If 2020 has done anything, it's given of us all crippling anxiety - but it has also raised awareness of social injustice. This week, ViacomCBS continued to institute policies that will hopefully make Star Trek's future of inclusion and equality a reality.
According to Deadline, CBS has enacted an edict that would require 50% of its reality television cast to be Black, Indigenous or People of Color - or BIPOC. Further, at least 25% of the show's development budget must be spent on BIPOC creators and producers.
Why is this important? Well, most programming for the 2020-2021 season has shifted towards reality programming due to the global pandemic, and the edict brings reality television in-line with ViacomCBS' policies regarding its scripted-brethren. Back in July, ViacomCBS announced that "The broadcaster is committing 25% of its script development budget to projects from creators, writers and producers who are Black, Indigenous and people of color. The scheme will begin with the 2021/22 development season. It is also mandating that writers' rooms for CBS shows must be staffed with a minimum of 40% BIPOC representation for the 2021/22 broadcast season. This will be increased to 50% for the 2022/23 season."
LeVar Burton - Game Show Host?
Last week, Canadian born Game Show Icon Alex Trebek passed after a battle with pancreatic cancer. The 80 year-old Trebek spent 37 seasons hosting the popular trivia game show "Jeopardy", and following his passing many were left wondering - who would replace the legendary host?
While no one could truly replace Trebek, some fans had a suggestion for the vacancy - Roots, Reading Rainbow, and Star Trek star LeVar Burton! Fan Joshua Sanders started a change.org petition for the 63 year-old Burton, saying "Between hosting 21 seasons of the educational Reading Rainbow, playing the brainiac engineer Geordi La Forge on Star Trek: the Next Generation, and filling the roll of Kunta Kinte in the ever important mini-series Roots, LeVar Burton has inspired and shaped the minds of several generations of trivia-loving nerds. This petition is to show Sony Pictures Entertainment Inc. and producers Mike Richards and Harry Friedman just how much love the public has for Burton, and how much we'd all love to see him as the next host of Jeopardy!". At the time of this writing, the petition had over 89,000 signatures, with a goal of 150,000.
On November 12th, the man of the hour - LeVar Burton - tweeted about the petition, saying "Even if nothing comes from it, I can't tell [you] much how I appreciate all y'alls love and support! Folded handsHeart suit!"
Brentwood
Sounds like everyone loves LeVar Burton, right? WRONG. Brent Spiner HATES LeVar Burton - and after all of those evites, who can blame him?
If you have no idea what I'm talking about, you're going to want to follow the link in our show notes - after you're done listening to this show of course! Spiner, and the aforementioned LeVar Burton, star in the Omeleto short film titled "Brentwood". In the short-form comedy, Spiner plays an exaggerated version of himself - think Larry David from "Curb Your Enthusiasm" - who hates his neighbors, conventions, awards shows, podcasts,and especially LeVar Burton. There's singing, dancing, shrimp, epi-pens - and content totally inappropriate for younger audiences, so keep that in mind before watching.
The twelve minute film was Directed by Sharon Everitt and written by Karen Anderson, Jeff Cosgrove and Everitt. Trek out our show notes if you want to watch the film - and trust me you want to watch the film!
Star Trek Gaming News
by Shane Hoover and Thomas Reynolds
Shell Games: the Tzenkethi Lobi Bundle
By Thomas Reynolds
Bundles, bundles, bundles: if there's anything that typifies the current player experience in STO, it's the ever-expanding number of bundles for sale. By far, the majority of bundles have been available through the C-Store. Isn't it time the Lobi store got some love? Well fear not, PC captains, because the Tzenkethi are here to help. Sort of. Hooray.
The limited-edition Tzenkethi Lobi Bundle will be locking its trajectory into the PC Lobi store from November 20th through the 30th. Captains who drop 1800 Lobi(!) and walk the Path of Spending will get these character-bound Bundle contents:
Tzenkethi Shuk-din Escort [T6]
5 Diffusive Tetryon Weapons
Console - Universal - Shared Processing Integration
Tzenkethi Vanity Shield
Tzenkethi Duty Officer Assignments
6 Ultimate Tech Upgrades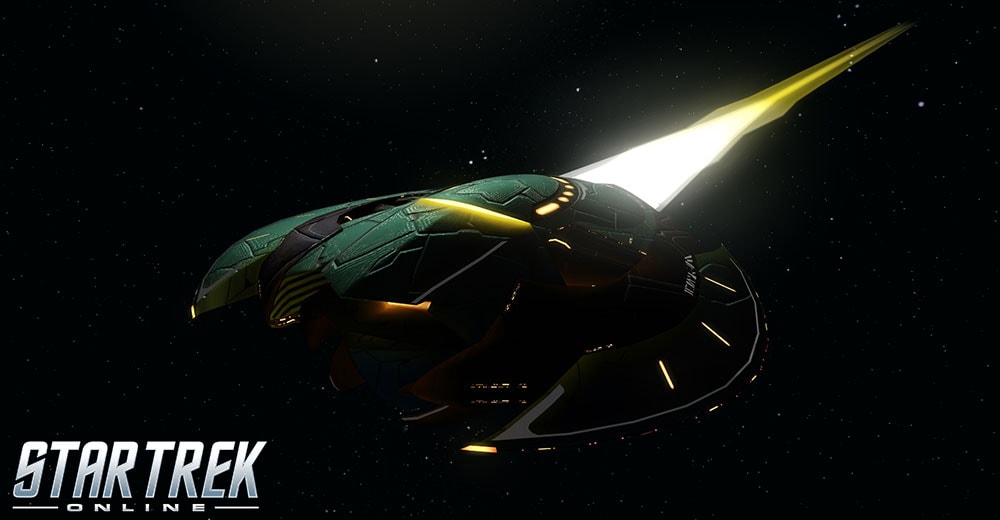 Dread of Zen. Dread of Not-Zen.
By Shane Hoover
Thief. Swindler. Con man. Liar. Rogue. Yes, Harcourt Fenton Mudd has warped into the C-Store with another of his infamous Mudd's Market Choice Packs. This week's new offering is called Mudd's Choice Pack of Dread. Since we're all getting pretty familiar with the idea of Mudd's Choice Packs by now, let's just cover the essential details quickly. From the Choice Pack, you can choose any three of the following:
Hur'q Vecrid Hive Dreadnought [T6]
Tholian Tarantula Dreadnought [T6]
Temporal Paradox Dreadnought [T6]
50 Master Keys
2 Coupons for 100% Off a T6 C-Store ship
10 Ultimate Tech Upgrades
And let's not forget, those T6 Dreadnoughts are account-wide unlocks only when purchased here. If you buy the same ship with Lobi, it's a character locked ship. First, let us state something clearly - the value proposition for this bundle looks decent in the mathematics, like pretty much all of the Legendary bundles or Mudd's packs. If these choices look good to you, and you've got the disposable cash, then you probably won't get struck with buyer's remorse.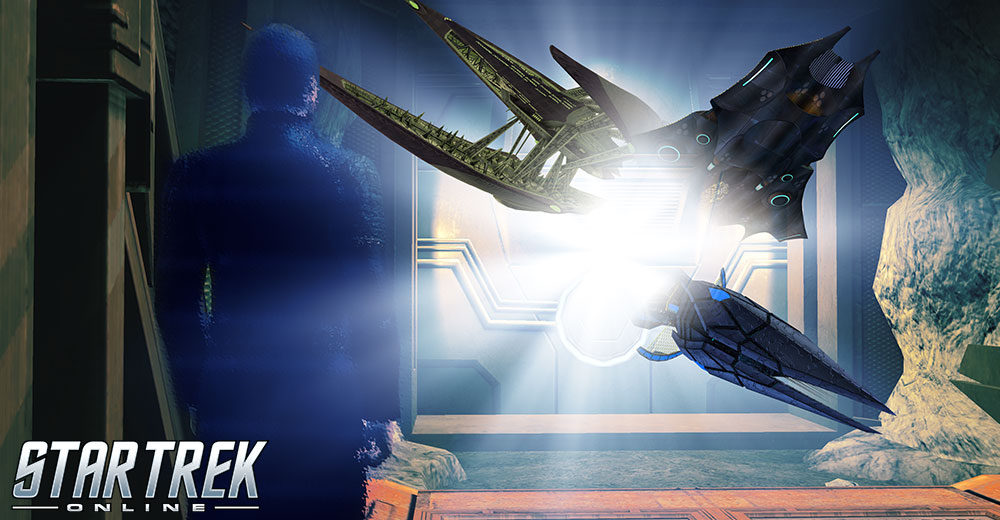 Mudd's Market
Now, let's talk about why we're not going to rave over another Mudd's Market bundle. Not to put too fine a point on it, 2020 has been a year of seismic change in how Star Trek Online wants you to buy starships. If I asked you how many brand new Tier 6 ships hit the C-Store for individual, non-bundle, purchase in 2020, what would you guess? If you guess more than four, you're wrong. August's Cross-Faction Support Carrier Bundle introduced the only four individually available ships new to the C-Store THIS YEAR. Now, how many new or re-modeled Tier 6 ships hit the C-Store this year locked into a bundle of $60 or $120? The correct answer, I believe, is seven ships. For bonus points, how many new T6 ships arrived via Lockbox or Promotional box in 2020? We count five of those.
Which brings us back to the topic at hand… Mudd's Market, where another deal slides in at $295 "regular price" for three ships. This is the third Mudd's Choice pack of 2020. A few other ships appeared solo in Mudd's Market as well. This takes us to something like 23 out of 27 ships in 2020 not available for single purchase via Zen. It seems painfully clear that the direction of monetization in Star Trek Online has taken a drastic turn towards high stakes purchases. So we don't think it's just a question of whether there's value in these Bundles. Clearly there is. But what has happened to the offerings for lower stakes, more casual players? We all want to enjoy the amazing work of STO's talented ship artists and ship designers. It shouldn't be monetized so far out of reach.
And for the love of the Great Bird, don't even mention the Reputation Tier 5 buyout, or we're going to lose it over here.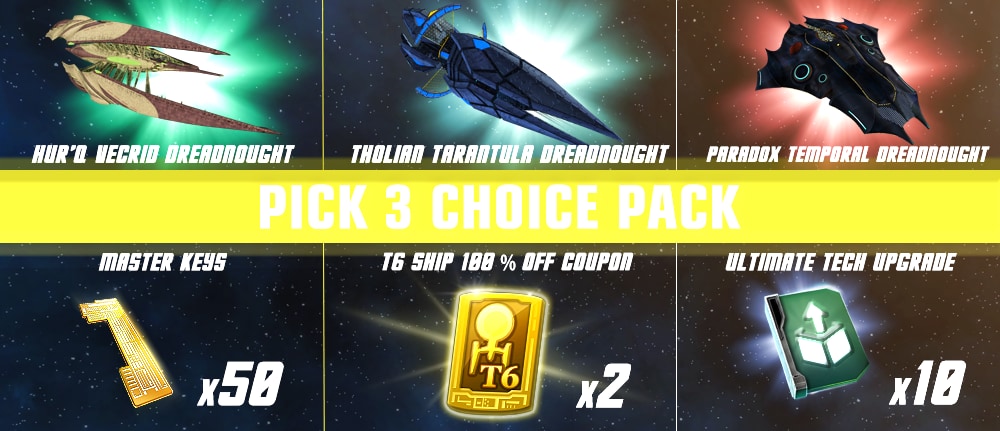 Disco & Dungeons & Dragons
By Shane Hoover
There was also some lighthearted Star Trek related gaming news this past week. Anthony Rapp, Discovery's Paul Stamets, tweeted out a #NerdAlert on the 9th. In the tweet, Rapp declared that "there's a small but mighty group of Star Trek Discovery cast members who've begun a Dungeons and Dragons campaign." . Rapp himself is apparently playing a half-elf Druid, even going so far as sharing a screenshot of his character sheet. The gaming group on-set is composed of the DM, Mary Wise's husband Noah, plus Rapp and four fellow castmates.
In the ensuing Twitter discussion, Rapp named party members as Blu del Barrio (playing tiefling wizard Bink), Ian Alexander (playing elf bard Vyvee), and Emily Coutts (playing half-elf cleric Airlia). The final member of the party is unnamed, but Rapp says they're playing a Goliath ranger. When asked about playing a Star Trek Adventures tabletop campaign, Anthony replied, "We get to play Star Trek for a living. It's a very very very pleasurable living! But DnD is our escape"
Don't Say the Titan's Back, It's Been Here For Years
By Thomas Reynolds
Writer's note: Cryptic made the following announcement on November 18th, after we recorded everything you just heard. So if this seems out of left field, after we just went off about Cryptic not releasing new ships...well, it is. Such is life.
Listeners may remember that, back in episode 482, associate producer Thomas declared that STO would have a T6 Luna-class vessel by the end of 2020. It'd be the perfect time, with an appearance in Lower Decks and the long-standing player demand for such a ship. And wouldn't you know it: next week, we're getting just that. Who was right? Yes, Thomas was right.
Arriving on PC on November 20th, the Titan-class Science Destroyer [T6] offers a compelling platform for pewpewing new life and new civilizations. Like the Dyson destroyers before it, the Titan-class toggles between Science and Tactical modes, reflecting its dual roles in exploration and combat. It also comes with the Opening Salvo universal console, which fires variable projectiles depending on your ship's current mode (like the Arbiter's V.A.T.A. console). The projectiles do kinetic damage in both modes, but in default (Science) mode they temporarily disable all of the target's subsystems. Flipped to Tactical, the salvo will do kinetic AoE and inflict a damage resistance debuff instead. Finally, the Opening Salvo console boosts EPG and weapon specialization so it'll be a welcome addition whatever mode, or mood, you're in.
As a T6 ship, the Titan-class also features the "It's Another Enterprise" starship trait. When slotted, activating your captain's Fleet ability will summon your faction's flagship for temporary assistance. This update also introduces a Fleet T6 version of the Titan, and gives the existing Luna-class model a hi-fi redo like those seen in the Ship of the Line bundles.