Nov 7, 2020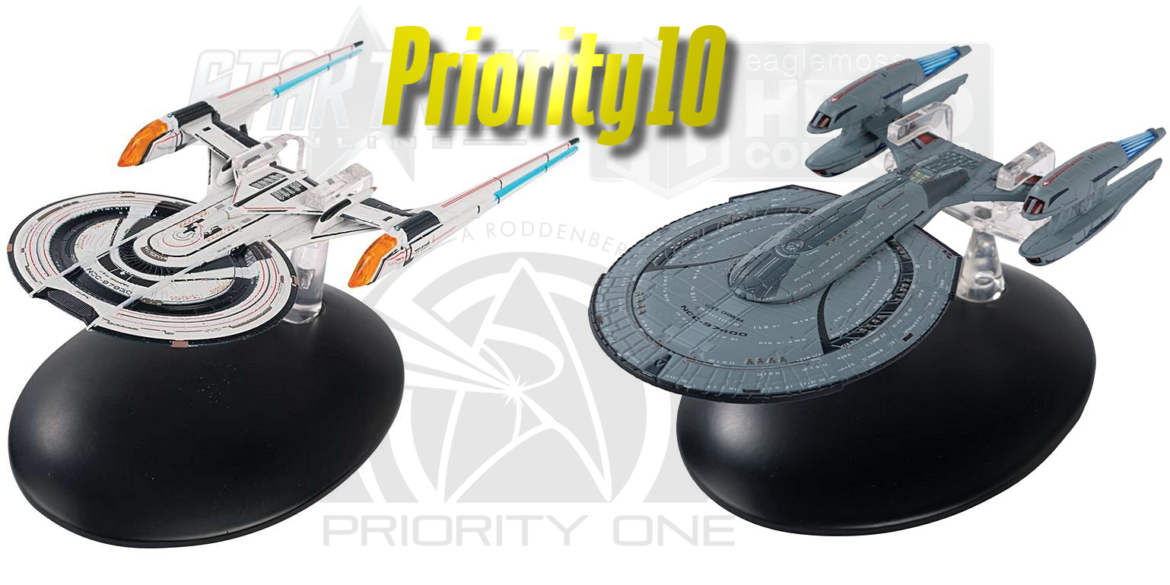 This episode of Priority One is brought to you by Eaglemoss Hero Collector and the brand new Official Star Trek Online Starship Collection. Check out all the exclusive ship models – including the U.S.S. Gagarin and the U.S.S. Chimera – at priorityonepodcast.com/ships and use code PRIORITY10 at checkout to get 10% off your purchase with FREE SHIPPING.
This week on Episode 485 of Priority One - We 'Trek Out' Shaved heads on the set of Discovery Season 4, Blu del Barrio's Star Trek debut, David Ajala's mischievous costumers, and Doug Jones catches up with Collider. In Star Trek gaming, Star Trek Online joins the Vendor's haul, the Prometheus gets a fresh coat of paint, Scopely gets paid, and we discuss the similarities of Klingon culture and cold soup! Then we head On Screen to watch Star Trek: Discovery's newest episode - "People of Earth"
Of course, as always, before we wrap up the show, we'll open hailing frequencies for your incoming messages
Let us know on social media like Facebook, Twitter, or by visiting our website!
This Week's Community Questions are:
CQ: Are you shipping Burnham and Book? What's their ship name?
TREK IT OUT
by Jake Morgan
Star Trek Discovery Production Has Begun!
Take a trip through time with us, to an era vastly different than today. The year - 1990. The fall of the Berlin wall, the re-unification of East and West Germany, Poland's 1st direct presidential election. The western world felt like it was ending decades of Cold War hostility. Today - well today feels different. But at least we don't have to wait a grueling three months to find out if Star Trek was going to return!
In those dark-trek-times, no one knew whether Patrick Stewart would reprise the role of Captain Jean-Luc Picard. Today we have word that Discovery is shooting it's fourth season! And we're only three episodes into its third! We reported in episode 483 that production for season 4 would start on September 2nd, but reports were confirmed via Twitter on Monday. Star Trek: Discovery Showrunner Michelle Paradise tweeted "Day One of season 4! So proud of our room - breaking and writing from corners, kitchens, garages, & home offices. And our production team - prepping a new season is a lot, esp. in a pandemic. They've done INCREDIBLE work to get us here and keep everyone safe. #StarTrekDiscovery"
Out of an abundance of caution, we're going to hit the *SPOILER ALERT* klaxon for this next bit. Okay. Shortly after Paradise's tweet, Saru's Doug Jones tweeted a video shaving his head. Later, Jones shared a before and after photo. Soooo - that means, unlike in 1990, we're SURE to be getting our current Captain back on-set!
Blu Del Barrio Talks About Star Trek's Adira
In the latest episode of Star Trek: Discovery - "People of Earth" - we were introduced to the newest member of the Discovery crew - Adira. This week, Adira actor Blu del Barrio sat down with several news outlets to talk about her experience as Star Trek's first non-binary star.
Throughout del Barrio's interviews with SyFy, StarTrek.com, and Entertainment Tonight, it was clear that del Barrio understood the importance of their representation - both in regards to Star Trek and more broadly to television audiences. When asked by Riley Silverman of SyFy.com why Adira was referred to as she/her instead of they/them in "People of Earth", del Barrio responded "Yeah, so that will definitely be addressed. And Adira is non-binary. Even when people are using she/they pronouns, for Adira, because they have not shared their identity with the Discovery crew. Yes. And this was basically the case because I still wasn't really out to my family and I didn't want to be out on screen as a character who was out until I was."
Photo Via Syfy.com
Breaking Star Trek's Trill Stereotypes
Later in the interview, Silverman mentioned the importance of the Trill in the Trans and non-binary communities, despite cis actors playing those roles; and how Discovery is seemingly subverting the implication that the Trill are only Trans or Non-binary because of the symbiote. Del Barrio responded, saying in part "There is definitely a lot of the queer community that attached itself to the Trill species. But not because the Trill were necessarily like "oh, you know because they are a host of multiple consciousnesses, they must be trans." [...] Adira is non-binary, has always been non-binary before they were a host. It wasn't that having the symbiont brought out something else in them. But I do like how they've brought in the Trill species into Adira's storyline, which kind of validates, maybe, a lot of what queer Star Trek fans have seen in the past and their identifying with the Trill in some ways."
We've only quoted from one of the three articles mentioned earlier in the story, but each is well worth a really - and really gives context to what we've talked about here.
Photo Via ET.com
David Ajala With Entertainment Tonight
Another of Star Trek: Discovery's new additions - Booker's David Ajala - also sat down with Entertainment Tonight to talk all things Star Trek. During the conversation with ET's Philiana Ng‍, Ajala praised his character - Book - working with series star Sonequa Martin-Green, and the two cats that play his queen - Grudge.
When asked by Entertainment Tonight about a possible romantic relationship between Book and Burnham, Ajala was a bit uncomfortable. "I don't know what you are talking about. It's absolutely platonic. Absolutely, absolutely platonic. No idea what you are talking about. Sorry, nope. (Laughs.)". Ajala expounded later, clarifying "Those two characters definitely have an undeniable connection, which is special, and [...] the foundation of that connection is literally the two of them on many occasions have trust the other person with their life [...] But in terms of a romantic relationship, I don't know. We're going to phase out because it feels very platonic to me, but stranger things have happened."
Ajala also spoke about his experience wearing the starfleet uniform, saying "Yeah. That was horrible, only because it was so tight. [...]when I did my costume fitting it was okay. I thought, "This looks pretty cool. I like it." And on the day of filming, I am convinced the costume department took in a half-inch or a lot of the seams on my costume. So when I'm wearing that costume in the scene and I'm complaining, it was freaking tight. I'm convinced that's what they did, absolutely convinced."
Photo Via ET.com
Doug Jones Sits Down with Collider
An old-time Discovery cast member ALSO hit the media circuit. This time, the incomparable Doug Jones sat down with Collider Connected to talk about his career, his future, and Star Trek!
Jones discussed what's ahead for the Discovery crew, and how the 900 plus year jump into the future will affect the series going forward. Jones later discussed the Federation, and how finding them could - but likely won't - affect who's in Discovery's Captain's chair.
Star Trek Gaming News
by Shane Hoover and Thomas Reynolds
Star Trek Online Takes A Dive for Science
By Thomas Reynolds
During Star Trek's more-than-50-year history, its relationship with real-world science has been...contentious, at times. I mean, take your pick: transwarp salamanders, weekly mystery-flavor particles, and the JJ-prise plummeting a quarter of a million miles to Earth in three minutes, just to name a few. Clearly Trekkies don't find it bothersome--if anything, it's part of the franchise's charm (seriously though, three minutes???). That said, we'll always appreciate verisimilitude whether we see it on screen or feel it in-game. Even if we need Dr. Hurt to point it out for us plebs.
On November 7th, Star Trek Online is hosting a panel for the Vendor's Haul Virtual Convention with some serious scientific star power. Franchise science advisor Erin Macdonald, "Bad Astronomer" Phil Plait, and Senior Content Designer Jesse Heinig will put the "Gravity Kills" TFO under the scope for both science and entertainment. How do you pull a story out of something so dense that light can't escape it? Is spaghettification possible with the game engine? Join the panel at 10 AM PT to find out.
Prometheus Bundled
By Thomas Reynolds
If escort carriers or science vessels aren't your thing, then the Ships of the Line series has likely left you feeling left out. But we have good news, as long as you're a fan of tactical escorts! The Prometheus is getting the Bundle treatment, including a remaster of the Prometheus ship model and material. The Bundle combines the T5 and T6 variants and tosses in a fleet module for 5,000 ZEN, and will be on sale for 35% off (so 3250 ZEN) until November 12th.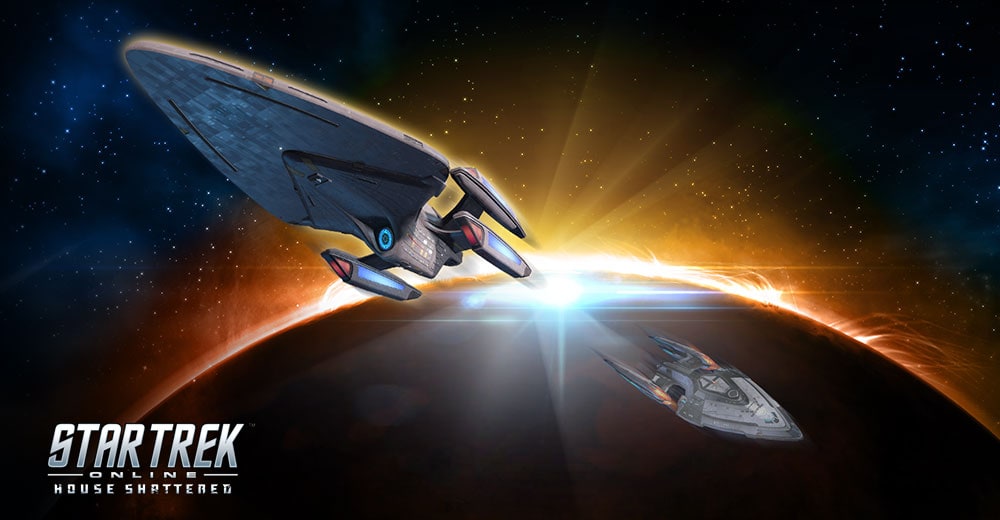 Image via Star Trek Online
Revenge: Back for Seconds
By Thomas Reynolds
Revenge is like gazpacho. No, it's not because revenge is traditionally prepared with a mortar and pestle. Nor is it because modern variations of revenge might include seafood or watermelon. No, revenge is like gazpacho because it's zesty. It's refreshing. Most importantly, it is best served cold….and captains, I do hope you brought your appetites.
The "Best Served Cold" TFO returns to all platforms on November 12th for the latest three-week special event. As usual, foiling Aakar's prison break 14 times during the event will earn the Grand Prize, marks, and dilithium. Also, a Featured Episode Weekly Reward Box will be given for the first time the TFO is completed each week. However, characters on different platforms will get different Grand Prizes. Console players who defend the Empire will receive Molor's Flaming Sword, which is obviously what it says: a Gre'thor-branded flaming sword. Less obviously, it also features a chain-pull attack, helping you bring enemies close and share the love. Or pain. Or both.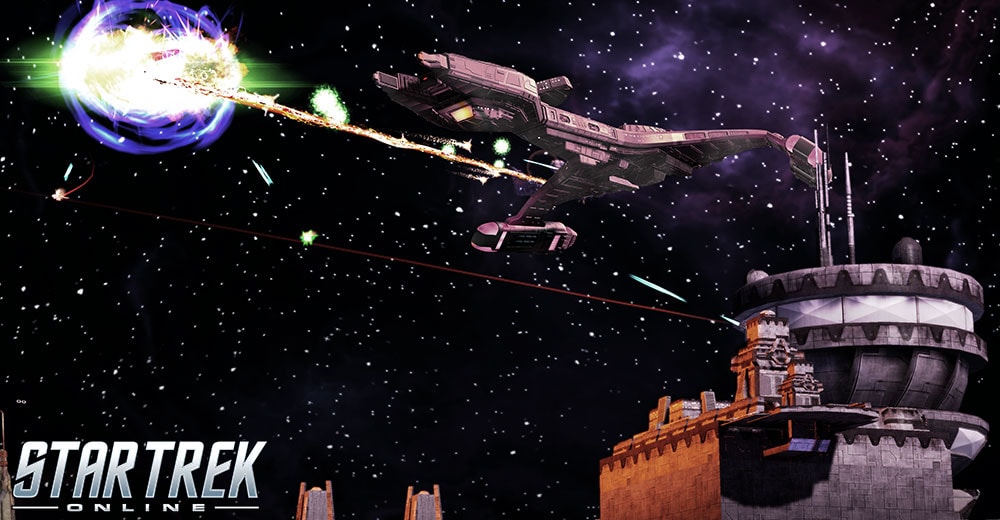 Image Via Star Trek Online
Meanwhile, victorious PC players will receive the cuddly, blood-curdling Nanopulse Targ Combat Pet first seen in the "House Shattered" story mission. However, it's not the only spicy porcine powerhouse making an appearance. The magma Targ of Gre'thor charges into the Zen Store on November 12th, with a temporary 20% discount off its normal 500 Zen price. Fireproof oven mitts not included.
Interestingly, equipping both combat pets at the same time yields the Targ Handler Bonus proc. Activating one pet will automatically summon a shorter-lived version of the other pet at the same time. Now cry havoc, and let slip the targs of war.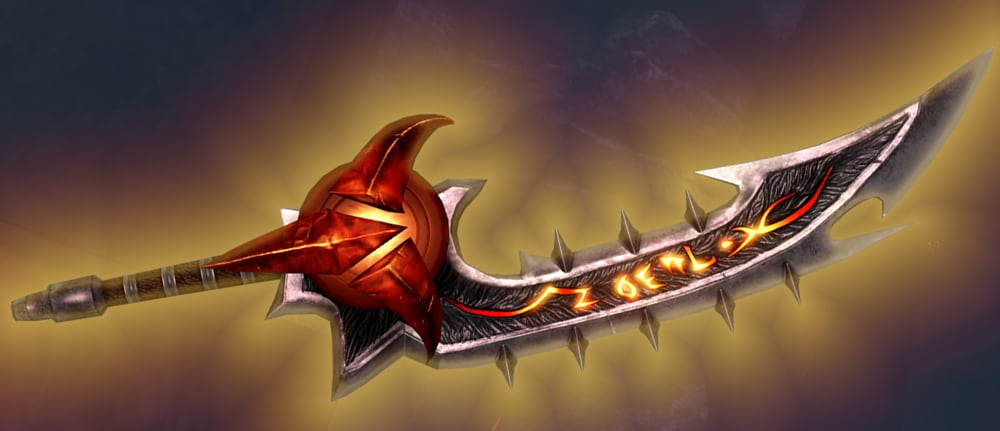 Image Via Star Trek Online
Scopely Get Paid 2 Win
By Shane Hoover
Star Trek: Fleet Command publisher, Scopely, has been doing business that even the Ferengi Commerce Authority would envy. According to a recent VentureBeat report, the mobile game publisher behind such titles as Marvel Strike Force, Scrabble Go and Yahtzee with Buddies recently secured a fifth round of venture capital funding worth $340 million. Commenting on the news, CEO Javier Ferreira said "We had a really successful year, and we will close the year with more than $900 million in revenue. "
I think I just heard Quark choke on his root beer. The funding deal values Scopely at a remarkable $3.3 billion, and positions the publisher to continue its strategy of liberal application of Rules of Acquisition number 95 and number 3. Meanwhile, according to Ferreira, Star Trek: Fleet Command has just wrapped its eighth consecutive quarter of revenue growth. With the September expansion of the game to include all of the Star Trek film and TV multiverse, it's safe to assume Fleet Command will endure significantly longer than Quark's stint as Grand Nagus.
Discussing Star Trek Online Experimental Ship Upgrades
By Shane Hoover
The Priority One Podcast team have had time to use our first few Star Trek Online Experimental Ship Upgrade Tokens, and we'd like to discuss our first impressions for our listeners. If you've been trapped in a transporter buffer for an extended time, let us remind you how the Experimental Ship Upgrade Tokens work. Purchased from the Zen Store for 1000 Zen each, or 3 for 2000 Zen, the tokens can be applied to any T5-U or Tier 6 starship. Upon application, the upgrade unlocks an additional Device slot, Universal Console slot, and Starship Trait slot on that specific Ship Class across your entire account. So, what's the verdict on how these upgrades affect your gameplay?
In our official (it's not official) and extremely scientific (it wasn't scientific) study, here's what Priority One team members thought. The most basic impact we saw was the value of another Tactical Console, like a Fleet Vulnerability Locator. On our Tactical builds, this was a very noticeable jump in combat performance. With a bit more variation, the same is true for Science builds. With an additional Exotic Particle Focuser console, for example, your Exotic damage build can crank out even more Space Magic hurt. You might also find yourself able to stack 3 and 4 piece set bonuses that weren't in your build before T6-X.
Starship Trait Slot
The additional Starship Trait slot is also pretty powerful. The diversity of available Starship Traits means that how you use this slot, and how it affects your performance, will vary pretty widely. You might find that you can now add something like Honored Dead to your build to increase survivability without giving up any of your previous DPS. Or you might prefer to drive your damage output even higher with something like Emergency Weapon Cycle or Target Rich Environment. Remember, the only other way to add a Starship Trait slot to your build will cost you 250,000 Fleet Credits and 100,000 Dilithium.
T5-U!
The other big area of impact for these X Upgrades is the opportunity to bring your favorite T5-U ship's performance up to levels that let you keep flying it even though it's not Top-of-the-Line. Quite a few captains we've talked to have done just this. If your favorite ship is a T5 Tempest Patrol Escort or T5 Dyson Destroyer, these upgrades might just breathe new life into your enjoyment of it. Just remember, if you upgrade your T5-U ship to T5-UX, the upgrades won't carry over when a Tier 6 refit of the ship comes down the line.
To get to the bottom line, these Experimental Upgrade Tokens seem to be worth the cost, whether you spend Zen or EC to get them. One of the best parts of Star Trek Online is taking your FAVORITE Trek ship out into the Universe. And improving the performance of your favorite ship just makes it more fun again.