Jul 10, 2020
This week on Episode 468 of Priority One --- We Trek Out how Star Trek has been keeping us entertained during lockdown with videos galore! In Star Trek gaming, lots going on in the mobile world this month with both Star Trek Fleet Command and Star Trek Timelines. Plus, a new expansion to the tabletop RPG - Star Trek Adventures.
Sid City Stories
If you're sitting at your computer or lounging on the sofa surfing the web on your phone, you might be interested in a story-time adventure set in the Star Trek DS9 universe. You see, at the start of the pandemic and subsequent lock downs, Alexander Siddig --- known to trekkies for his role as Dr. Julian Bashir --- took to live-streaming! His Sid City Social Club has been a huge success with trekkies and with guests like Nana Visitor and -- most recently - Andrew Robinson - there's something for all trekkies to enjoy.
On July 6th, Sid City Social Club posted a video of Siddig and Robinson reading a story titled, "Alone Together: A DS9 Companion: Episode 1 'These Days'" written by Matthew Campbell. This first episode tells the story of Dr. Julian Bashir making an emergency trip to Cardassia. There Elim Garak -- now the leader of Cardassia Prime explains to the doctor that Cardassia has fallen victim to a pandemic that threatens the entire planet.
This first episode is just under 33 minutes --- so, if you loved Garak and Julian's relationship, be sure to #TrekThisOut. Links, of course, will be in the shownotes.
And if you're looking for something a little more musical, then you should definitely #TrekOut Robert Picardo's latest video. Our favorite Holographic Doctor is passing time during the lockdown lamenting he's not Brent Spiner in this hilarious song.
Hopefully, this is a creative trend that we'll see more and more Trek Actors do during lockdown… Kinda like Brent Spiner's video from back in May.
The Ready Room w/ Wil Wheaton
Even though we might not have any new episodes of Star Trek until August, CBS still has plenty of content to share. On July 2nd, CBS All Access released a special "Away Mission" version of The Ready Room - hosted by Wil Wheaton.
In this installment, we get a detailed look at Rios's ship, "La Sirena" from Production Designer Todd Cherniavsky. From drawings, to models, to walk throughs on the set - this will definitely satisfy our listeners who love to learn about the ships in Star Trek.
Following the guided tour, Wheaton welcomes Sir Patrick Stewart via Zoom to discuss Season 1 of Star Trek: Picard. During their time, they spoke about some of Stewart's proudest moments, including getting scolded by Marina Sirtis on Napenthe and his final scenes with Data. As the interview continues, they discuss the importance of Star Trek amidst our current events. Unfortunately, when asked about Season 2 Sir Patrick didn't have much to say other than CBS is QUOTE "Committed" to season 2 of Picard.
Star Trek Lower Decks -
August Premiere
Last, but certainly not least, is the announcement of the next rendition of Star Trek hitting streaming services. The highly anticipated animated series Star Trek: Lower Decks is scheduled to premiere Thursday, August 6th with its first episode. The following 9 episodes will be released weekly on Thursdays via CBS All Access in the US.
For those who may be unfamiliar, Star Trek: Lower Decks is the animated series developed by Emmy Award winner and former writer for the critically acclaimed series, "Rick and Morty." Trekkies are likely to remember McMahan as the creative force behind the @TNG_S8 Twitter Account that told stories of the "unreleased" season 8 of TNG. The account was so successful, that McMahan had landed a deal with Gallery Books to publish, "Star Trek: The Next Generation - Warped."
Star Trek Timelines Event:
"Secrets in the Desert"
by Thomas Reynolds
After meeting with the Cardassians to forward a Federation trade agreement, Captain Jonathan Archer's shuttle is shot down over the desert planet, Dozaria. Help him escape, and learn more about who shot him down and why.

Star Trek Timelines
Star Trek Timelines' "Ripples & Waves" Mega-Event has concluded, and players must now confront Some Kind of Anomaly in our own timeline: a Flashback event. A reprise of last November's "Secrets in the Desert" event will run from July 9th through 13th for the Federation, Cardassian Union, and Section 31 Factions. However the timelines have already diverged, because now the ranked reward is the 5-star Kataan native Kamin–AKA Captain Picard's flute-playing alter ego from the TNG episode "The Inner Light." Event crew for high bonuses includes last week's 5-star Desert Archer, 4-star Torchbearer Tyler, and 4-star Undercover O'Brien; any of these characters' other variants will grant small bonuses.
Player Protests and Blackouts for Star Trek Timelines' Offer Wall
Star Trek Timelines is also in the news this week for less pleasant reasons. Players criticized both the game's recently-introduced "Offer Wall" feature, which grants players free in-game currency in return for participating in marketing surveys, and the ad agency that administers it as unacceptable risks to their personal privacy. A number of popular, fan-maintained informational websites have gone dark to protest the Offer Wall, and do so as long as it is in the game.
Star Trek Fleet Command:
Patch D20 Announcement
Commanders, it's time to cast the die and hope luck is on your side: today Star Trek Fleet Command revealed the new content coming with Patch D20. Part 2 of the Outlaws Arc, "The Exchange," continues the story in the newly-revamped Augment Space. Commanders will find themselves in cahoots with Khan and Harry Mudd's fragile alliance, with some of the most lucrative–and lethal–assets in the Alpha Quadrant for the taking. Assemble a team. Boldly go. Do crimes.
Patch D20 also rolls in systems content with a new Outlaws Research Tree, the Rogue Faction and its very own Faction Store, and 20 new Outlaw missions accessible through the Fleet Command Battle Pass. But with new content comes Eclipse and Outlaw Armada hostiles–show them you're not to be trifled with in Harry Mudd's new getaway cruiser, the Stella. Because no two jobs are ever the same, Stella features a special scrapping mechanic. Tier it up, tear it down and rebuild your ride to reap even more bonuses from your ill-gotten gains and unlock special nodes in the Outlaws Research Tree.
Star Trek Adventures:
The Klingon Empire
Tabletop players have enjoyed seeking out new life and new civilizations in many Star Trek role-playing game systems, most recently in Modiphius Entertainment's Star Trek Adventures 2d20-based system. However great dishonor has been done to the Klingon Empire, which has not seen new playable content in almost 40 years. That, brave warriors, is about to change.
Modiphius is now taking preorders for print editions of The Klingon Empire, a new core rulebook with the revamped 2d20 Star Trek Adventures system and everything Klingon campaigns need to weave tales of glory and conquest. The rulebook includes gamemaster guidance, a dissertation's worth of cultural and historical information, premade ally and antagonist NPCs, and an adventure already prepared for you to dive into bat'leths-first. Those who can't wait to heed the call to battle can purchase the full PDF preview on Modiphius's website today, and receive the final version when the print edition launches.
RetroTrek
by Anthony Cox
The world of Star Trek gaming is vast and varied. We want to spotlight some previously released Star Trek games. Whether to celebrate a classic or make a new introduction, we're going to slingshot around the sun for our new regular segment, RetroTrek. And now, here's Anthony with a tabletop game even Una would enjoy.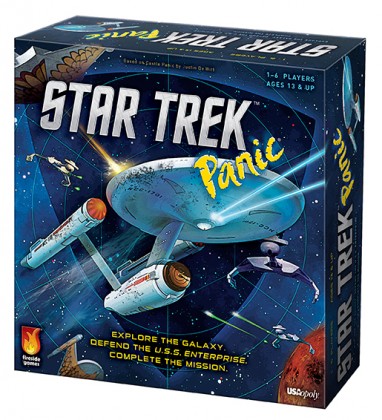 ---
Special Spotlight by Kevin MacLeod
Link: https://incompetech.filmmusic.io/song/4403-special-spotlight
License: http://creativecommons.org/licenses/by/4.0/