Nov 19, 2021
This week, on Episode 532 of Priority One: ViacomCBS upsets most of the world; Star Trek Explorer Magazine debuts; Star Trek Online introduces a new 32nd century starship–plus, we start our S4 review of Star Trek: Discovery.
TREK IT OUT
Edited by Thomas Reynolds
Sheer ****ing Hubris, ViacomCBS
By Cat Hough
Well, the news broke early on Tuesday the 16th that international fans of Star Trek: Discovery will have to wait until 2022 to be able to watch Season 4–and then only watch it on Paramount+. Under the terms of an agreement finalized today between Netflix and ViacomCBS, Netflix will no longer be streaming the show. ViacomCBS was most likely pleased with the agreement since, under the 2017 deal that Les Moonves had set up with Netflix, CBS had agreed to pay the bulk of the show's costly budget for the overseas rights.
All images: ViacomCBS, via Imgur user SaysThePenguin.
This should not be a huge surprise, though, given ViacomCBS's efforts to incentive subscribers to Paramount+. Back at the end of September The Original Series, Voyager, and Enterprise all left Netflix–Paramount+ is the only platform to watch these series.
But now that Netflix is out of the picture, the UK, Germany, Ireland, Austria and Switzerland will be the first international markets to stream Discovery on Paramount+. ViacomCBS has said that as part of an accelerated expansion they anticipate being in around 45 markets within the next year or so. No news on the release date for our Australian friends, though.
Star Trek 4 Hopes For Holiday Magic
By Elio Lleo
While we're on the topic of disappointing news, the 4th installment of Star Trek set in the Kelvin Timeline is being delayed again. Now, the new release date is slated for a holiday release on December 22, 2023 (originally, it was scheduled for June 9th, 2022). Perhaps the marketing folks at ViacomCBS listened to our episode where we discussed the uphill battle Star Trek faces when released beside other (more popular) franchises. Or they just read the same industry articles that we do.
Either way Star Trek, along with other tiles like Transformers, are being pushed. Now, this could be a rarely well executed smart move on behalf of the suits in charge of these things. According to Scott Mendelson of Forbes.com, Paramount+ is betting that Star Wars: Rogue Squadron won't be able to stick to their holiday 2023 release date–especially when there's been little movement on that Star Wars installment. That leaves Trek to reap the benefits of the season.
Mendelson writes, "the optimistic scenario is that Star Trek 4 positions itself as the Christmas event movie of 2023 and proves to be crowd pleasing enough to allow holiday legs to give the struggling franchise a kick in the butt after a disappointing third installment. That's what happened with Paramount's own Mission: Impossible–Ghost Protocol in December 2011 after J.J. Abrams' underwhelming Mission: Impossible III 5.5 years earlier." Either way, it's still two years away and a lot can change. However the film still has WandaVision director Matt Shakman at the helm.
Del Barrio And Cronenberg Take Explorer To The Future
By Rosco McQueen
On November 17th, Blu Del Barrio will return in Discovery Season 4 as the human host of a Trill symbiote, Adira Tal. In an interview with new publication Star Trek Explorer, Del Barrio spoke about the positive reactions from fans in being the first nonbinary actor in the franchise, and bringing a non-binary character to the screen. Unfortunately for the actor, it meant they were also subject to some outdated attitudes, but they were few when compared to the overall welcome from the Star Trek community.
"There are always people who are going to set out to be hateful, and set out to be transphobic. There's not a lot of Star Trek fans who are like that, thank God. It's not a universe where that fits. But there is also a lot of love, even from people who maybe don't know anyone who is trans. There are people who are asking questions, talking about things online, having actual conversations about it, which is really wonderful."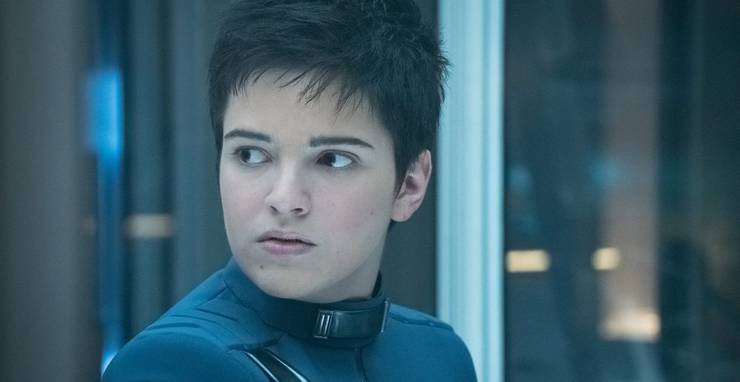 Image: ViacomCBS, via CBR.
Also featured in the first issue of the relaunched Star Trek Explorer is an interview with director David Cronenberg who plays the role of Federation agent Kovich, who is returning for Discovery Season 4. The interview covers his relief as an actor as opposed to a director, growing up watching the Original Series, and the specific role of Kovich in season three as the Terran-interrogator. But Cronenberg was tight lipped on what's in store for Season 4: "I can only tell you I've been invited to be part of Season 4, and I was delighted with that. That's about all I can tell you, and it's not because I'm trying to be coy. It's because I don't know any more."
For the full interview, as well as feature interviews from Ian Alexander (Gray Tal from Discovery), be sure to trek out the first issue of Star Trek Explorer.
Quick News Roundup
Now, here are a few headlines that we didn't discuss but might interest you.
Start applying for those passports and get your luggage ready, because we're going to China! Why? Because an $8 billion theme park resort is being built with a Paramount theme along the shores of Dianchi Lake in the Yunnan capital city of Kunming! The complex will include six themed areas–one of which is a "Final Frontier–Star Trek" themed section!
Fans of 'Levar Burton hosting a quiz show' rejoice! The Hollywood Reporter has confirmed the actor will host a gameshow based on 'Trivial Pursuit', produced by Hasbro and Entertainment One. No network is attached at the time of the announcement, with no information on when the program will debut.
Congrats to Star Trek alum Tracee Lee Cocco! She just announced that she'll be featured in an upcoming Star Trek: The Next Generation book by Ian Spelling, due to release in the fall of 2022.
STAR TREK GAMING NEWS
Edited by Thomas Reynolds
That's What Phoenixes Do, Generally
By Cat Hough
The free Phoenix Prize Pack returns! From now until November 23rd, you can pick up a free Phoenix Prize Pack from Grym on Drozana Station or Onna on Deep Space Nine, once per day. If you are not aware, the Phoenix Prize Pack is a special pack, you can purchase with Dilithium or during this event you get one for free. Once you open it, you're granted a token of one of five rarities, and then you can redeem that token for a list of prizes on that specific rarity tier.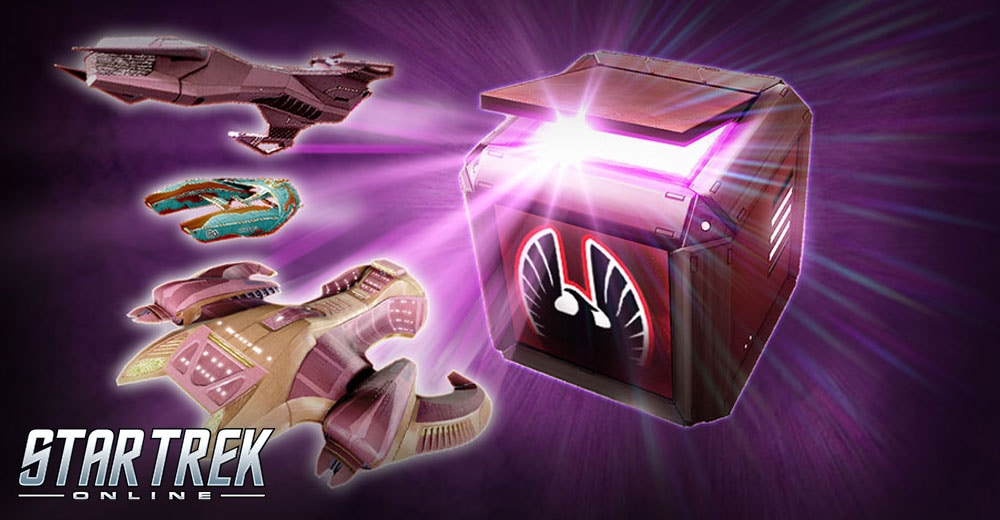 Image: Cryptic Studios
But wait, there's more! The Experimental Starship Upgrade tokens are also returning to the Phoenix Prize Pack during this event! If you've been hanging onto some Ultra Rare tokens, now is the time to redeem them for an Experimental Upgrade Token. Also on sale right now until the 22nd–Keys and Keyring Bundles are 15% off!
YOU CAN'T HANDLE THE TOOTH
By Cat Hough
Hey, surprise! Another new ship is available via the Infinity Lock Box. The United Earth Defense Force Vessel [T6] was designed as a large, sturdy vessel built for planetary defense and doesn't at all look like a giant tooth–or an elephant.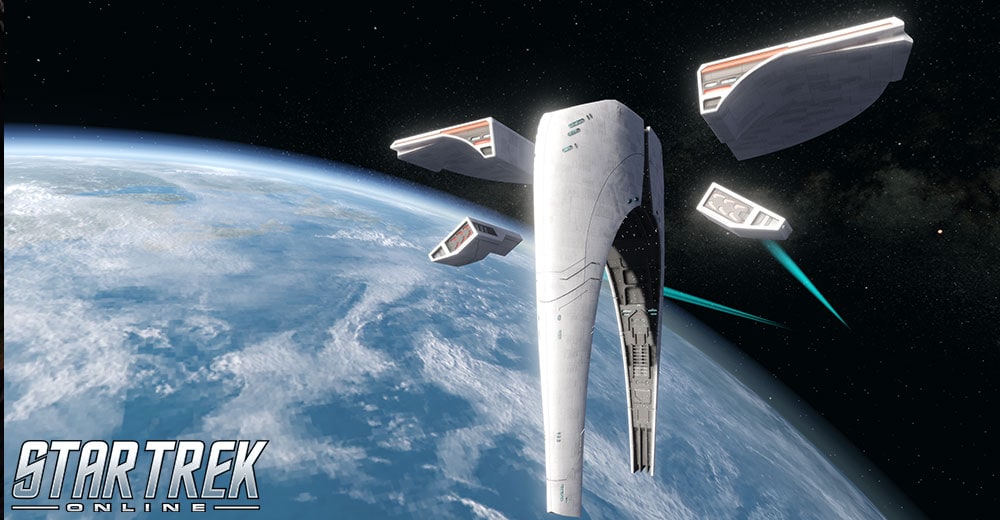 Even
the four blind men think it's an elephant
. Image: Cryptic Studios.
This ship features a Commander Tactical/Command Bridge Officer specialist seat, and a Lt. Commander Engineering / Command Bridge Officer specialist seat. With a 4/4 weapons layout and 5 tactical, 3 engineering and 3 science consoles.
It features the Mobile Defense Net Universal Console. With this technology equipped, your ship will be capable of generating a large area of protection for you and your allies, centered a short distance behind your vessel. This area moves with your ship, though you sacrifice maneuverability–but you are able to deactivate the field if you need to. This console also provides a passive bonus to Max and Current Shield Subsystem Power, and Maximum Shield Capacity.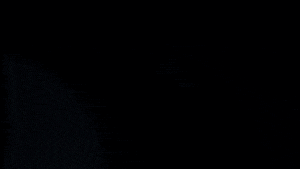 Image: Cryptic Studios.
And once the ship is leveled up, you gain access to the Interlaced Emitters Starship Trait. While this Trait is slotted, activating any Bridge Officer abilities that restore shields to yourself or an ally will also briefly apply an effect that automatically redistributes the target's shields, provides shield hardness, and renders shields immune to drain effects. This effect may not be reapplied to a target until it has worn off.
The "Duality" of Terror
By Rosco McQueen
More effective surprise attacks are coming your way in Star Trek Fleet Command, with the second part of the Duality arc coming to the game from Scopely bringing enhanced cloaking effectiveness. "The Klingons and Romulans have ramped up their war machines in an effort to resolve their conflict over the mysterious hybrid, Roj. Time is running out, and the outcome rests in your hands. Part Two of the Duality arc expands on Ship Cloaking technology and its impact in battle. The Federation have found a way to acquire the highly controversial device, and are now prepared to run their own stealth operations..[n]ew research opportunities have been developed to further increase the effectiveness of Cloaking, allowing for ever more devious plots and schemes to be hatched."
Image: Scopely.
Patch 36 includes a new Second Repair queue, four new Ship Cloaking Refits, twenty new missions, and three new officers, including two Epic ones.
[Epic] Sela, with the Captain Maneuver: Hit Them Where it Hurts–Increase critical hit damage by X% when cloaked.
[Epic] Eleven Of Eleven, with the Captain Maneuver: Efficient Crystal Acquisition–Increases Crystal mining speed by 60%.
[Rare] Tomalak, with the Captain Maneuver: Patient Tactician–which increases all penetration stats by X% while cloaked.
The update also contains a number of bug fixes, as well as improvements to the web store.