Sep 12, 2021
This week on Episode 522 of Priority One: Happy Star Trek Day! New trailers for Picard, Prodigy and Lower Decks, and a formal introduction to the Enterprise crew voyaging to Strange New Worlds. In gaming news, the Mirror Universe inspires a new TFO in "Operation: Wolf," new gear on the way inspired by Lower Decks, and some good old Trek games get a PC refresh.
TREK IT OUT
Edited by Thomas Reynolds
55 Years Of Trekking Across The Universe
By Cat Hough
This week marks the 55th anniversary of the airing of the first episode of Star Trek and, according to all the memes going around, the world has never been the same. But when you think about it...that's a pretty accurate statement. Without the vision of Gene Roddenberry and the production of the original series, we would not even have this podcast. So let's just take this opportunity to appreciate the reason we are even here today.
Fresh New Faces For Strange New Worlds
By Rosco McQueen
There's no trailer yet, but we were treated to an introduction to the crew of the Enterprise under Captain Pike, with some new faces and some familiar ones as well. We are reintroduced to Anson Mount, Ethan Peck and Rebecca Romijn who reprise their roles as Captain Pike, Mr Spock and Number One. From there we meet the new actors taking on classic characters, with:
Celia Rose Gooding as Cadet Nyota Uhura,
Jess Bush as Nurse Christine Chapel,
And Babs Olusanmokun as Dr. M'Benga.
New characters then come our way:
Bruce Horak as Hemmer,
Christina Chong as La'an Noonien-Singh,
And Melissa Navia as Lt. Erica Ortegas
Shadows Of Things That Will Be
By Cat Hough
Let's break down the Picard Season Two trailer. We see Q snap his fingers and send everyone into an alternate reality where Earth has descended into a totalitarian state. But only Jean-Luc Picard and his new crew (maybe with Guinan's help?) know that time has been altered. Then they decide to travel back to modern day Los Angeles in order to get things sorted. To get there, however, they need the assistance of the Borg Queen, played by Annie Wersching--who, in this alternate reality, appears to be a captive on Earth. What else is in store for Picard? We don't know yet, but we do know he'll be back in February 2022; it was also confirmed that Picard was renewed for Season 3.
But Will We Learn The Janeway Maneuver?
By Cat Hough
We also got a first real look at Prodigy as the first official trailer was introduced by Kate Mulgrew. This panel also included a pleasant surprise: the show will premiere on October 28 and the first episode is an hour long. The trailer shows us the crew of young aliens who happen to find an experimental Federation starship named the U.S.S. Protostar, but they've never heard of Starfleet or the Federation. So it's up to Janeway's hologram to teach them how to use the ship to navigate the cosmos, while the Diviner (John Noble) and Drednok (Jimmi Simpson) pursue the crew to get ahold of the ship.
Lower Decks Hits The Halfway Mark
By Cat Hough
After a hilarious and thoroughly enjoyable first half of the season, Lower Decks continues it's second season with more adventure, more exploration, and lots more sci-fi stuff. The second-season trailer (that series creator Mike McMahon says he edited to remove spoilers) gives us glimpses of Rutherford vs "fricking radiation," Tendi as a giant bug, and Mariner and Boimler on an away mission that goes sideways [...so like every other away mission, then---Ed.].
Looking Four-ward To Discovery
By Cat Hough
The fourth season of Star Trek: Discovery premieres Thursday, Nov. 18, on Paramount+. The first image from the upcoming season was released during Star Trek Day. We also got to watch a panel featuring season four cast members Wilson Cruz (Dr. Hugh Culber), Blu del Barrio (Adira), Ian Alexander (Gray), and showrunner and executive producer Michelle Paradise. The panel of mutual love and discussion of found family was moderated by Wil Wheaton.
Most advanced ship in the fleet, and they couldn't even spring for seat warmers? Image: ViacomCBS.
Taking Trek Back To School
By Thomas Reynolds and Rosco McQueen
With Labor Day on rearview sensors, the American student body is headed back to school–and so is the Trek franchise, if Kurtzman has his way. Back in Episode 519, we mentioned that a Starfleet Academy-situated series "aimed at younger audiences" was in the works. Since then, Eric Pesola at Heavy suggested that the new series concept is far older than it appears.
Don't worry, it's safe for them to wear red shirts because they're named characters. Image: IDW Comics, via Heavy.com.
Pesola draws parallels between JJ's franchise "revival" in 2009, and Harve Bennett turning it around after The Motion Picture almost torpedoed it thirty years prior. Bennett helmed the next three series entries and more-or-less put Trek's fortunes on the up-and-up. That said, after his Final Frontier almost finished it for good, Bennett pitched one more idea: a prequel film set at Starfleet Academy, with Ethan Hawke as Kirk and John Cusack as Spock.
The studio went with a thinly-veiled Cold War analogy instead but, twenty years later, class might finally be in session. During the Star Trek Day celebrations, Wil Wheaton asked Kurtzman about the future of Trek on TV, Kurtzman said that with five ongoing series, he's "not in a hurry" to launch any more. But he did bring up the fan enthusiasm for a series set at Starfleet Academy.
STAR TREK GAMING NEWS
Edited by Thomas Reynolds
Legends Of Yesterday
By Rosco McQueen
Fire up the phase inducers, it's time to start a new 'toon in Star Trek Online. The Agents of Yesterday recruitment event is active: new characters set in the TOS era playing through the entire Agents of Yesterday mission arc, and becoming Temporal Agents with updated rewards. As we covered previously, if you haven't created a Temporal Agent character, it's a great opportunity with lots of bonuses for your whole account.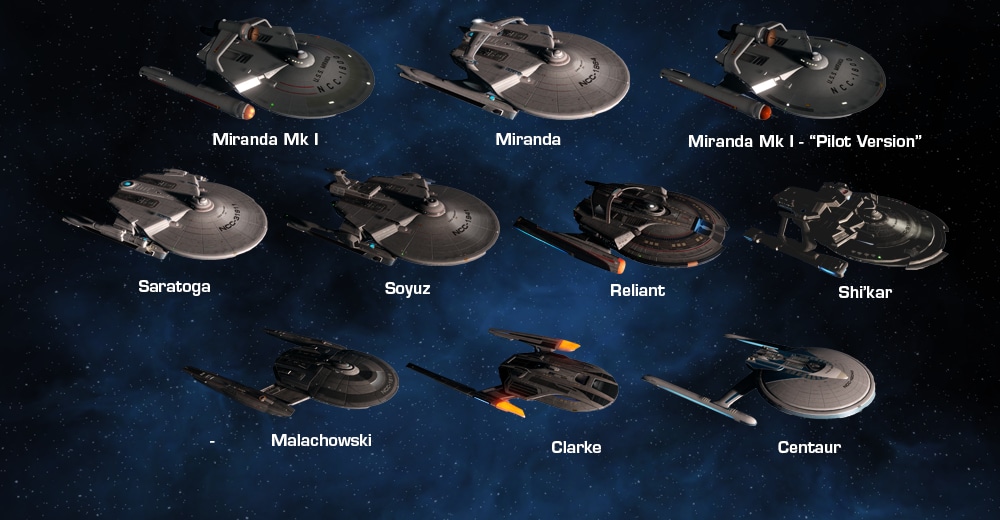 You wish your family portrait looked this good. Image: Cryptic Studios.
But if the idea of leveling up a new character from scratch isn't bringing you joy, then the Legendary TOS Federation Captain's Bundle has dropped to immediately boost your new character to level 65. The pack comes with equipment, services, and other resources to allow this newly-boosted character to be ready to enter the high-level content of Star Trek Online. Plus, you'll get account-wide access to the Legendary Miranda Multi-Mission Cruiser [T6]. It includes all of the consoles, starship traits, and costumes from the entire line of Miranda and Malachowski starship families. The bundle is available for the price of 12,000 Zen, with 50% OFF from September 8th at 8am PT to September 20th at 10am PT!
Parliament Is Now In Session
By Rosco McQueen
The next story arc is fast approaching, if this news item is anything to go by. STO announced this week that Lower Decks themed gear is making its way into the game. "Starting with the next story update which arrives on PC very soon, a brand new Tier-6 Starship will be added to the existing ship choices, and a series of exciting new Lower Decks-themed items will be added to the Lobi Crystal Store."
The items include:
Lower Decks uniforms,
Portable Phaser Cannon
Multibarrel Phaser
Phaser Split-Beam Rifle
Phaser Sniper Rifle
T-88 Diagnostic Tool Kit frame - complete with purple stripe
Lower Decks Personal Traits, two space and two ground,
And a new starship, the Parliament Miracle Worker Surveyor Cruiser [T6].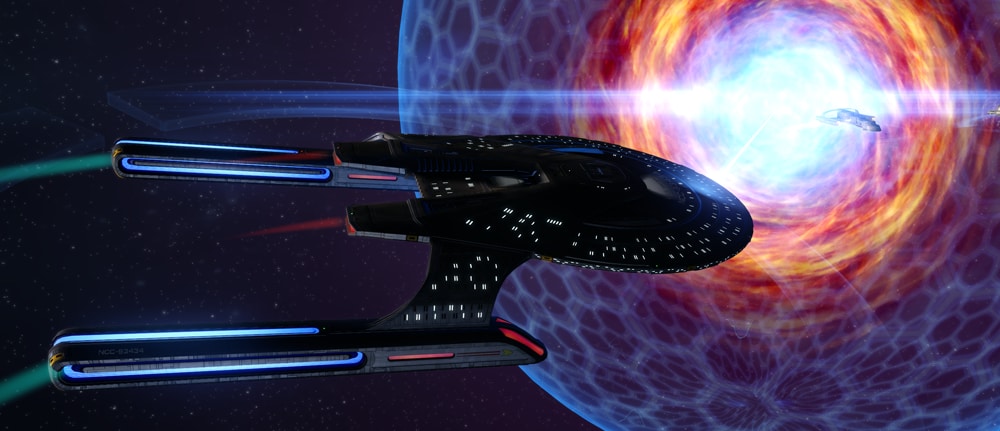 Oof. Not looking forward to the environmental impact statement on this one. Image: Cryptic Studios.
The Parliament has a four front and four aft weapon layout, with a Controlled Gravimetric Demolition universal console, which deals "tremendous" kinetic damage. The console also provides a passive bonus to Kinetic and Physical Damage Resistance Rating, as well as Exotic Particle Generation and Structural Integrity. The items will be available for purchase upon the release of the next story update (no date confirmed as yet).
Operation: Sheep In Wolf's Clothing
by Shane Hoover
A brand new blog from Cryptic has announced a forthcoming Mirror Universe TFO for Star Trek Online. The new bit of fiction finds Admiral Quinn providing feedback to Admiral Leeta on a new Starfleet training simulation to test special operations into the Mirror Universe. It seems despite her cooperation, Quinn finds her bloodlust a bit much even for a simulation. I mean honestly, if a Captain can't use Exocomps as cannon fodder anymore what are you supposed to do? And just forget about bumping off your Terran counterpart, I guess! So much for Plan A, am I right?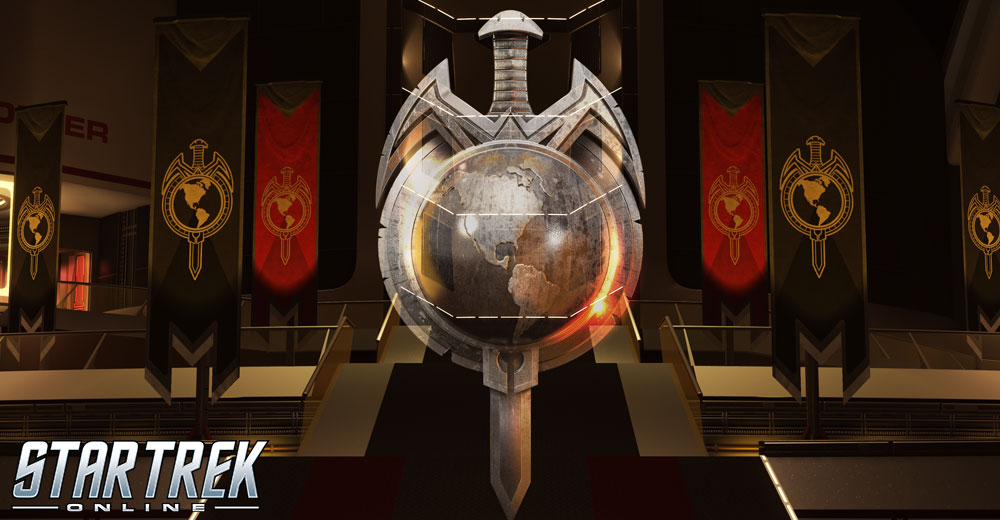 What I've always loved about the Terran Empire: its understated subtlety. Image: Cryptic Studios.
Anyway, while details are obviously thin in this little teaser, it looks like Captains will get to beam their away team into a brand new Mirror Universe version of Earth Space Dock for some covert operations. So beef up those biceps, tone up those abs, and sharpen your daggers. We're going Terran on the holodeck for "Operation: Wolf"!
They Belong In A Museum!
By Shane Hoover
It's also worth noting that in celebration of Star Trek Day, from September 8 to 22, on all platforms, there will be a special Starfleet Museum in orbit above Deep Space Nine and Earth Space Dock. The museum contains the starring ships from Star Trek movies, television, and more. Hailing each ship will give you words from their crew, and both in universe and behind the scenes facts about the ship and show. Hailing all ten of the ships will grant you a special title: Historical Documents Expert.
"Ugh, people really use holodecks for
that?"
"Oh yeah, it's mostly that." Image: ViacomCBS, via TOR.
Fleet Command Finishes TNG
By Thomas Reynolds
If TNG taught us anything, it's that all good things must come to an end, and so it is in Star Trek Fleet Command. Patch 34 concludes Fleet Command's first [nope, our bad—Ed.] foray into Prime Timeline storytelling, wrapping the TNG arc begun back in May while adding Tasha Yar to the officer roster. Meanwhile, your existing crew collection will gain Traits that boost the chance of Critical Success for Away Team assignments. And as for those assignments: as of Patch 34, assignments will automatically respawn once they are completed.
Star Trek Through Rose-Tinted GOGgles
By Thomas Reynolds and Rosco McQueen
Remember last week, when we said about a half-dozen vintage Trek games were going to be re-released on GOG Galaxy? Well they're on GOG Galaxy now in time for Star Trek Day! In a release the company has confirmed the games have been updated so they run smoothly on Windows 10, with some even offering a working LAN multiplayer option.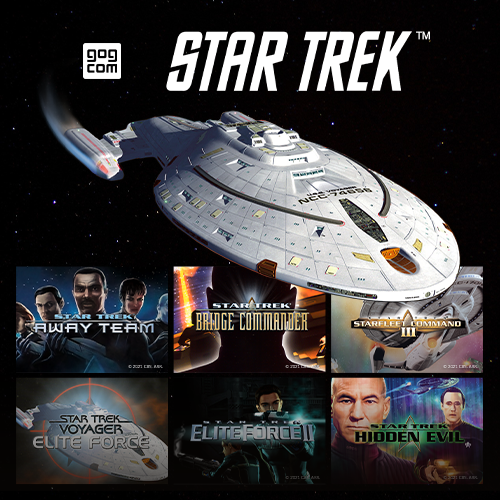 I don't know what makes me feel older, the box art or the phrase "LAN multiplayer." Image: GOG.