Oct 22, 2021
This week on Episode 528 of Priority One: We delve into the whale-filled washup of the season finale of Lower Decks, Anson Mount discusses literally sitting in the captain's chair, and is that a star on top of the Christmas tree or a Borg baby spray-painted gold? In gaming news, we take a closer look at Star Trek Online's Halloween event, and roll for shield strength in a new release from Star Trek Adventures!
TREK IT OUT
Edited by Thomas Reynolds
What's the Deal With All These Feels, McMahan?
By Elio Lleo
Mike McMahan, the creator of Star Trek: Lower Decks, isn't resting on his laurels! Nope! After a (generally) well-received Season 2 of the Star Trek animated adventure, McMahan is making the rounds talking about the season–which wrapped last week on October 14th. Sam Stone of Comic Book Resource jumped right in and asked about its unusual villain: the Pakleds. McMahan's explanation:
When we were writing the first season, we were in the thick of a pretty dark time across the world–the re-rise of fascism across multiple countries, obviously a lot of politics happening in this country and, not to put too fine a point to it, things that had seemed like a joke in the first place suddenly becoming much more dangerous because we weren't vigilant about it. The Pakleds seemed like a perfect opportunity for that…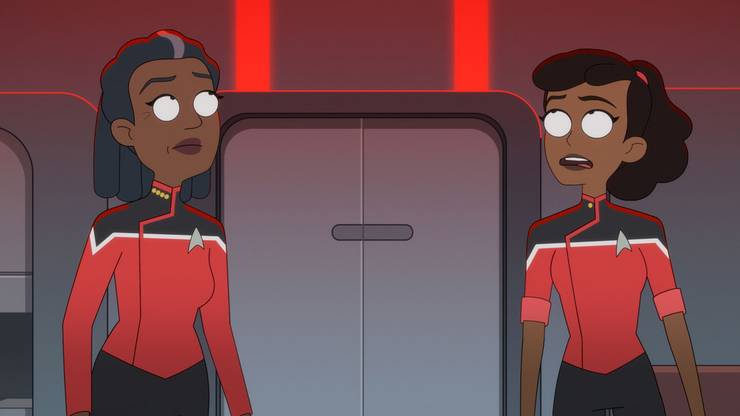 [
This sight gag doesn't work in a podcast app but I stand by it nonetheless–
Ed.] Image: ViacomCBS, via Comic Book Resource.
Really Be Careful What You Wish For, Mariner
What about that incredible cliffhanger? Well according to McMahan, the goal of Season 2 was meant to show Mariner "grappling with themes of betrayal and being left." Supposedly, Mariner's got some past trauma that we haven't been privy to yet. Nevertheless, McMahan explains that Mariner will start Season 3 struggling to deal with having her mother taken from her. [NOT JUST HER, MIKE–Ed.] When talking with StarTrek.com he explained, "...in the first season we were really creating a family, and in the second season we kind of tested them. And in the finale of the second season, we're dealing with the loss, the family breaking up."
What about our other characters? Well, there seems to be something deeper going on with Rutherford. Something more than just a faulty cybernetic implant. MacMahan tells CBR.com, "... it's about Rutherford. There's stuff about Rutherford that he doesn't even realize and this is his second implant." They go on to discuss some of the other character dynamics–like the "will they/won't they" tension between Rutherford and Tendi–along with some takeaways McMahan learned from the first two seasons.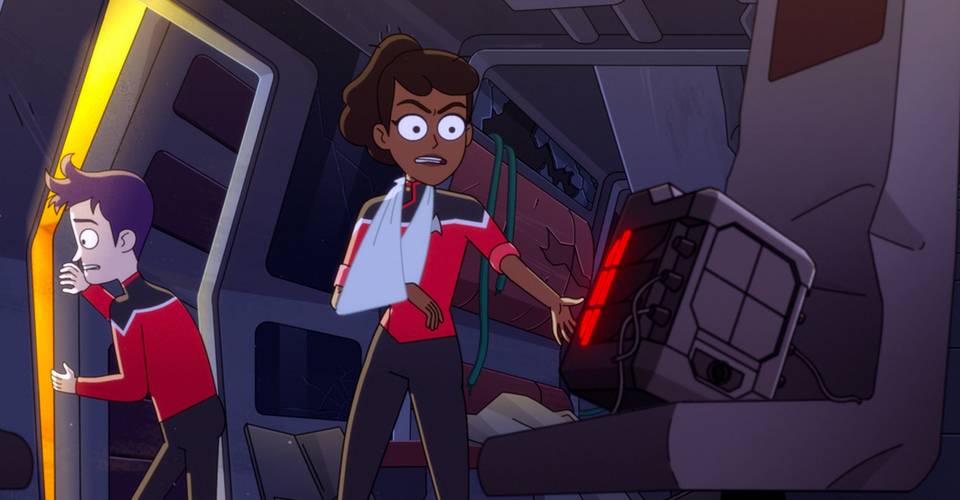 Mainly that anyone you talk to could secretly be Jeffrey Combs.
Anyone
. Image: ViacomCBS, via Comic Book Resource.
Center Chair, Hot Seat, Call It What You Will
By Cat Hough
If you have not had a chance to see the new trailer for the upcoming History Channel docu-series The Center Seat: 55 Years of Star Trek, you should definitely trek it out. According to the press release, The Center Seat will be "the ultimate Star Trek documentary that everyone has always wanted, and now they're getting." Each episode of the series will focus on a different chapter in Star Trek history, starting with the inception of the original Star Trek series at Desilu. But even the trailer features some pretty saucy quotes from the cast and crew of the various shows and movies.
For example, we hear more from Wil Wheaton, Denise Crosby, Kate Mulgrew and Robert Beltran about their less than ideal working circumstances and for Cirroc Lofton–we hear about his extreme dislike for having to wear the "onesie" uniform while also going through puberty. Nicolas Meyer, writer of The Undiscovered Country, speaks about how much William Shatner hated the script for the movie and the effect that had on, well, pretty much everyone else involved [yeah and you thought Final Frontier was a good idea, now sit down–Ed.]
Mmmm. Taste that grain. Image: ViacomCBS, via
Deadline
.
The show doesn't cover any of the new Trek series, but definitely appears to be a comprehensive and detailed exploration of the Star Trek universe over the first 55 years of the show. Created by the Nacelle Company, who also produced Netflix's The Movies That Made Us and The Toys That Made Us, the series is narrated by Dr. Beverly Crusher herself, Gates McFadden, and directed by Nacelle Company founder Brian Volk-Weiss. There's not been an official release date given other than it should premiere sometime this fall.
Festivities Will Now Commence
By Rosco McQueen
It's the most wonderful time of year; when the nanoprobes gently come to rest on ornaments hanging from the boughs of a tree, and assimilation tubules shine in the festive glow of twinkling lights. Christmas is soon upon us, and you can count down to festive assimilation with the 2021 Borg Cube advent calendar. The calendar features 24 Trek gifts behind alcoves (or windows if you prefer) and includes gifts of socks, coasters, and an espresso cup commemorating the first warp speed flight in 2063.
It's made by Eaglemoss, the same company who also made a TARDIS-shaped advent calendar for devout Whovians, and is available for purchase now. It could be just the thing to put you in the mood for Picard season 2, with the Borg Queen to feature as part of the time-travelling tale. And speaking of season 2…
I hope one of those is an apology to Icheb and Hugh. Image: Eaglemoss.
Soji's Sojourn
By Rosco McQueen
In an interview with Trekmovie.com, Isa Briones spoke about where we find Soji in Picard season 2: a place where she can finally be herself, now that being an android is no longer outlawed.
"We're definitely seeing a new kind of level of her evolution as she's coming into her own. She's finally allowed to be who she is and be accepted by the universe, the galaxy, whatever you want to call it. So yeah, we get to see her in this new, more certain place of who she is. And that's very exciting."
The more certain place also has a pool? Jealous. Image: ViacomCBS, via TrekMovie.com
The interview covered working under strict COVID conditions, as well as the broader strokes of season two and how it connects to the world we're living in. "There's a big emphasis, I think, on mental health, for sure. We're seeing these characters going through some hard moments and really leaning on each other and prioritizing their own mental health in order to save everyone else. And I think that's a very relatable storyline and a storyline that we need right now."
Your classic Good Cop/Borg Cop dynamic. Image: ViacomCBS, via TrekMovie.com
We're All Batty for Strange New Worlds
By Rosco McQueen
The hype train continues heading towards the station for Strange New Worlds–even Anson Mount starring as Batman in the new DC animated movie Injustice can't stop interviewers from asking about the new series.
Either that, or they ask about his starship's extended warranty. Image:ViacomCBS, via SYFY.
Mount will play the role of the Dark Knight in the animated adaptation of the video game Injustice, where a traumatized Superman turns evil. In an interview with SYFY Wire, Mount talks about the recording process, and not being the first Christopher Pike to take a turn at Batman. (If you're playing along at home, Bruce Greenwood has voiced Batman a couple of times, and was also the Kelvin Universe's version of one of Starfleet's greatest captains). But when the discussion turned to Strange New Worlds, Mount reinforced the episodic nature of the show, as well as a moment that would give every Trek fan goosebumps.
"I was just there as Anson in my own clothes and I sat down in the chair and it was in that moment that I flashed back to playing Star Trek as my make-believe game when I was like eight years old. Something about it was just really strangely emotional for me, and I'm still doing that. I don't even know really how to articulate it, but it's surreal and it's weird... but it's something that I'm so grateful for."
STAR TREK GAMING NEWS
Edited by Thomas Reynolds
Fanatical Devotion to the Many
By Cat Hough
Star Trek Online tweeted earlier today that the recent partnership with Fanatical offering in-game bundles to benefit the Boys and Girls Clubs of America raised more than $77,000. Well done, everyone who donated!
Cat's Tale of "Cat's Tale"
By Cat Hough
Well, it's been a week since the "Cat's Tale" Halloween TFO was released, and while it took players a few days to get to know how to navigate the phases of the TFO, it seems that most people are enjoying the mission. As you and your team are first transported to the castle on Pyris VII (or is it Boreth?) the music and lighting definitely set the mood for battling skeletons, witches, skulls and Devidians. In a creepy surprise, you're treated to some Bonnie-Kin voice-over as you make our way downstairs and through the hallways lighting candles–because it's dark in this castle!
In the first phase, you are attacked by skeletons, but you can only kill them when they are standing within the circles of candlelight. Some equipment that we highly recommend is the Universal Kit Module - Gravity Containment Unit Mk XII. You can get this kit module as a Tier IV reward from the Discovery reputation; if you use it while you're standing in the circles, then you can just pull those skeletons over to you.
Oh don't worry.
They'll find you either way.
Image: Cryptic Studios/Bentus.
Chores and Cleaning Up
In the next phase, you enter a room to kill some witches who then transport you or you and a teammate to separate rooms. Now I've only ever been to the library, where you have to shelve books in the right place or you get attacked–but there's also a cauldron room where you have to make potions and also a room with spiders–which I hope to avoid at all costs [(maniacal cackling)–Ed.].
Next, you go back and fight some more witches before you enter into the final phase where Devidians attack! While it is handy to have the Synchronic Proton Pack Distortion Prototype Assault Rifle, from the mission "Spin the Wheel" when fighting these Devidians any weapon will work. The thing to remember for the final battle is that if you are the one who has been phase-shifted, you need to stop attacking and locate the Devidian devices and deactivate them. You're only phased for a short amount of time, so you need to be quick.
All in all–this is a fun TFO to play!
Adventures in Star Trek Year Five
By Rosco McQueen
If tabletop gaming is more your style, then be sure to trek out the latest update from Modiphius. The company behind Star Trek Adventures has worked hard to incorporate work from other Trek properties, like Star Trek Online and Hero Collector/Eaglemoss. Their latest release comes directly from the pages of IDW's Star Trek Year Five, the comic series chronicling the final year of the Enterprise under James T. Kirk.
Hey Cat, found your spiders. Image: Modiphius Entertainment.
The 26-page digital release is filled with content pulled directly from the pages of the Year Five series, adapted for use in Star Trek Adventures. There is information on two new factions, three new player character lifepath options (including the Tholians and I'Qosa), twelve non-player characters (including Harry Mudd and Gary Seven), and five starships to use as allies or adversaries.
Fred Love, STA Contributing Writer said in a blog post the series puts a new spin on some old characters, as well as delving into the world of Federation politics like never before. You don't have to read the series to play, and the supplement is available for download now.
ASTROMETRICS REPORT
By Dr. Robert Hurt
For this week's Astrometrics Report, I wanted to shift the focus from science to science fiction: namely, an incredible presentation of Star Trek memorabilia at the Skirball Cultural Center in Los Angeles, California. The exhibit is called "Star Trek: Exploring New Worlds," and to cut to the chase, this is pretty much a must-see for anyone in the Los Angeles area or planning on traveling through sometime in the next few months. A lot of the artifacts on display come from the Paul G. Allen family collection, and the exhibit itself is very similar to one that was featured at the Pop Culture Museum in Seattle a few years ago. But even if you saw that wonderful collection, it is certainly worth seeing again.
Walking through the doors, you can expect to find pretty much everything a real Star Trek fan would want to see at this kind of exhibition–starting with a selfie opportunity in a reproduction of Kirk's chair from The Original Series. However much of what's display goes beyond mere photo opportunities, and really is centered around a collection of screen-used artifacts ranging from costumes, props, and even visual effects models. As a ship person, the highlights for me were probably the Enterprise-D from Star Trek: The Next Generation in the form of the original six-foot filming model that Industrial Light & Magic built for "Encounter At Farpoint." Just having a chance to take in this incredible work of art–seeing the original pain job, and imagining how it was used in the filming of all of those iconic scenes–occupied me for at least ten or fifteen minutes.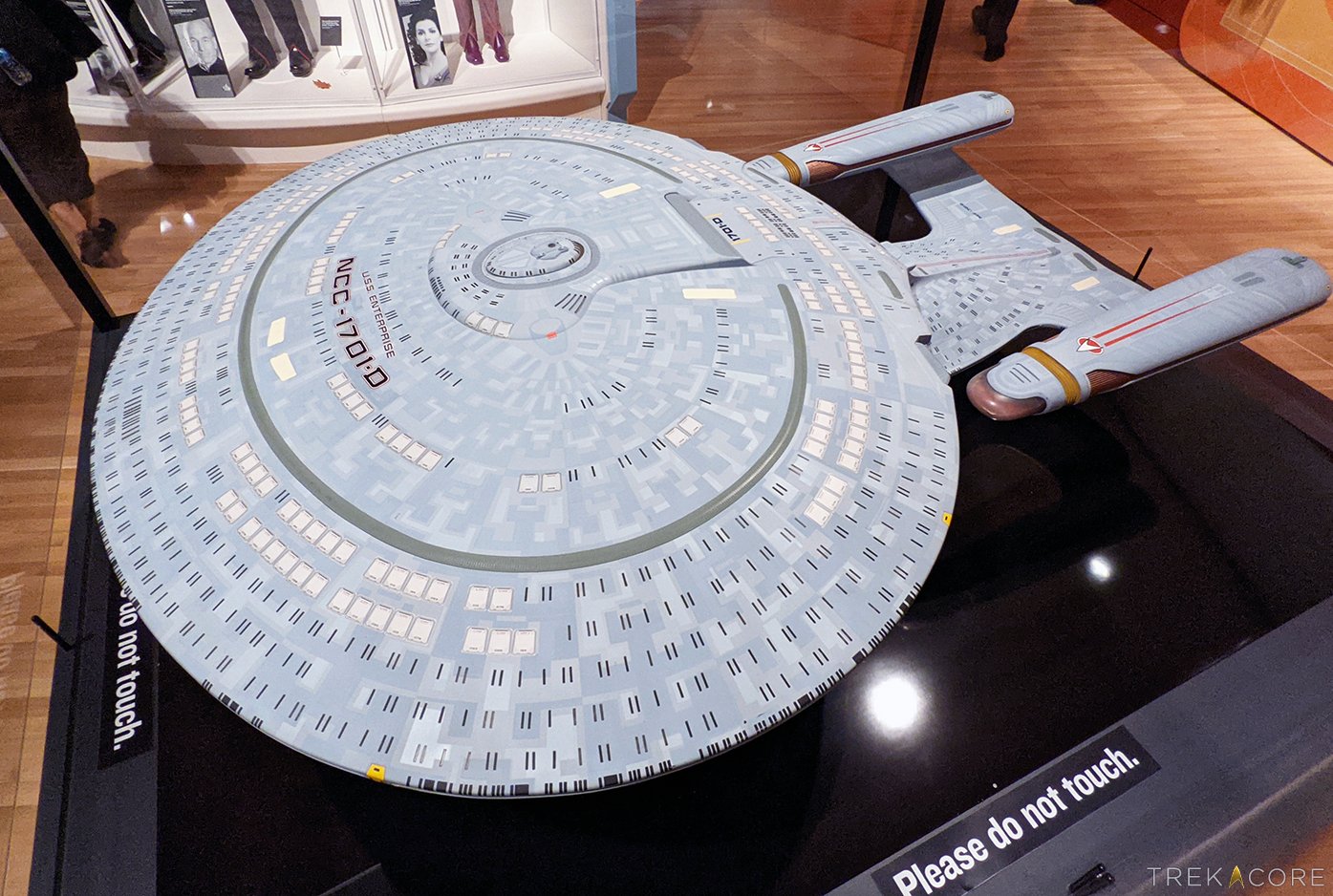 Image: TrekCore.
Also on display was the incredible rework of the K't'inga-class battlecruiser as seen in Star Trek VI: The Undiscovered Country. Having just built one of these scale models myself in the past year, it was amazing to see the incredible detailing patterns and paint schemes used in this update from its original appearance in Star Trek: The Motion Picture. Other ship highlights include the original filming model for the Romulan warbird (as designed by Andy Probert), and the Borg cube as seen in Star Trek: First Contact. But the ship memorabilia even includes some of The Original Series, with the filming model of the Klingon D-7, and a version of the Enterprise built from the AMT/Ertl model kit that was actually displayed in the window outside the office in "The Trouble With Tribbles" before the digital remastering.
Cosplayers will likely be drawn to the incredible collection of costumes, worn by the leading actors in all of the Star Trek franchises through Discovery. You can also find a delightful array of props from many of the Star Trek productions, with a particular emphasis on incredibly rare surviving Original Series screen-used props for phasers, and communicators, and medical instruments. I think TOS fans might be particularly thrilled to see the helm from the bridge of the original U.S.S. Enterprise. While this set piece was not stored as carefully as one might hope over the years, it was lovingly and painstakingly restored as much as possible while retaining the original wood and equipment.
Image: Robert Wedemeyer/Skirball Center, via
The Hollywood Reporter
.
You will also find another few photo opps including: a Jeffries tube you can crawl through, a Borg alcove that you can recharge in, and even a transporter (maybe slightly cheesy) that will do beam-in/beam-out effects...at least, on days the electronics are working, which sadly was not true when I was there. At least none of us were subject to a horrible, ugly transporter malfunction. Perhaps the single-most ambitious part of the exhibit is a Star Trek timeline, that attempts to put every single Star Trek series–from The Original Series through Picard–on a single string of dates (including multiple instances of time travel, and even a few parallel timeline splits here and there).
The exhibit will be running through February 22nd, so there's still time to plan your Star Trek getaway. I should also note the Skirball Center will only grant access to the facilities if you have proof of vaccination, or a recent negative COVID test. Advance reservations are required, and tickets are time-gated. I would note though, that the session I was at was fully sold out, but did not feel especially crowded.