Sep 17, 2021
This week on Episode 523 of Priority One: the Roddenberry Foundation continues to promote a positive future, while Star Trek already wins some Emmys this year; in gaming, Star Trek Online takes us through a mirror darkly with "Reflections" and On Screen: Lower Decks Season 2 Episode 6!
TREK IT OUT
Edited by Thomas Reynolds
Star Trek Wins at the Emmys
By Elio Lleo
On the heels of the Star Trek Day event, the franchise had cause for more celebration. During the two-day Creative Arts Emmy Event this last week, Star Trek walked away with two wins. First up, an Outstanding Special Visual Effects in a Single episode for Star Trek: Discovery's Season 3, "Su'kal." Then, Outstanding Prosthetic Makeup For A Series for the Discovery episode, "If Memory Serves." Now, Star Trek has been nominated for a total of 10 Emmys and the 75th Annual Awards show is set to air on Sunday, September 19th on CBS. So, let's keep our fingers crossed that Star Trek takes home several more!
The 2321 Emmys will use photon torpedoes in place of play-off music. Image: Television Academy.
Praise the Word of Rod
By Elio Lleo
As Gene Roddenberry's centennial celebrations continue, his son and CEO of Roddenberry Entertainment, Rod Roddenberry, spoke with Forbes's Simon Thompson about the last 55 years and the future of Star Trek. With the first four original movies being remastered in 4K UHD, Rod remarks about how great it is to see how there's still a hunger for the original incarnations of Trek, saying:
I think it makes Star Trek new again, especially for our new audiences. You've got the TV series now that has brought in a newer, younger demographic, and I think some people are resistant to look at older stuff. When it comes out in 4K, it looks fresh and new. I'm excited by them being introduced to Star Trek through the original movies.
...oh,
UNITY
, that's what the shirt says. Image: Paramount Pictures, via Forbes.
What about NuTrek? Well, for Rod, it's all about ensuring that any of the recent incarnations stay true to the core of what his father's vision was all about saying:
He wants people like J.J. Abrams and Alex Kurtzman and others to come along and do that. He also wanted to make sure that it remains Star Trek… [a]s long as they are continuing the tradition and the idea of it making you think. Having it entertain is extremely important, absolutely, but let's be considering different points of view on this as well.
Rod goes on to discuss his own personal history with the franchise and how it was he grew to be so invested in his father's legacy.
What Escapes In Vegas...Stays In...Hmmm…
By Cat Hough
If you're headed to Vegas anytime soon, you should definitely trek out the new Star Trek: Discovery-themed escape room launched by Escapology. The game is set during the third season of Discovery and has opened just in time to coincide with the 4th season premiere on Paramount+.
Your role in the game is acting as a civilian engineer tasked with inspecting the U.S.S. Discovery NCC-1031 as it undergoes the refit and upgrade to the 1031-A. However, sci-fi things happen during your inspection and Discovery collides with a quantum filament, causing major hull damage. The filaments' quantum resonance has also caused a polarity shift in the antimatter containment system, leading to a progressive degeneration in the containment field. If field strength falls below 15%, it will collapse, destroying the vessel and everyone aboard.
Because sci-fi stuff happened, the main computer has closed emergency bulkheads across the ship and the turbolift control system has been disabled, leaving the bulk of the crew trapped and unable to begin repairs. In a convenient turn of events, your turbolift stopped near the Auxiliary Control section, so all you have to do is override its systems. At this point, you're the best option for helping Discovery and its crew avoid this disaster.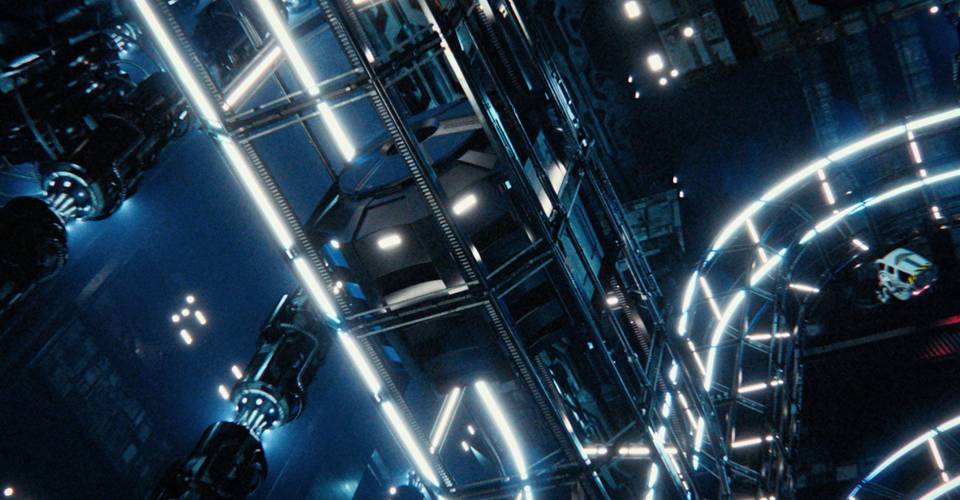 Another
reason to hate this design. Image: ViacomCBS, via CBR.
Then, you, and your team, must escape the turbolift and communicate with a senior officer. You can save everyone if you can just re-establish communications and work together to repair the antimatter containment field before the strength falls below 15% which is projected to be in precisely 60 minutes time. Or that's how long you can book the room for: packages can be reserved at the Las Vegas Town Square location via the Escapology website and they currently show the price for 6 people is a little under $250.
Festivity Will Now Commence
By Thomas Reynolds and Rosco McQueen
It's practically cliché at this point: the commercial Christmas season starts earlier every year, with candy canes and carols drowning out the trick-or-treaters and turkey dinners. But...what if December isn't merely encroaching on the other months? Isn't Christmas adding their celebrational distinctiveness to its own? Are they not being adapted to service Saint Nick? Yes, Christmas is assimilating the calendar–and your holidays, as they have been, are over.
The Elf on the Shelf was the first to fall to the Collective; the angel tree topper is next. Image: Eaglemoss.
Festivity may be irrelevant, but that hasn't stopped Eaglemoss from creating a grim messenger of holiday cheer. Invading Sector 001 on September 30th, the Borg Cube Advent Calendar brings 24 Trek accessories and gifts to all good little Trekkies. Socks, coasters, coffee mugs: each item included in the box also includes a short note with trivia and stories behind it. The Calendar sells for a considerable $149.95, so your bank account might look like New Providence if there's more than one Trekkie on your gift list.
However, if you're after something a bit less "Sovereign-class", then the California line of starships may be more your style. Eaglemoss has revealed the new XL model of the USS Cerritos. The model is 9.75" long and faithfully reproduces the Cerritos as it appeared in the first season. It's due in January 2022, so not quite in time for Christmas, but it will soon be joined by a model of the U.S.S. Titan.
Both models were made using the actual VFX files used in Lower Decks, with both ships looking a little more animated than the usual line of starships–like they could have leapt from the screen to your living room.
Ejectable warp core not included. Image: StarTrek.com
Quick News Roundup
Here are a few headlines that we didn't discuss but might interest you.
For her efforts to help eradicate sexual harassment from the entertainment industry, Michelle Hurd was awarded the SAG-AFTRA President's Award. Hurd (Raffi on Star Trek: Picard) is an actor, activist and National Board member who's worked to provide resources to SAG-AFTRA members who experienced sexual harassment and assault. She also assisted in developing updated guidelines and policies to eliminate harassment and assault from the industry.
You can color your favorite Lower Deckers. The Star Trek.com website is still celebrating Star Trek Day and you can download and print pages to a new coloring book from season two of Star Trek: Lower Decks.
We want to remind you that you can participate in the Roddenberry Foundation's "Boldly Go" campaign by submitting a video, photo, letter, poem, or even a simple selfie. The theme or question to answer, "describe your hopes for the next 100 years!" Visit BoldlyGo.com to learn more!
STAR TREK GAMING NEWS
Edited by Thomas Reynolds
A Fanatical Devotion to Charity
By Shane Hoover
It's policy here at Priority One that we love charity bundles (and if it isn't, it should be). The latest effort from STO and Fanatical.com is no exception. Following the familiar format, players can select one of two reward tiers based on their donated amount:
Tier 1 - $1 ($15 value)

32c Vanity Shield Overlay
Rainbow Risian Caracal
'Charitable' title

Tier 2 - $7.99 ($82 value)

All items from Tier 1
Narendra-class Support Cruiser (T6)
Vor'ral Support Battlecruiser (T6)
1 Fleet Ship Module
1 Gold Tech Upgrade
30 Lobi Crystals
Rarely is it this easy to support the needs of the many. Image: Fanatical.
But the benefits don't stay in-game: each purchase of any tier in the bundle earns you a chance to win the Grand Prize! Tier 1 purchases earn a single Grand prize entry, while Tier 2 purchases net you five entries. The winner gets a place on Star Trek: The Cruise V, a ticket worth over $5000. I don't know if God needs a cruise ship, but I sure wouldn't mind getting on this one. The winner also receives a digital copy of every expansion pack available for Star Trek Online. That's Legacy of Romulus, Delta Operations, Temporal Agent, Gamma Vanguard and Discovery Operations. All told, that's over $720 worth of STO goodies. You can also get one free entry into the Grand Prize drawing by visiting a link which requires you to sign up for the Fanatical newsletter.
Nearly 90% of the sales price on these charity bundle items will benefit the Boys & Girls Clubs of America, providing children with safe and fun places to grow and thrive, and offering mentoring life-enhancing programs.
STO Takes Another Hard Look In the Mirror
By Rosco McQueen
With the conclusion of the Klingon Civil War, you would think Starfleet and members of the Alliance would have time for a little bit of exploration in Star Trek Online. Think again!! As a mirror universe admiral once said, "You haven't seen the last of me!"
This newfound peace is short lived, as a new danger emerges from the Mirror Universe. A former enemy, Admiral Leeta (voiced by Star Trek: Deep Space Nine star Chase Masterson) is being hunted by the Mirror Universe's Kuumarke, a Terran Empire special agent. Players will team up with Admiral Leeta to stop Kuumarke and her Terran forces from using stolen information to bring destruction to the Prime Universe.
Captains can investigate this looming threat in a new featured episode, Firewall, as well as participate in a new ground TFO, "Operation: Wolf." Captains can also earn daily progress by playing the "Counterpoint" TFO and the episode "Jabberwocky" to work towards claiming the brand new T6 Mirror Gagarin-class Miracle Worker Battlecruiser. It's worth noting the first Captain on your account to claim the ship also receives 8x Terran Empire Agony Phaser Weapon Packs which each contain your choice of starship weapon type, and 3x Ultimate Tech Upgrade - Beam/Cannon/Projectile Tech which may be used to upgrade any starship weaponry
The new Terran ship has a 4 forward, and 4 aft weapon layout, compared to the regular 5/3 layout of the Prime Gagarin. It features a Lieutenant Commander Command Specialist Bridge Officer seat, and a universal console - the Destructive Protomatter Wave Projector. The wave projector targets multiple vessels, ripping apart their hulls. If they are destroyed then they send out a secondary shockwave, which may infect other targets in a chain reaction.
Carriers With Crossover Appeal
By Thomas Reynolds
For years, STO was a preeminent source for new Trek stories–and what's a new Trek story without a ship? Cryptic's designs helped progress the post-Nemesis state of shipbuilding art, establishing distinct aesthetics for a modern 25th century. Now 2021's a different scene, with five different television series and other MMOs generating new ships of their own. That said, STO's contributions aren't going unnoticed.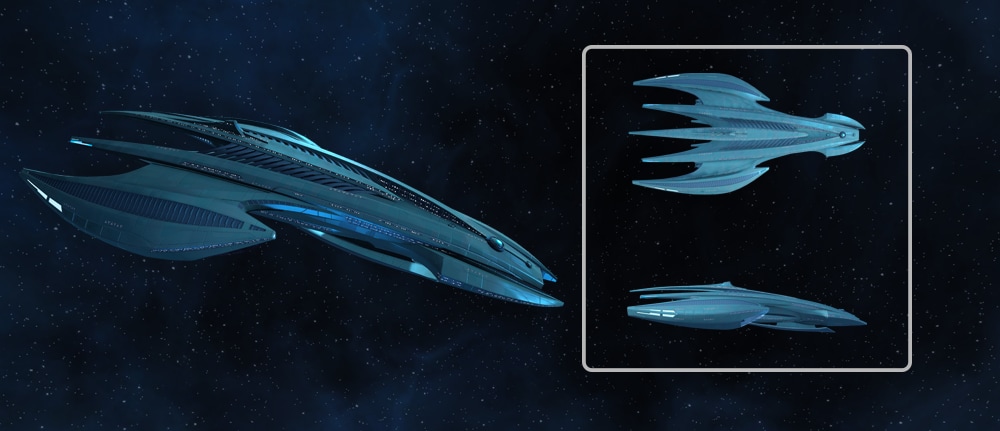 Yes. It's a cat carrier. Good job. Image: Cryptic Studios.
The Continuing Mission blog for Star Trek Adventures recently posted fan-made guidelines for bringing Cryptic's Atrox- and Aspero-class carriers into the tabletop world. The unofficial STO-to-STA ship conversion assigns stats and traits based on their online counterparts, so you can drag-and-drop them into your campaign. It's an interesting look at RPG mechanic design, if that's your thing (and if you're listening to this podcast, that's a pretty safe guess). But it also reflects Cryptic's success in creating ships that become Trek characters in their own right.
Quick Gaming News Roundup
With Reflections taking us back into the Mirror Universe, STO's original ships are getting some fresh new looks--looks that could kill, that is. Ten of Cryptic's 25th century Federation designs, including the fan-favorite Pathfinder, have been touched up for the new arc, ranging from new materials to full-blown remasters.
The Terran Empire is also getting their own versions of four ships–the Shran, Reliant, Andromeda, and Pathfinder–dressed to impress and distress. For fans of STO's story blog posts, this was all related in a private communique from Vice Admiral Hemphill of Starfleet. Or is it Lord Baron Vice Admiral of Starfleet? The answer: yes.
If you launch STO through the Epic Games launcher - or if you want to get a free Terran Incursion Pack that includes a Terran Empire Sonic Phaser Stun Pistol, an Elite Services Starter Pack and a Small XP Boost, then you'd need to download the game and launch through Epic Games. The pack can be claimed once per account, all items are bound to account and you must complete the tutorial in order to claim it.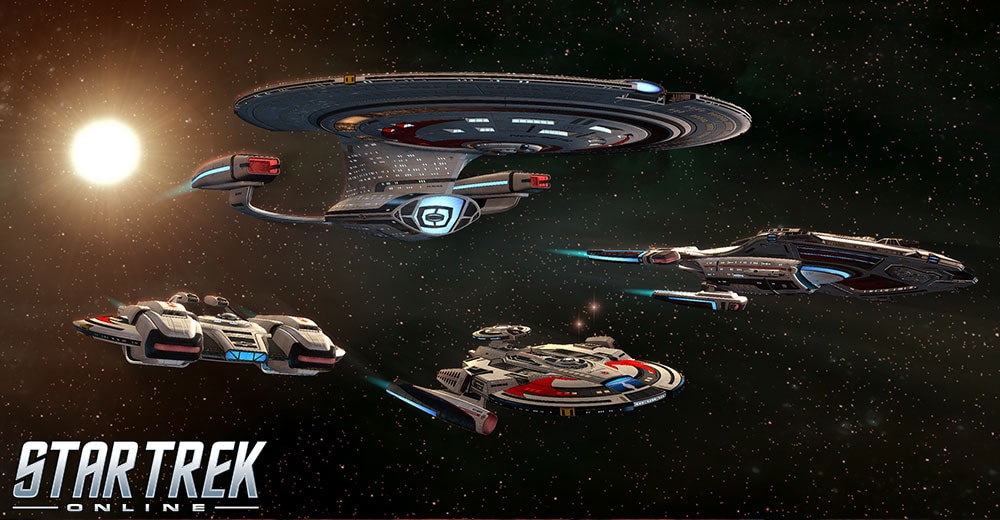 The red tells you they're Evil ships, because they can't grow goatees. Image: Cryptic Studios.