Sep 3, 2021
This week on Episode 521 of Priority One: Star Trek: Prodigy drops several news items just as Star Trek Day nears, Star Trek Online tries to entice new players and existing players to start a brand new character, and we throw a unicorn horn on a white gorilla suit in On Screen, with Season 2 Episode 4 of Lower Decks!
TREK IT OUT
Edited by Thomas Reynolds
Prodigy Pulls Some Great Cast Gets
By Elio Lleo
The newest iteration of Star Trek, Nickelodeon's animated series Prodigy, is making news this week with a couple of big announcements. First up: casting! Two new actors have been added to the cast announcement with Jimi Simpson and John Noble both playing antagonist characters. According to Deadline's Alexandra Del Rosario, Noble (The Lord of the Rings, FRINGE) will voice the character known as The Diviner: "a ruthless tyrant who controls the asteroids of Tars Lampora…and will stop at nothing in his hunt for the Protostar ship, no matter the cost." Simpson (It's Always Sunny in Philadelphia, Westworld, Breakout Kings) voices Drednok, "the Diviner's deadly robotic enforcer…heartless and cold."
...yeah, checks out. Image: CBS, via Deadline.
Now, if talent isn't enough, then be sure to watch the main title sequence for the show–available now on YouTube and other Star Trek social media channels.
Lining Up The Milestones
By Rosco McQueen
Panels, panels and more panels are coming your way for the Trek franchise's 55th anniversary. On September 8, the Star Trek Day celebrations will be hosted by The Next Generation's Wil Wheaton and actress and host Mica Burton. It will feature back-to-back in person conversations with cast and crew members, with a focus at looking at what is ahead for the franchise.
One panel in particular features Anson Mount, Rebecca Romijn and Ethan Peck from Strange New Worlds, with the trailer for the event casually showing off the logo of the series. Composer Jeff Russo will lead a live orchestra performance throughout the event, with Paramount+ saying to expect some surprise announcements and reveals throughout the program.
Another notch in the milestone belt of history comes after the airing of the Lower Decks episode "We'll Always Have Tom Paris", marking the 800th episode of Star Trek television. Now that commemorative plate makes even more sense!
Now do you
shorten it
to
Cer
or
Tos
? Image: Paramount+, via ComicBook.com
All The Star Trek News Fit To Print
By Cat Hough
If watching all the new Trek offerings and playing all the Trek games is still not enough Star Trek content in your life, well you are in luck! This November, Titan Publishing is re-launching the official Star Trek magazine and renaming it Star Trek Explorer. Titan describes this magazine as "the no. #1 destination for everything Star Trek–filled with in-depth interviews and features taking you behind-the-scenes of all your favorite shows and movies."
The first issue showcases a fresh new design and features two exclusive Star Trek short stories. Plus, they plan on adding a 16-page themed "featurette" in each issue, with the inaugural issue featuring a guide to Captain James. T. Kirk. There are two covers available for the first issue: one features a shot of Michael Burnham from Star Trek: Discovery, while the second uses Tim Anderson's Star Trek: The Original Series tribute artwork.
Image: Titan Publishing, via ComicBook.com
Yearly subscriptions cost $29.99 for four issues and, as an added subscription bonus, you get an exclusive digital magazine that includes extra Trek nuggets. You can buy each issue separately for $9.99.
Quick News Roundup
Here are a few headlines that we didn't discuss but might interest you.
The documentary Woman In Motion has been uploaded to the International Space Station, commemorating Women's Equality Day in the U.S. If you have not seen it already, the film shows how Nichelle Nichols spent 1977 campaigning across America to bring diversity to NASA. Woman in Motion is also available on demand and digital and is streaming on Paramount+.
Voyager actor Tim Russ recently helped with the detection of Patroclus, an asteroid orbiting Jupiter. An avid amateur astronomer, Russ is part of a network of citizen astronomers who regularly contribute space observations. He says that contributing to NASA's mission is important because understanding where we come from, what our origins are and the fact that we are a few intelligent species in this galaxy is special.
He reflec, he protec, but most importantly, he detec.
Image: Tim Russ, via USA Today.
STAR TREK GAMING NEWS
Edited by Thomas Reynolds
Time Is On Our Side
By Cat Hough
Well, the time has come at last [again–Ed.]! Star Trek Online announced the Temporal Recruitment Event returns on all platforms, just in time to celebrate Star Trek Day on September 8th.
Since we're playing through the Original Series-era content for this event, the devs have gone through and made some visual updates and updated cutscenes as well as improving the missions themselves. Plus, Temporal Agent goals have been updated to include some new ones, and removed some goals from missions that are no longer in the game, so you don't have to worry about finding Temporal Probes in places that you can no longer reach.
You'll be able to earn bonuses for reaching level 60, marks for all of the reputations that have been added to the game, and rewards for engaging in R&D and specializations. Existing Temporal Agents will be able to complete these new goals as well, and if you've already finished them, you can claim the rewards immediately.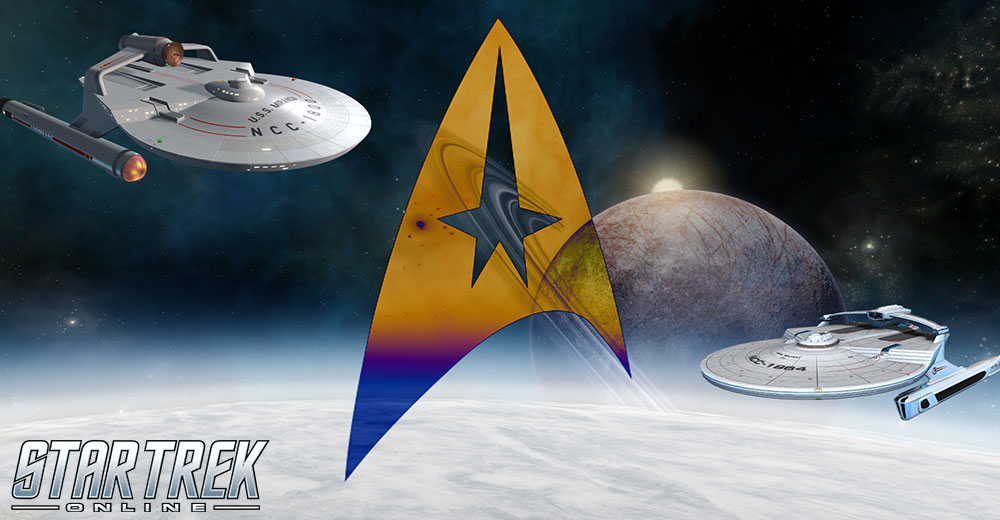 Tell me they changed the
prefix code
, at least. Image: Cryptic Studios.
Remember, to become a Temporal Agent and gain access to the rewards, you must make a new TOS Starfleet character, during the event, then you must play the tutorial until you receive your special Temporal Agent transceiver device. Once you receive the device, your character is a Temporal Agent and you can complete the goals any time and claim the rewards, even after the event ends.
Good Old (Star Trek) Games Coming To Good Old Games (Galaxy)
By Rosco McQueen
Do you pine for the days when Star Trek games weren't vast, expansive, massively multiplayer worlds? Maybe you're more of a LAN party player (as long as some else brings the snacks)? A number of classic Trek games, including Star Trek Armada 1 & Armada 2, Star Trek Bridge Commander, and Star Trek Voyager: Elite Force and Elite Force 2 could be due for re-release on GOG Galaxy. Gamefront reports the game cards for titles on the platform recently being updated with new CBS copyright watermarks.
Start a
Star Trek
Game Night for your retirement home today! Image: ViacomCBS/GOG Galaxy, via GameFront.
Dancing Data in Fleet Command
By Rosco McQueen
Star Trek Fleet Command just dropped a new teaser featuring Brent Spiner loosening up for co-star LeVar Burton after playing "an emotionless android for years." [same–Ed.] This continues Fleet Command's ongoing efforts to bring in Trek celebrities for their promotions: earlier this year they had Sonequa Martin-Green and Karl Urban. Recent promos have leaned into TNG to showcase the latest updates to the game; in addition to Spiner and Burton, Jonathan Frakes also shows up in the promo.