May 21, 2021
This week on Episode 509 of Priority One: Kate Mulgrew reveals how the Janeway Hologram is introduced in Star Trek: Prodigy; Rod Roddenberry begins celebrating his father's centennial with a new social media campaign; and Star Trek Online introduces tech from the 32nd century in its latest Lock Box.
This week's Community Questions are:
CQ: Got kids? Will you be watching Star Trek: Prodigy with them? What do you hope will be their biggest takeaway from the new series?
CQ: As we reflect on Gene Roddenberry's legacy over the next 100 days, tell us–what does Star Trek mean to you?
CQ: Are you looking forward to Fleet Command's new Next Gen-era content? Does the Away Teams minigame make you want to spend more time in-game?
Let us know on social media like Facebook, Twitter, or by visiting our website!
TREK IT OUT
Edited by Thomas Reynolds
Kate Mulgrew's Hologrammatic Appearances
By Elio Lleo
With Star Trek: Prodigy set to debut sometime this year on Paramount+ and later on Nickelodeon, Kate Mulgrew continues to sing praises of its development, the story it hopes to tell children, and the overall mythos that is the Star Trek franchise. During a recent episode of Dennis Miller+1 to spotlight her latest project on the streaming service Peacock (Mr. Mercedes) Mulgrew not only spoke about the impact Star Trek has had in popular culture but she also shared some information about how Janeway's Hologram will appear in the new series.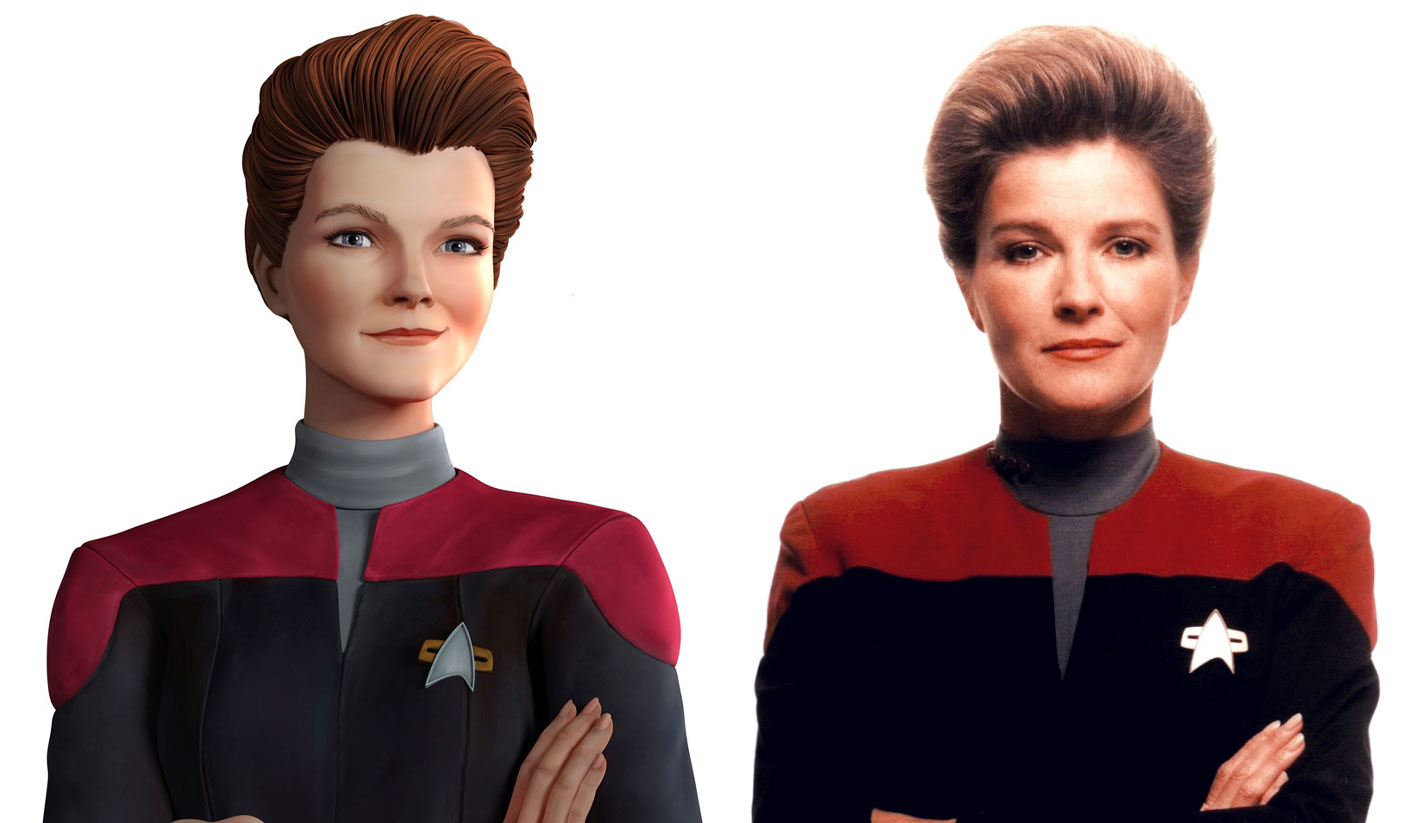 "Me and my hoooolo, strolling down the avenue--oh god, it's Q? Me and my hooooolo..."
Image: ViacomCBS via TrekCore
That leads us to our first community question this week:
CQ: Got kids? Will you be watching Star Trek: Prodigy with them? What do you hope will be their biggest takeaway from the new series?
Let us know in the comment section for this episode at priorityonepodcast.com or by replying to our community question post on our social media channels like Facebook, Twitter, and Instagram.
Discovery Season 4 Is Scripted, Picard Season 2 Is Shooting
By Roscoe McQueen
It's official. The I's have been dotted, the T's have been crossed, and the nacelles have been detached. The script for season four of Star Trek: Discovery is complete. The sign-off was confirmed this week by showrunner Michelle Paradise on social media, posting "A long journey to type these words. But here they are..." Paradise attached a picture of the final words of the season four finale script "End of season four."
It's not as catchy as "Let's fly" but I'm willing to see how it plays.
In other production news, Star Trek: Picard is filming in the Santa Clarita area this week. SCVNews.com reported that the city's film office has 9 productions filming in the Santa Clarita Valley beginning the week of Monday, May 17, 2021, including Star Trek: Picard.
Star Trek: Lower Decks Blu-Ray and DVD
By Shane Hoover
What hits shelves on May 18th and packs more Star Trek Easter eggs than Beckett Mariner's crate of contraband? The answer, of course, is the Star Trek: Lower Decks Season One DVD and Blu-Ray set. Bonus features include a trailer for Mariner's Crisis Point: The Rise of Vindicta movie, U.S.S. Cerritos crew profiles, and a catalogue of the show's many many Easter eggs.
The show's creator and executive producer Mike McMahan sat down for some promotion interviews, and he had some very interesting thoughts to share. Speaking to Screenrant.Com about his goals for Season 2, McMahan said "we have a lot of bills to pay. We've got Rutherford's memory issues, we've got Mariner and her mom working together, we've got the Pakleds being a real threat out in the world, we've got Tendi worried about her friends not remembering her from the first season and what does that mean for their friendship. And we've got Boimler on the Titan!"
Tooting his own...well, I guess it's not his own horn, is it. Image: ViacomCBS via CinemaBlend
They also asked McMahan about Mariner's backstory, and he answered "I mean, I know everything about Mariner... but there's a backstory to Mariner that we don't want to mine so quickly and just have everybody know." He also suggested that attentive viewers are probably already piecing together the show's hints about Mariner's past.
The website CinemaBlend.com asked about a Lower Decks live-action Boimler crossover to Star Trek: Picard. McMahan offered that he "can't imagine why not. I mean he's a capable Ensign as we've seen. He has that promotion to the Titan. You see Riker and Troi in Picard. You'd have to imagine if he doesn't run into too many Crystalline Entities that Boimler would still be bouncing around the quadrant."
...does anyone know what
that ringing sound
is? Image: ViacomCBS via CinemaBlend
But he doesn't see much likelihood of Picard crossing over the other way, telling ScreenRant "Look, would I love to work with Sir Patrick? Obviously! But is there any reason he would ever meet our Lower Deckers aboard the Cerritos? Not really." Mike McMahan shared some great thoughts, and we have links to three of his interview stories in the show notes. Trek them out for all of the details!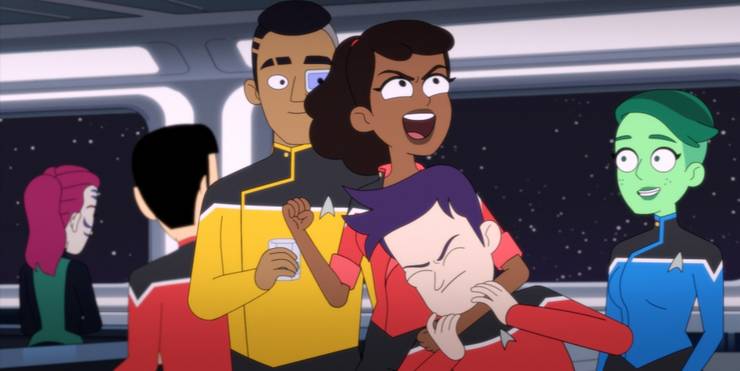 Peace and quiet was never an option. Image: ViacomCBS via ScreenRant.
#thinkTrek - Gene Roddenberry's Centennial
By Elio Lleo
Captains, last week we discussed an interview with Rod Roddenberry on "The Credits" where he spoke about the impact his Father had on popular culture and the vision of the future that was shared with us. Now, as the weeks move on, Roddenberry.com has launched a social media campaign celebrating Gene roddenberry's Centennial. Using #thinkTrek and #talkTREK, Rod Roddenberry hopes to spotlight some of the philosophy that his father tried to share with us, a future that gives us a "chance for us all to be better, to act kinder, to be more inclusive, and to basically Think Trek."

Taking part in the celebration, filmmakers, actors, notable fans and more will be recording readings of some of Gene's most inspirational quotes. 100 quotes, 100 days, all coming to a close on Gene's birthday: August, 19, 2021. Already, we've seen readings from folks like Bill Nye, Kevin Smith, Scott Bakula and more! So be sure to follow Roddenberry on all their social media channels to get your daily dose of Roddenberry wisdom!
But you can also take part in the celebration by sharing images, photos, videos, whatever you might spot in your daily lives that remind you of Star Trek. Just use #thinkTrek and tag @roddenberry when you post!
That leads us to our next community question this week:
CQ: As we reflect on Gene Roddenberry's legacy over the next 100 days, tell us–what does Star Trek mean to you?
STAR TREK GAMING NEWS
By Thomas Reynolds
To Gain The World And Lose The Soul
All good things must come to an end–and if you're a Klingon, war tops your Good Things list. Unless it's a civil war between J'Ulla's and J'mpok's partisans for the future of the Empire. Maybe it's less good, then. But it cannot last forever. It never could, when politics and honor demand your enemy's complete destruction. And as birds of prey come home to raze, as shattered Praxis looks down on a world on fire, this phrase–this edict–will be on every warrior's breath and heart: remain Klingon.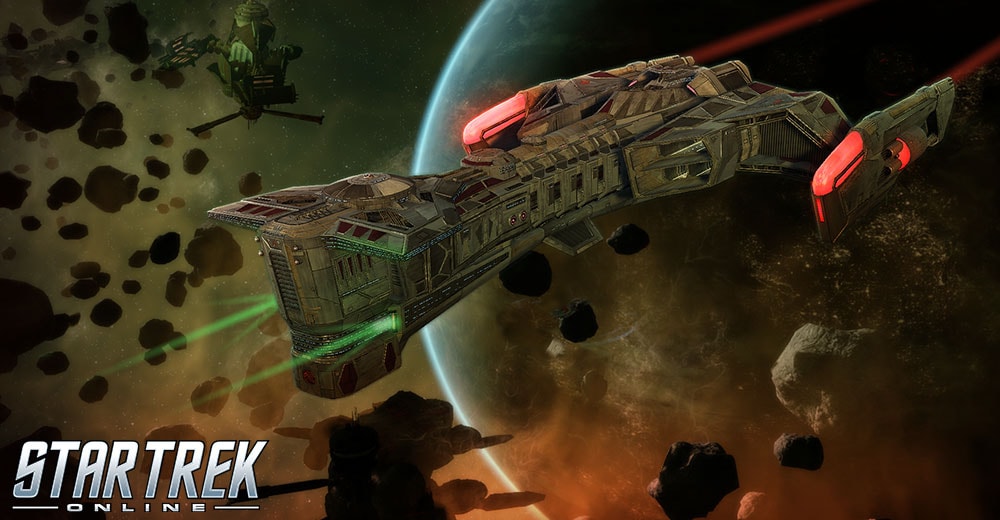 Image: Cryptic Studios.
On May 14th, Cryptic declared STO's next TFO, "Remain Klingon," to be the Klingon Civil War's final battle. Captains will lead the fight over Qo'noS in this space-based TFO as the First City roils with disruptor fire. Cryptic also notes that captains should play "A Day Long Remembered" before queuing for "Remain Klingon". But wait, what's "A Day Long Remembered"? Sure sounds like a mission title, but I guess you'll just have to wait to find out. Until then, be ready. Be fearless. And as always, remain Klingon.
Star Trek Online Forecasts Icing Conditions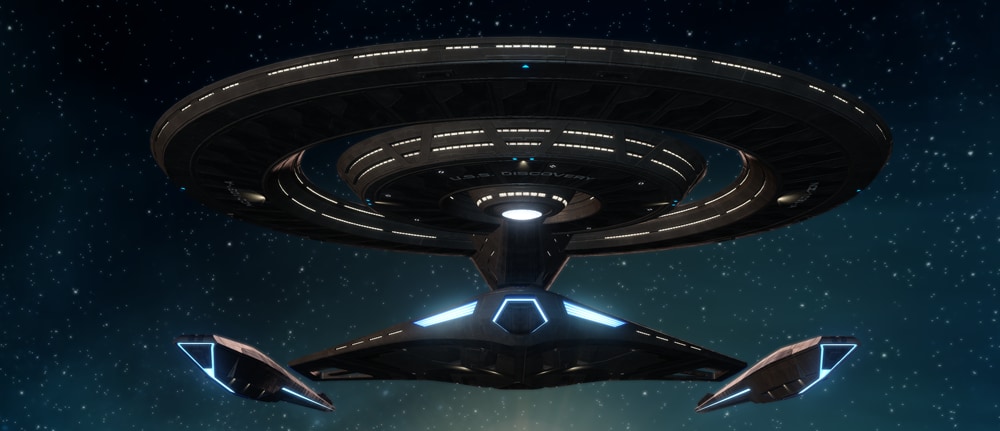 Image: Cryptic Studios.
Announced today and launching Soon™, the Discovery: Far From Home Lock Box hits high notes from Disco's third season. Headlining the potential prizes is the Crossfield Science Spearhead Refit [T6], better known as the U.S.S. Discovery-A. Players who don't get one can just chill out with the Parasitic Ice Containment Vessel Universal Console. (Yes, it's a Vessel but it's a Console. Just work with us here.) Other drops include the Beast Mast–sorry, Bond With Animals Ground Trait, Personal Transporter kit module, and a randomly transporting Saurian. There's a lot of fascinating new items in the box; trek out the full list.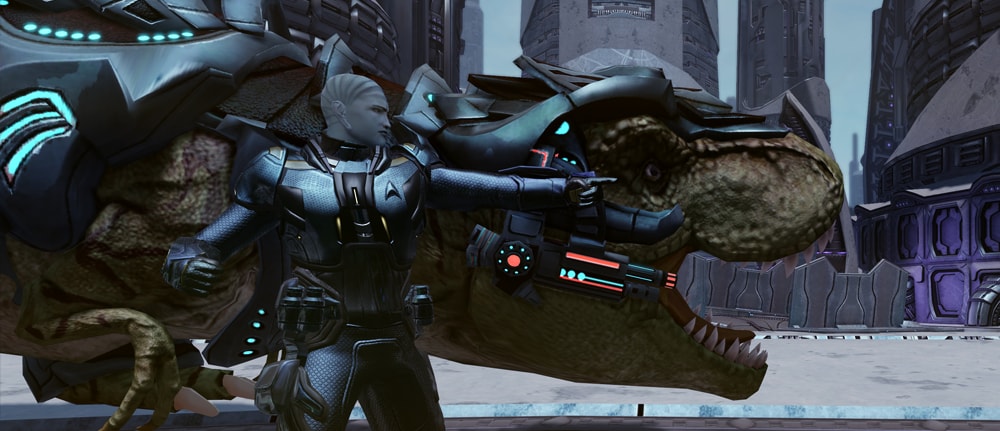 NOW let's see who gets laughed out of the dog park. Image: Cryptic Studios.
The Trial Never Ends, The Lens Flare Never Stops
September 1987: the Star Trek multiverse returns to TV anew, when the Enterprise-D has its encounter at Farpoint. May 2021: Fleet Command returns to the Prime Timeline, as the Enterprise-D plows into some random Kelvin Timeline planet's surface. It's a rough introduction this time, no better for the lack of crew–only the amnesiac android Data is on board. Why is the Federation flagship of 2364 tilling soil more than a hundred years before it was built? Where did its 1,011 other crewmembers go? And can you put it together–ship, crew, and sinister plot behind it all–before those responsible come to finish the job?
Welcome to Star Trek Fleet Command Patch 30.
Image: Scopely.
Scopely resumes its continuing mission bringing Prime Timeline content to its Kelvin-only game with TNG storylines, battle passes, and collectibles. Familiar faces from the series are now potential crew picks, particularly a Rare-tier Beverly Crusher and Epic-tier Data and Geordi. But the most significant addition is the new Away Teams game mode. Unlocking your station's Shuttle Bay building opens up lists of short-term assignments to complete for resource rewards. Players with STO or Timelines experience will recognize a way to put idle crewmembers to work based on relative strengths. Of course, if you get Q as a crewmember you can just clear all the tasks off at once. Or your entire roster will turn to salamanders. Who knows?
Really hoping that's not Mirror Georgiou you're about to send. Image: Scopely.
That leads us to our final community question this week:
CQ: Are you looking forward to Fleet Command's new Next Gen-era content? Does the Away Teams minigame make you want to spend more time in-game?