Jun 19, 2021
This week on Episode 512 of Priority One: Paramount+ announces the main cast for Star Trek: Prodigy; Rebecca Romijin shares some news about Strange New Worlds; McMahon teases Lower Decks Season 2; Star Trek Online offered players a new promotional pack to purchase; and Fleet Command continues its Next Generation journey.
This week's Community Questions are:
What are the bills you want to see paid in Lower Decks (and Picard) seasons two?
What are your thoughts on the Mudd's Market Into Darkness bundle? Did you purchase it---and if so, which options did you decide on?
Are you hoping to see Star Trek characters in Fortnite? Who would you most like to see?
Let us know on social media like Facebook, Twitter, or by visiting our website!
TREK IT OUT
Edited by Thomas Reynolds
Paramount+, Essentially
By Elio Lleo
ViacomCBS continues to try luring in more subscribers, by offering up new pricing tiers and teasing a slate of new content coming out over the summer. First up: the new "low-cost" option for US subscribers, starting at $4.99. This "Essential Plan" is ad-supported, including some sports and on-demand options. However, it will no longer include local live television station programming.
I swear every one of those stars is an asterisk. Image: ViacomCBS, via Deadline.
Keep in mind if you already have the limited commercial plan, you won't lose any features…however, that plan will no longer be offered to new subscribers. The "Premium Plan" will cost US subscribers $9.99 a month, is commercial-free with on demand entertainment (including 4K titles), more sports, and live streaming of local stations.
Trek's Prodigious New Talent
By Elio Lleo
On Monday, June 14, ViacomCBS dropped the cast list for Star Trek: Prodigy–the first animated show specifically geared towards children [no, TAS wasn't written for kids; we've explored that in our Patreon exclusive podcast: After Hours -Ed.]. The six main voices joining Kate Mulgrew have been announced including Jason Mantzoukas–who you might recognize from shows like Brooklyn Nine-Nine, The League, and as the voice of the foul-mouthed Rex Splode on the Amazon animated series Invincible. Variety also shared the details about the characters including some species names, character backgrounds, and some first-look images.
Aren't you a little young for nebula coffee? Image: ViacomCBS, via Variety.
Romijn Charts Out Strange New Worlds
By Cat Hough
In a recent interview with Looper.com, Rebecca Romijn confirms what we have long suspected regarding the format and episodic nature of Strange New Worlds. She said, "it's in keeping with the original series — they're standalone episodes. It's a little bit lighter. We are visiting planets. We are visiting colonies, and we are so proud of our work so far." The show will cover ten years of missions on the Enterprise (no bloody A, B, C, or D) with Captain Pike, before Kirk takes the helm. Romijn plays first officer Number One, originally played by Majel Barrett.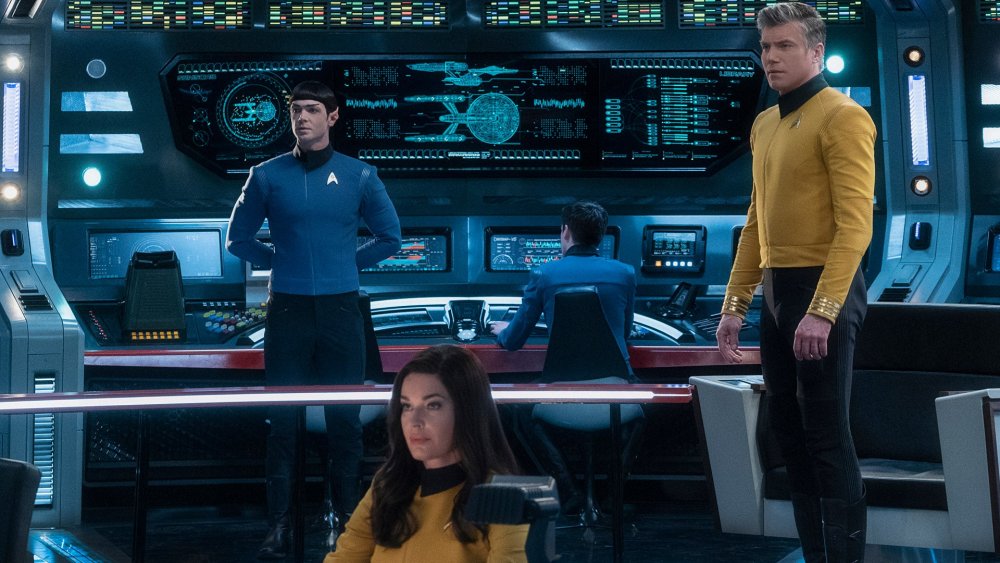 Whatever you've hiding, Mr. Spock, I hope you brought enough to share. Image: ViacomCBS, via Looper.
No release date has yet been announced for Strange New Worlds, other than it's expected some time in 2022. But it appears that filming may be coming to a close. Romijn told Looper she was able to catch a break in filming episode seven of ten for Strange New Worlds in order to promote her new film, the safari thriller Endangered Species.
Bills To Pay in Lower Decks Season 2
By Rosko McQueen
It's the question that can foster debate, cause rifts in friendships, or spark outrage on social media: what's your favorite episode of Star Trek? Mike McMahon, the creator of Lower Decks was asked exactly this by the folks at IGN. Thanks to his breadth of knowledge, he had an answer for each series, while also throwing out some teasers for Lower Decks season 2.
"
Shades of Gray
," Mariner?
Really?
Image: ViacomCBS, via IGN.
Mike spoke about the structure of Star Trek, and the nature of standalone episodes that add to the depth of the characters–but not in a way that the audience needs a refresh at the start of each new episode. What that means for Season 2 of Lower Decks is we have the setup of the first 10 episodes. So where to from here?
"These last three episodes created this crescendo of, 'Look, this is what the show is. Let's go. And we keep that up. How does Mariner feel about Boimler taking off? How is Boimler doing on the Titan? So, [we're] still doing standalone, still episodes that feel episodic, but the characters don't forget. We haven't forgotten what we've said [in] Season 1."
That leads us to our first community question this week:
What are the bills you want to see paid in Lower Decks (and Picard) seasons two?
Let us know in the comment section for this episode at priorityonepodcast.com or by replying to our community question post on our social media channels like Facebook, Twitter, and Instagram!
Quick News Roundup
Here are a few headlines that we didn't discuss but might interest you.
GoldDerby.com's Rob Licuria sat down with Star Trek: Discovery's Visual Effects Supervisor Jason Zimmerman to discuss the process behind building a new universe in the Star Trek multiverse–specifically, after jumping into the future in Discovery Season 3. Licuria also chatted with Glenn Hetrick about Season 3 of Star Trek: Discovery on June 9th.
In a recent episode of the official Star Trek Podcast: The Pod Directive, Tawny and Paul chat with Alex Kurtzman to discuss the importance of Trek, the production process, and storytelling in the Star Trek universe…and how desperate he is to produce a musical story. We'll be deconstructing the interview in our Patreon Exclusive show, After Hours, this week.
STAR TREK GAMING NEWS
Edited by Thomas Reynolds
Mudd's Multiversal Market Madness
By Shane Hoover
It looks like Harcourt Fenton Mudd has reared his profiteering head once again in the Star Trek Online C-Store. From June 10 through June 24, players who have about $150 burning a hole in their pockets can purchase the new Into Darkness and Beyond Choice Pack. Like previous Mudd's Choice Packs, you can choose three out of eight options including ships, upgrade tokens, C-Store coupons, or master keys.
Oh shut up, Dwight. Image: ViacomCBS, via CNET.
But if you wanted to buy them all...well, Cryptic has another purchase option, the MEGA Into Darkness and Beyond Bundle. That's right: for the eye-watering regular price of $600 you can purchase every one of the eight choices offered! But act fast–it's only $300, or 50% off, until June 24th.
That leads us to our next community question this week:
What are your thoughts on the Mudd's Market Into Darkness bundle? Did you purchase it–and if so, which options did you decide on?
Fleet Command Searches For The Next Generation
By Elio Lleo
Star Trek Fleet Command has dropped the second part of its Star Trek: The Next Generation arc with Section Patch 31. Featured in the update are new stories and missions to rescue Worf or Picard. Who will you choose to save first?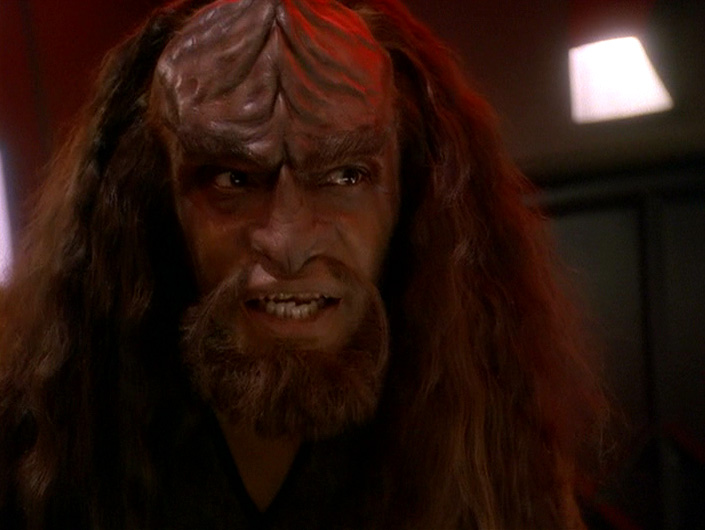 "Who? Never heard of them." Image: ViacomCBS, via Memory Alpha.
The new update includes new officers, new ship projectiles, fifteen new missions and more. Also, if you're eager to learn about the team behind the game, you can trek out their "Meet the Team" blog featuring Senior QA Tester Alannah.
It's the Armada's 8th Anniversary!
By Cat Hough
Image: Jason Smith, via Priority One Armada.
All during the month of June the Priority One Armada is giving away various prizes, and will have events for Armada members every Saturday–with even more prizes! June 19th is our 80s-themed costume competition. And you should definitely trek out the Livestream this week as we feature our new intro video produced by Anthony! This is a great time to join Priority One Armada with more than 5 billion in EC in prizes being given away this month.
Well, We Had To Cover Fortnite Eventually
By Elio Lleo
June 8th saw the release of a new season for the hugely popular battle royale shooter Fortnite. Why would Priority One Podcast care, you ask? Well this season sees the game's island invaded by aliens in flying saucers, and Fortnite has a well earned reputation for pulling in characters from all over popular culture. For example, this season sees Rick Sanchez of Rick & Morty [Drink! -Ed.] making an appearance alongside Superman. But the hot rumor in Trek circles is that Star Trek just might make an appearance on the island this season. Which makes a great Community Question for our listeners this week!
Are you hoping to see Star Trek characters in Fortnite? Who would you most like to see?
Quick Gaming News Roundup
Now, here are a few headlines that we didn't discuss but might interest you. Links, of course, will be in our show notes!
Time to head to Risa, break out your longboard and get ready for some dance contests! Star Trek Online announced that the Summer Event will start on July 1st this year. Expect some more announcements coming regarding the event ship and other new items that will be available in the event store.
Saxon Props on Twitter shared a Krieger Wave pistol build based on the Star Trek Online model, including using some clay models for the accompanying stand. It's always great to see the hard work of STO's artists, like designer Hector Ortiz, showcased in the real world.
Big news for ship artists this week with the announcement of selectable backgrounds on the PC ship builder. You can now green screen your favorite starship for art-based adventures.