Jun 5, 2021
This week on Episode 511 of Priority One: John de Lancie continues to drop some Picard Season 2 hints. In Gaming, we continue our review of the missions that brought the Klingon Civil War to an end in Star Trek Online. We also introduce a new contributor to the show: Dr. Michael J. Chan, with his analysis of "Chain of Command."
This week's Community Question is:
Which deep cut character would you like to see in the next season of Lower Decks?
Let us know on social media like Facebook, Twitter, or by visiting our website!
TREK IT OUT
Edited by Thomas Reynolds
Just Call It Q-meo Already
By Elio Lleo
We told you that you should keep an eye out for Cameo videos recorded by John de Lancie! Once again, he might have spilled the beans and potentially spoiled some character appearances in season 2 of Star Trek: Picard. In one Cameo, he shares what was scheduled to happen on the next day of filming, saying:
"...I've already been shooting, I've had some wonderful scenes with Patrick [Stewart]. It was nice, it was nice working with him again...and tomorrow, I'm...working with Brent. So, I'm really looking forward to that."
So, when he says he's working with Brent…does that mean we might see Alton Soong? A past version of Data? Remember, Captains, you can join de Lancie's Cameo Fan Club for free and watch the videos he records for fans!
No Small Parts In Lower Decks' Future
By Cat Hough
Mike McMahan, the creative force behind Star Trek: Lower Decks, has been offering up some interesting tidbits about Seasons 2 and 3 while promoting the recent Season 1 release of Lower Decks on Blu-ray. He told IGN that Season 2 picks up immediately with the fallout after the glorious battle of Riker vs. the Pakleds, Boimler's promotion to the Titan---and how Mariner, Rutherford and Tendi are dealing with all that. Speaking about his overall vision for the four main characters, McMahan says, "I know where I want them to end up. Let's watch together how they get there."
I see Shaxs and Kirk went to the same tailor. Image: ViacomCBS, via IGN.
McMahan also promises there are more cameo roles coming up, but he also indicated some of these could be deeper cuts from Trek canon, saying "So there are some legacy guest roles in the second season and in the third season as well but I think it's people you're not going to expect when you get them." Maybe we will finally get that sweet, sweet Roga Danar cameo?
But we we know who's the most important one. Image: ViacomCBS, via IGN.
That leads us to our first community question this week:
Which deep cut character would you like to see in the next season of Lower Decks?
Let us know in the comment section for this episode at priorityonepodcast.com or by replying to our community question post on our social media channels like FaceBook, Twitter, and Instagram!
McNamara Makes Her Exit
By Rosco McQueen
It could be one of those tapestry-type moments, where you pull at a thread and a whole different world would appear. In terms of enjoying Star Trek on the small screen and with new series in development, one of those threads that had a big impact was Julie McNamara.
Image: ViacomCBS, via Deadline.
For the last 15 years Ms McNamara has worked with CBS and ViacomCBS, her most recent role being head of programming at Paramount+. Deadline reported this week that she is stepping down from the role. In terms of the impact on Star Trek, Ms McNamara has been overseeing the original content strategy for the streaming service. Tom Ryan, ViacomCBS President & CEO, Streaming, announced the exit, saying "Julie's work and strong relationships with creators and talent led the way for the very first originals on CBS All Access, many of which are still top performers for Paramount+, including Star Trek: Discovery."
During her tenure at CBS All Access, which she joined as Executive Vice President of Original Content in 2016, she shepherded the new Star Trek universe (Discovery, Picard, Lower Decks, and the upcoming Strange New Worlds). We can only hope that her replacement works as hard to bring new seasons and series of Star Trek to the screen in the future.
Quick News Roundup
Here are a few headlines that we didn't discuss but might interest you.
If you've ever wanted to see Bill Shatner get punched in the face...well, now you can(?)! In a new commercial for CopperGel, Shanter squares up against the one and only Mike Tyson, begging to learn what it's like to be hit by a heavyweight champ: the heavyweight champ.
If you're a fan of Doug Drexler's work, you might be interested in reading a short interview featuring the Academy Award Winning special effects arts over on Air&Space Magazine. In it, he talks about his influences, his favorite Trek, and more!
Some exciting news for our sister show, Women at Warp, who just dropped an interview with Gates McFadden to discuss the launch of her podcast, Gates McFadden InvestiGates: Who Do You Think You Are?
STAR TREK GAMING NEWS
Long Remembered, Soon Repeated?
By Thomas Reynolds
"It was not well to drive men into final corners; at those moments they could all develop teeth and claws."

Stephen Crane, The Red Badge of Courage
The day of judgment dawns, as four would-be leaders face the slings and arrows of their outrageous doings. J'Ula leads the orbital assault of Qo'noS in the crosshairs of her own mycelial nightmare. J'mpok's dash for the throne turns his servitor races on each other–regicide is a booming industry in First City, and the player gets in on the ground floor. L'Rell races to the Great Hall before the mad Emperor can use "her" hydro bomb against "his" people. And Aakar probably wishes he got his hands on those personal transporters before the final bat'leth comes down. Ah well.
"A Day Long Remembered" ends the Klingon Civil War arc with the Empire under new management and a new face. Or an old face? Cloning is weird. Anyway, J'mpok's career (and life) ends after J'Ula and L'Rell make a disarming argument in favor of new leadership. Having made good on her deal with Fek'lhr–two conniving schemers for the price of one!–J'Ula hands the Chancellor's bat'leth off to L'Rell, picking up the Torch for her instead. At the final party, they talk about working closer with the Alliance of 2411–not a promise we'd expect from Klingons of 2255. Their mood is optimistic, but we've seen how easily the Empire shatters under the strain of remaining Klingon. And it's hard to shake the feeling that we'll be back here, knives in hand, all too soon…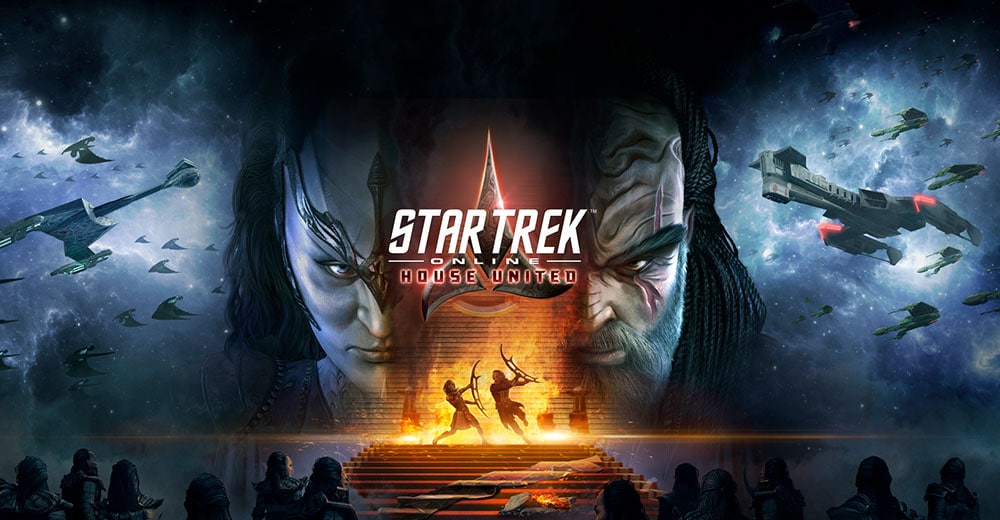 Image: Cryptic Studios.
A Command-ing Market Share
By Shane Hoover
Website PocketGamer.biz has run a short article in an ongoing series that examines market trends in mobile gaming. While the article is a sponsored piece by analytics platform App Annie, it nevertheless shares some interesting metrics that would impress even the Ferengi Commerce Authority.
Image: App Annie, via PocketGamer.
According to the article, the "City Battle Strategy" mobile gaming sector has raked in $2.5 billion in worldwide consumer spending in the first quarter of 2021. That represents a 60 percent growth over last year's first quarter. If you're talking about the U.S. market alone, the growth was 90 percent over 2020's first quarter. Of the top 10 intellectual properties in the City Battle Strategy category, Star Trek Fleet Command is sitting pretty in the top spot. So there's no denying that Fleet Command is raking in more gold-pressed latinum than Quark's shady schemes ever dreamed.