Apr 30, 2021
This week on Episode 506 of Priority One: We #TrekOut the latest news about a new Jeopardy! guest host (we'll take "Enterprise Engineers" for $200, thanks LeVar). John De Lancie teases more on Picard, and we really do mean teases. And in Star Trek gaming, the "Worf returns mystery" is finally solved, plus a screen-perfect pilot ship to power your season three Discovery dreams.
This week's Community Question is:
CQ: If you were writing for Geordi's return in a show like Star Trek: Picard, how would you set it up?
Let us know on social media like Facebook, Twitter, or by visiting our website!
TREK IT OUT
Edited by Thomas Reynolds
Mounting Anson-tipation
By Rosco McQueen
The warm embrace of Trek fandom is something truly unique. When you finally find it, it turns out it can change your world---one episode at a time. At least, that's the case for Anson Mount, who is currently filming the first season of Strange New Worlds. In an interview with Collider promoting his new film The Virtuoso, the new Captain Pike was asked about the episodic nature of the new series and explained how a misunderstanding from Akiva Goldsman started it all.
"All (Goldsman) had heard about [Discovery] was that it was going to be a pre-Kirk show, so he assumed it was a show about Captain Pike. He gets in the writers' room and he's like, 'Wait, what?! This is a different show. Okay, all right. We can play with this, but we've gotta do another show.' So, he was lobbying for it and lobbying for it and lobbying for it. I got lucky enough to be cast in the role for Season 2 of Discovery…I just thought it was a one season gig and that was it."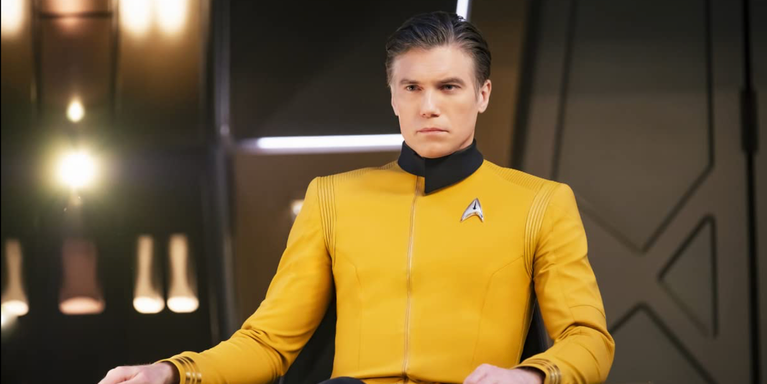 ...does anyone else hear Gilbert & Sullivan? Image: ViacomCBS via Collider.
Mount goes on to talk about the episodic nature of Star Trek, and how he feels there is room for both serialized stories like Discovery and big-idea-of-the-week episodes. It's quite the impact the character has had over only one season, as Mount goes on to express his gratitude for the welcome he received from fans.
"Honestly, I've never felt such embrace from a fan base, on anything I've done. It is really night and day, and I'm very thankful to everyone with Gene Roddenberry and CBS, and Alex [Kurtzman] and Akiva for putting a huge amount of trust in me to be able to do it."
Let us know in the comment section for this episode at priorityonepodcast.com, or by replying to our community question post on our social media channels like Facebook, Twitter, and Instagram!
Your Anomaly Must Be In The Form Of A Question
By Cat Hough
Remember all the way back to Episode 504 of Priority One? You know, the one where we encouraged you all to support LeVar Burton becoming the host of Jeopardy!. Well, the powers-that-be heard you---and the 246,000 other people who signed the petition. It was announced that Burton has been included in the latest slate of guest hosts for the 37th season of the show.
But who'll play him in the inevitable
SNL
sketch? Image: Variety.
According to the producers of the show, their goal for this season was to showcase a wide variety of hosts with "different skill sets and backgrounds on our path to finding a permanent host." As part of each guest host's appearance, a charity of their choice will receive a donation. Burton's episodes air the week of July 26. The other guest hosts on the list are:
Good Morning America and This Week With George Stephanopoulos anchor George Stephanopoulos (the week of July 12)
Fellow GMA anchor Robin Roberts (July 19)
CNBC Squawk on the Street co-anchor and former Celebrity Jeopardy! champ David Faber (Aug. 2)
three-time National Sportscaster of the Year award winner sportscaster Joe Buck (Aug. 9), who is known for covering NFL and MLB games on Fox.
A View To Star Trek History
By Cat Hough
Celebrating the guest host announcement, Burton appeared on The View earlier this week where he confirmed to Whoopi Goldberg that he will not be appearing in season two of Star Trek: Picard. However, he still leaves fans with some hope that he might appear at some point in future seasons, stating "I believe it is reasonable---in fact practical---to assume that Picard still knows these people. They're his friends. I think we might see more of his friends. At least I hope we do before this is all over."
The interview covered a variety of topics, including Burton's acting history. The two discussed his role as Kunta Kinte in Roots which aired to more than 100 million people around the world in 1977. They continued with Reading Rainbow, of course Star Trek: The Next Generation, and ending with his current podcast project, "LeVar Burton Reads."
If you want to imagine it happening like this, we won't stop you. Image: ViacomCBS.
Goldberg and Burton also spoke about inclusivity and the impact of Nichelle Nichols' role as Lt. Uhura, saying "because what it said was when the future comes, there's a place for us. And that's a huge message to send. I believe it's difficult if not impossible to grow up with a healthy self-image, unless you can see yourself in popular culture."
Ginning Up Support For Geordi
By Cat Hough
Obviously we, and those other 246,000 people who signed the petition, can't get enough of LeVar Burton. Even Ryan Reynolds recently sang Burton's praises. Well, he didn't literally sing, but in a new ad for Aviation Gin, Reynolds says he wants to prove how great a host of Jeopardy! that Burton would be and he announces that Burton is stepping in for him as the spokesperson for the gin. The scene then cuts to Burton sitting by a pool sipping a "out of this world" gin and tonic made with Aviation Gin. The two banter back and forth, with Reynolds proclaiming that Burton is a "goddamned national treasure." The ad ends with Burton telling Reynolds "this isn't going to work out, Ryan." If nothing else, the ad shows that Burton is definitely an excellent host.
That leads us to our first community question this week:
CQ: If you were writing for Geordi's return in a show like Star Trek: Picard, how would you set it up?
Let us know in the comment section for this episode at priorityonepodcast.com or by replying to our community question post on our Social Media channels like FaceBook, Twitter, and Instagram!
De Lancie Makes A Q-meo Appearance
By Jake Morgan
We may be grasping at straws with this story, but it features one John De Lancie---talking at us---so it's worth a mention (if ONLY to enjoy the thespian's charisma). In a post on the r/Television subreddit dated April 20th, user u/whatagirlygirl shared a Cameo video from Q himself. De Lancie seemed to be answering a few questions posed by the Cameo submitter---in particular "Please tell us Q gets to harass Picard?" To which the 73 year old De Lancie replied, with great fervor, "I do".
Had the exchange ended there, it probably wouldn't have made the show---though it still would have been well worth a watch. But---and you had to know there was a but---De Lancie continued: "And please tell us if Whoopie comes back you're going to harass her as well" "I will."
De Lancie didn't back-pedal, he didn't expound. He just left the possibility of a Q/Guinan reunion there, beautifully, in the ether. What does this mean? Well...nothing, really. But it's interesting. De Lancie addressed the question---which he could have avoided altogether---and answered it with gusto. Only time will tell.
STAR TREK GAMING NEWS
Edited by Thomas Reynolds
Going To Pieces For Book's Ship
By Elio Lleo
Captains, if you love barrel-rolling your way through the galaxy in your favorite pilot warship in Star Trek Online, but all of the available options feel a bit too connected, then this is the story for you.
Announced this week via social media, Grudge's ship… ahem… former-courier Cleveland Booker's ship, the Kwejian Pilot Frigate will be available in-game for PC players from May 4. It's agile! It's versatile! And its five forward facing weapons will destroy your enemies with style! (Extra cat friend not included. Available only through the Infinity Lockbox. Universal Console limited to this ship. Phaser cannons not upgradable. Consult your Chief Medical Officer to ensure this ship is right for you.)
This Tier 6 pilot warship also has an innate ability---that being, something you don't need a console for---Morph Reversal!! Much like Book's ship in season three of Discovery, this starship is highly maneuverable due to the detached…everything. Using the ability means you can swing your ship into the opposite direction using the morphing mechanisms. But the shuffling of the components will cost you: your weapons and auxiliary subsystems will be briefly disabled.

So IKEA makes starships now, I guess? Image: Cryptic Studios.
Other highlights include some sweet muti-part animations when performing Pilot Maneuvers, and a suite of 32nd Century Phaser cannons that have a chance to recover recharge time for your bridge officer abilities. The blog post also announced that the contents of the Angels Wake Lockbox have been rolled into the Infinity Lockbox.
...Ohh, That's What That Tweet Was About
By Elio Lleo
Last week we reported that Michael Dorn kinda broke the #StarTrek Twitter Community with a cryptic post about some kind of return to Starfleet. Well, not long after, we learned what it was all about!! In a tweet posted to his account on April 23rd, we learned that Mr. Dorn has lent his voice to Tilting Point's newest mobile game Star Trek: Legends. In the marketing post, we hear Worf sending out a distress call from within the Nexus.
So, at least we know for certain what that tweet was about now! But, why introduce a new starship to set the stage for the game? Well, during a press event, ComicBook.com reports that Executive Producer and Creative Director Amir Lotan explained "...we had to kind of set up that the Federation of Planets created this unique starship that's the only starship in the fleet that can go into that realm…we didn't want a starship that would be associated specifically with one of those shows or one of those eras."
So, if you're interested in trying out the game it's currently available exclusively via Apple Arcade for US$4.99 per month or US$49.99 annually. No word yet if we'll ever see an Android version on Google's Play Pass.