Mar 27, 2021
This episode of Mission Log is brought to you by Eaglemoss Hero Collector and the brand-new Official Star Trek Universe Collection. Get Star Trek: Picard's La Sirena for only $9.95 with FREE SHIPPING when you sign up today at priorityonepodcast.com/hero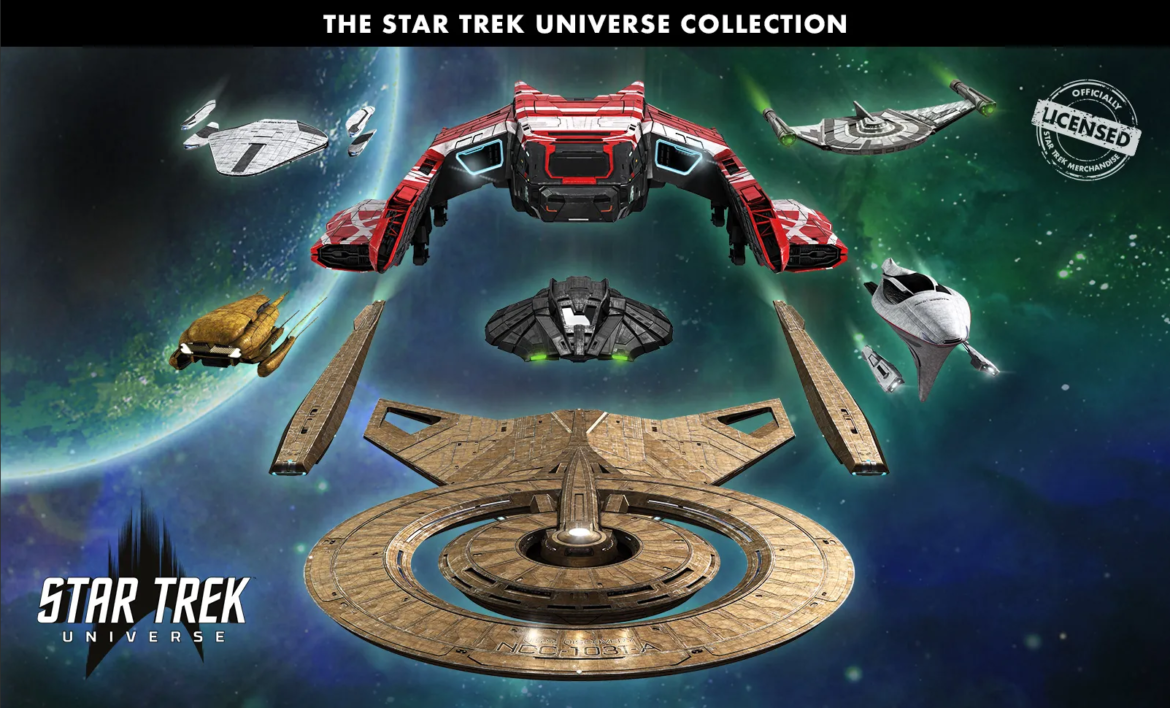 This week on Episode 501 of Priority One: upcoming documentaries, new writers take on Star Trek, and Nicholas Mayer is still pitching Trek ideas. Meanwhile in gaming, Star Trek Online is gearing up to celebrate First Contact Day!
Reach out to us on social media like Facebook, Twitter, or by visiting our website!
TREK IT OUT
By Jake Morgan
Strange New Worlds Is Officially In Production
Last week, Friday March 12th, big Strange New Worlds news dropped. In a post on StarTrek.com, the casting of five new series regulars was announced. Does anyone else think this is interesting? Five, five-hundredth. No? Just us? Okay.
The StarTrek.com article featured a video with the five new faces–Babs Olusanmokun, Christina Chong, Celia Rose Gooding, Jess Bush, and Melissa Navia–along with Anson Mount, Rebecca Romijn, and Ethan Peck. The video not only introduced the fresh new additions, it also officially announced the start of production on the highly anticipated Strange New Worlds.
Image: ViacomCBS, via StarTrek.com
Co-showrunner and Executive Producer Akiva Goldsman said in the article "In a career, there is never enough work that is pure joy. I feel that my friend Alex Kurtzman along with David Stapf at CBS Studios and Julie McNamara at Paramount+ have given me just that by letting me haunt the stock rooms of my favorite candy store and I am grateful. With a hell of a cast and undying love for The Original Series, we boldly go."
For more about the newest Star Trek regulars, or to watch the video referenced here-in, be sure to trek out the show notes!
"The Center Seat" Announced
Star Trek fans love a good documentary about, well, Star Trek. So if you're one of those Star-Trekumentarians, then our good news keeps getting better! The folks that delivered the popular Down to Earth with Zac Efron and The Toys That Made Us have announced their newest eight-episode mini-series set to air on The History Channel, The Center Seat: 55 Years Of Star Trek. And it's about...Star Trek!
Image: The Nacelle Company, via Deadline.
The project was created and directed by The Nacelle Company's founder and CEO Brian Volk-Weiss, who said of the series "Star Trek, from before I was 10 years old, gave me the closest thing I have to a code to follow in my life. If it wasn't for the words 'I don't believe in the no-win scenario,' I'd be very alone, broke, and miserable in this world. So to say this is a passion project would be a tremendous understatement."
According to Deadline, the project is described as the "ultimate deep dive into the world of Star Trek. Timed to coincide with the iconic sci-fi franchise's 55th anniversary this year, it will offer Trekkies a behind-the-scenes look at pivotal moments in the franchise's history — from its inception at Lucille Ball's production company Desilu through recent film and television adaptations."
No official release date has been announced, but keep scanning Priority One for updates!
Star Trek Gets A(nother) Movie Scribe
We love talking Star Trek movies. We love talking about possible casts, directors, writers. We love talking, over and over, about possible plots and would-be cameos. Love. It.
Okay, if that sounded a bit...let's say, facetious...it's because it was. On Thursday, March 4th, Deadline reported that a path has been re-chosen, and another writer is set to take the helm: Discovery scribe Kalinda Vazquez. Vazquez has served as co-executive producer on Fear the Walking Dead and, recently, teamed with Game of Thrones author George R.R. Martin to tackle an adaption of Roger Zelazny sci-fi novel Roadmarks. It is believed that this newest iteration will be independent of Trekantino and Noah Hawley's now-defunct pandeme-Trek. But beyond that, little is known about the project. Keep your ear on Priority One, we are sure to cover all the big movie news…
Nick Meyer's Movie Pitch
We love talking Trek movies...whoa. Déjà vu. But this Star Trek movie news–or maybe it's better to call it a talking point–is pretty exciting. On March 10th, friends of the Roddenberry Network Trekmovie.com reported that Star Trek legend Nicholas Meyer has pitched his own idea for Star Trek's next silver screen showing. According to the story, Meyer told Trekmovie "My partner Steven-Charles Jaffe and I wrote a whole treatment and plan for a Star Trek feature film. We didn't write a whole script. We wrote a very detailed treatment and a whole pitch doc with illustrations. It's a very comprehensive thing. And we first took it to Alex Kurtzman, then we took it to J.J. [Abrams], and then we took it to Emma Watts at Paramount."
Image: Paramount, via TrekMovie.com
Meyer clarified that the story was not a rehash of the Ceti Alpha story, but something entirely different before saying "It was a detailed proposal for what could have been a film, or it could have been a series, or it could have been a film leading to a series or a series leading to a film… It could be a series of films. Yeah, absolutely." Meyer continued, "This was an independent piece of the Star Trek universe based on holes in the chronology, which would allow for the insertion of original material."
The Wrath of Kahn Loses Face
Our colleagues at the Treksperts podcast recently hosted Edward Eddie Egan, who served as Wrath of Khan's unit publicist. He shared an interesting tidbit about the production, explaining that the ground scene on Ceti Alpha V with Captain Terrell (Paul Winfield) and Chekov (Walter Koenig) walking towards the "life sign." Those were actually stunt doubles–but the casting person was unaware that Paul Winfield was an African American actor, and didn't hire an African American stunt double to fill that position. By the time they got to rolling, according to Egan "they made a judgement to make the stunt double up as an African American." It was a conscious choice to move forward, until somebody informed the union during the shoot, and they found a proper African American actor to play the role. That's...insanity.
Colm Meaney's Chief Concern
We love talking Trek movies… hang on, are we in a time loop? We also love hearing from Trek actors and the inevitable question: now that we have new series like Picard and Lower Decks - would you consider a return to your role? Now who could be the most important character to consider returning? Thanks to Lower Decks, we know it must be…Miles Edward O'Brien.
Image: ViacomCBS, via StarTrek.com
In an interview with Collider, Colm Meaney spoke about his new Ireland-set crime story Pixie, but was also asked if he would consider a return for the Chief. Meaney responded saying "I've always felt that seven years in a space suit was long enough. I don't know. As you get older you kind of get a bit nostalgic about some of the stuff you've done in the past. It might be nice to go back and have a look at it again. Generally speaking over the years I would have been reluctant to go back to O'Brien, I have to say. But, you know, you never say never."
When Meaney was told about Mike McMahon's reference to Deep Space Nine's chief of operations being the most important person in Starfleet history, he responded by saying they finally got it right.
STAR TREK GAMING NEWS
Red Alert at Night, Captain's Delight
By Thomas Reynolds
From now through April 1st, Star Trek Online's having a party and you're all invited! No, it's not the First Contact Day event, but you really...wait, haven't we already done this bit before? Well yes, but Klingons have been getting a lot of attention recently, and STO's other sometimes-villains are feeling left out. Anyway it's another Galactic Red Alert Event! Everything's the same as before down to the SpecPoint, Universal Tech Upgrade, and Experimental Ship Upgrade prizes for completing it. Find the full event description and conditions in our shownotes...but by now, you know what needs to be done.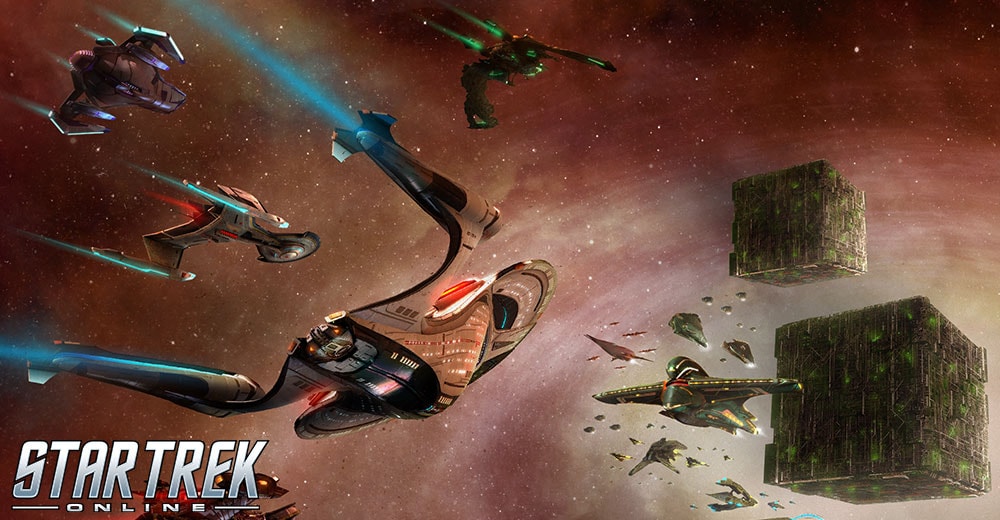 From Hell's Heart I Queue For Thee
Klingon opera: possibly the one art form in the galaxy that makes Wagner seem tolerable. But put the two together and you have one of the most inspired pieces of STO background music to date. For your listening pleasure, "To Hell With Honor" joins the permanent TFO list at Normal, Advanced, and Elite difficulty levels. And if the idea of Wagner puts you off...at least it's not Aktuh and Maylota. Yeesh.
You Never Forget Your First (Contact)
By Thomas Reynolds
Dust off the magic carpet and scan for chronitons: First Contact Day is upon us once more. STO turns its attention back to the Federation on April 1st (no, really), with event festivities running through April 22nd. Everything you loved from yesteryear's celebration returns, including the model rocket scavenger hunt and the "One Night in Bozeman" TFO.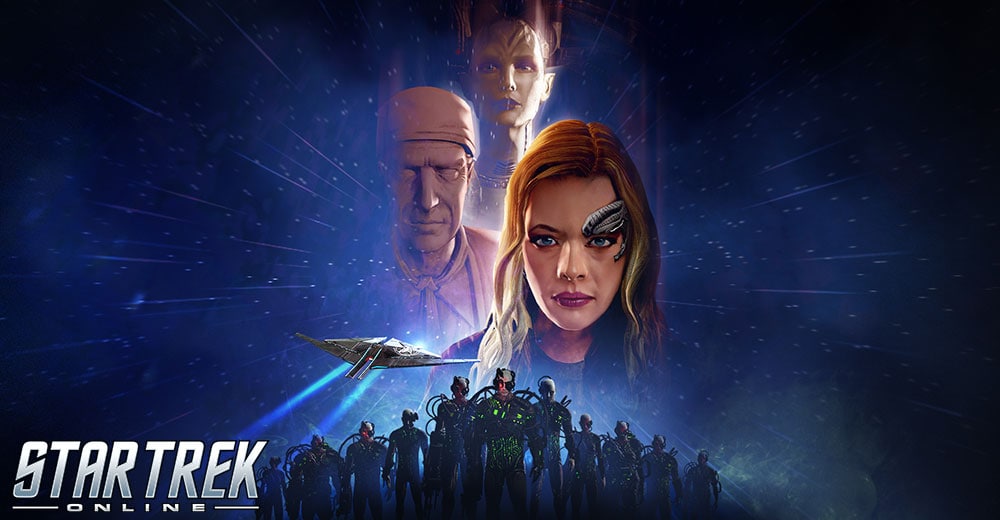 Image: Cryptic Studios.
But there's good news if orbital defense is more your speed, or you just really hate ground maps. "Synth Wave", the TFO set during Star Trek: Picard's Attack on Mars, joins the event line-up awarding Daily Progress. Picard also provides this year's Grand Prize ground weapon: the Martian Mining Laser last seen mass murdering on Utopia Planitia. What an…interesting way to commemorate the day humanity reached for the stars and found a helping hand.
Can We Get A Little Magic In Our STO?
By Shane Hoover
March 23rd marked the launch of Cryptic's newest open beta game, Magic: Legends. Up to now, we've mostly discussed Magic: Legends when STO developers have left STO to join the Magic team. But a bit of interesting discussion on the Magic: Legends Discord channel has us intrigued. Much like STO's Lockboxes, Magic: Legends has a monetization feature called Booster Packs. The first Booster Pack has been released, and the Grand Prize is a new character class called the Dimir Assassin. In a conversation entirely too familiar to STO veterans, Magic players were bemoaning their luck when opening Booster Packs. Some players declared that they had spent hundreds of dollars without winning the Assassin.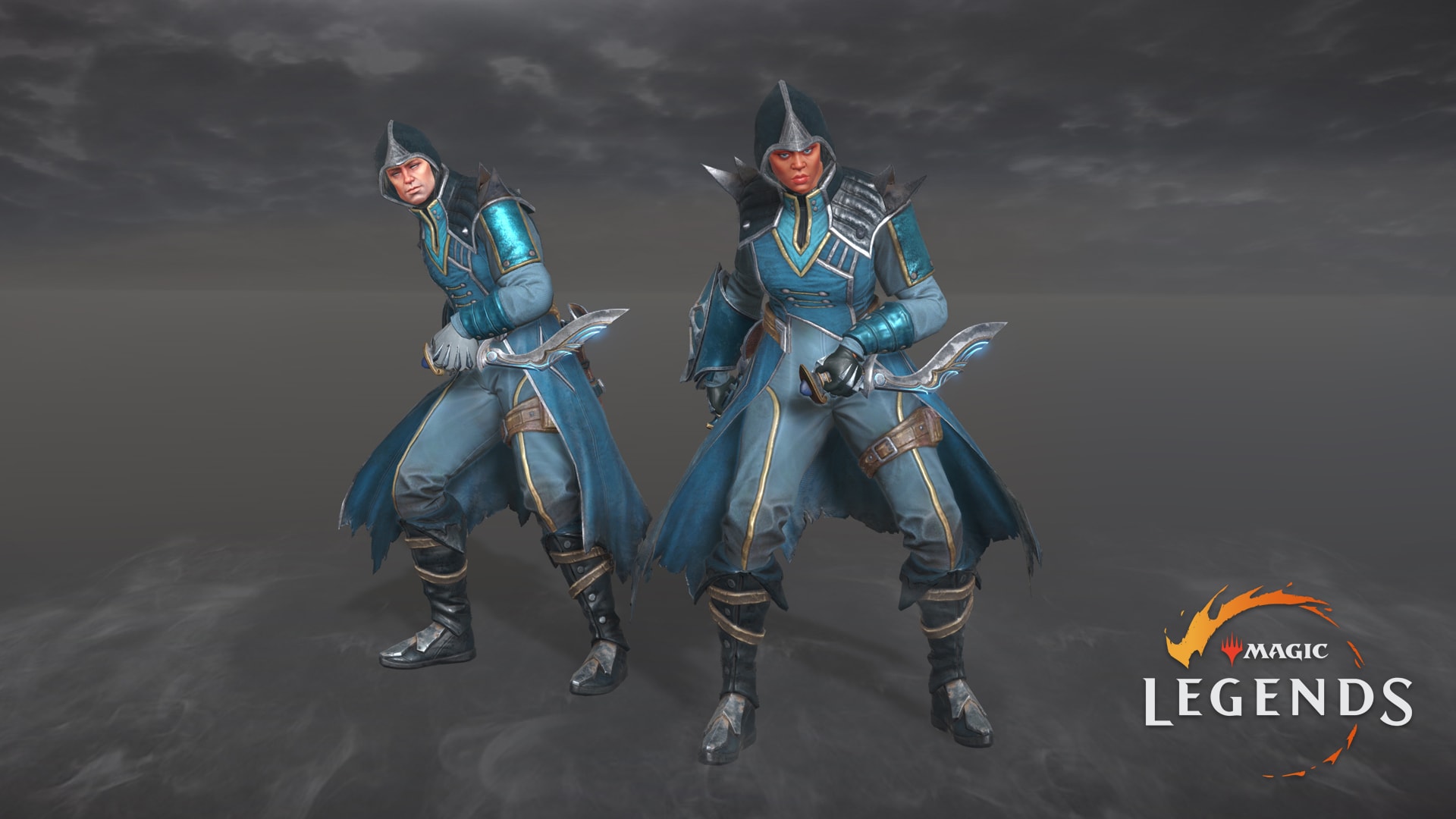 Image: Cryptic Studios.
Then a Cryptic developer named Cryptic_Misa dropped in with a comment. Misa, listed as a Senior Systems Designer, said "Each time you open a pack and don't get assassin, you you have a higher chance to get it in the next one, until it's 100%." So. Captains. If Cryptic are willing to engineer Magic lootboxes this way, why not STO lootboxes? What would it mean for Lockboxes and Promo boxes if the odds on the Grand Prize ship escalated?
Doomsday Dawns for Fleet Command
By Shane Hoover
They say there's no devil, but there is. Heading right for Star Trek Fleet Command. I saw it. The third and final part of Fleet Command's TOS arc is arriving, and it's bringing the fearsome Doomsday Machine. Players must fight to save the U.S.S. Constellation, and the galaxy, from doom. Along with the final phase of the TOS arc, the new patch brings some much anticipated new features. Chief among those is the "Refits" feature, which brings Captains the chance to customize their ships with new visual cosmetics skins or weapon fire effects. Some refits even provide performance buffs, too. TOS Scotty and Chekov are joining as new Rare officers. For all the details on what's new, Trek out Scopely's patch notes.
Questions of Rules, Matters of Honor
By Thomas Reynolds
If you picked up STA's Klingon Rulebook last fall, you might've noticed some changes to how the game works. Rest assured: according to the Continuing Mission fan site, you have not entered yet another alternate timeline in the franchise multiverse. CM member Mephit James has offered a succinct breakdown of the new Rulebook's mechanical modifications and clarifications. These'll probably be included as Core Rulebook errata in the near future, so Trek on over and get caught up.
Klingons Never Seem To Go Slow, Do They
By Thomas Reynolds
Core RPG rulebooks tend to be hefty and, at 400 pages, STA's Klingon rulebook's no exception. But who has time to read all that when there are battles to be fought, and glory to be won? For players short on time, funds, or attention span, Modiphius has a new Klingon-centric Quickstart PDF in their store. The Quickstart provides just enough direction to run the included adventure, "The Tip of the Bat'Leth," with six premade characters. You'll need to provide dice, tokens, bloodwine, and other Klingon paraphernalia–but hey, can't beat the Quickstart's price tag of nothing.
Image: Modiphius Entertainment.