Jan 9, 2021
This week on Episode 491 of Priority One: We 'Trek Out' a couple of interviews with Star Trek's Doug Jones and Sir Patrick Stewart. Chabon fleshes out some Troi-Riker backstory. Star Trek Gaming has been quiet over the Holidays but, Star Trek Adventures isn't oblivious to how table-top gaming has been affected by COVID. Later, we review Star Trek: Discovery's episode "There Is A Tide…"
This Week's Community Questions are:
CQ: Has Saru earned the same level of reverence as Kirk, Picard, Sisko?
AND
CQ: If 2021 introduced a new Star Trek Game-- what would you hope it would play like? Or if STO made sweeping changes, what do you hope they would be?
Of course, as always, before we wrap up the show, we'll open hailing frequencies for your incoming messages
Let us know on social media like Facebook, Twitter, or by visiting our website!
TREK IT OUT
Doug Jones Looks Back on Saru's Long, Strange Star Trek Journey
By Elio LLeo
On the heels of Star Trek: Discovery's third season episode titled "Su'Kal" --- Doug Jones is granted the opportunity to perform without layers of makeup --- io9's James Witbrook sad down with the actor to discuss his character's journey and relationships aboard the Discovery. Though it's a bit of a puff-piece interview, it definitely provides an opportunity to look at the character of Saru through Jones's perspective.
For instance, when asked about being the first alien Captain of the title ship, Jones replied "Don't think the gravity of that is lost on me. I know being the captain of a title starship in a Star Trek series—it's a badge of honor. That's huge, for me. But then also to be the first alien in that position is also...wow...there's a little bit of TV history here. And to be a part of that is truly, truly a humbling honor".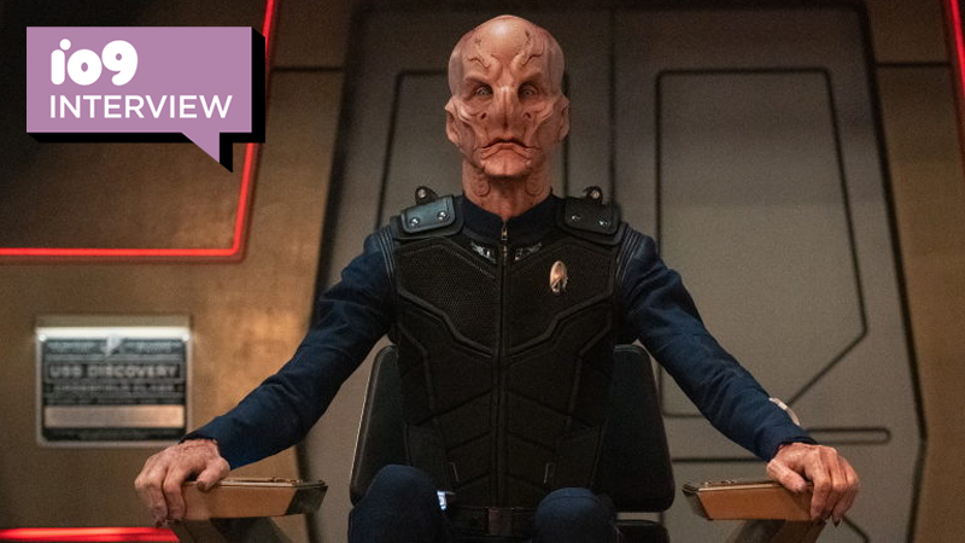 Which got me thinking… Are DISCOVERY viewers already immortalizing Saru in the same way we do Kirk, Picard, Janeway, Sisko? Perhaps, what's holding me back from elevating him to those standards is the choices that the writers have made with maturing his character.
The interview continued and, Interestingly, the follow-up dives into Jones's preparation: Where some actors are given an option to explore a long arch with the writers, Jones's prefers to explore the character much like we do -- episode by episode saying telling io9 // I've chosen to be...well, 'give me some essentials I might need to prepare for, otherwise, episode-by-episode I'm fine.' When I get a script, I'm like, 'ooh! What's this one?' I have no idea what's coming. So, when I first signed my first contract for the show—season one—I was Lieutenant Commander Saru, Science Officer on the Starship Shenzhou. I had no idea what was coming.
Sir Patrick Gets Personal
By Elio LLeo
In another interview, NPR's Sam Briger of FRESH AIR spoke with Sir. Patrick Stewart back in July about his reprisal of Jean Luc Picard in the new series, Star Trek: Picard on CBS All Access. During the interview, Briger asked Sir Patrick if he had revisited some old episodes of Star Trek: The Next Generation to brush up on the character to which Sir Patrick replied "I'm going to watch "Encounter At Farpoint," which was our pilot episode of the series. And I never did. I ended up never watching a moment of "Next Generation" because - OK, I would have been reminded of some things that I'd forgotten. But that character was inside me."
Given the plot fo S1 of Star Trek: Picard surrounding A.I., NPR's Briger then played Picard's monologue from TNG's Measure of a Man. Despite not having heard himself deliver the speech in over 30 years, Sir Patrick had quite a bit to say about his own performance. But, that's not the interesting part of his reply -- when reflecting upon the speech, he recalled a conversation with Whoopi Goldberg "And I don't know who was responsible for that speech, but I've got a feeling that there is one word in what we've just heard that actually didn't belong to one of the writers. I use the word slavery at one point, and that word was given me by Whoopi Goldberg. I remember when she and I - it might have been the same episode, "The Measure Of A Man" - I think it could have been - when Whoopi and I had a scene in the bar of Ten Forward. And in a break, Whoopi said to me, you know, what we're actually talking about here is slavery, and I think it wouldn't be a mistake to introduce that. And so I think that was why that word cropped up. And I was so thrilled that Whoopi had proposed it and so proud that everyone approved it and it went into the episode."
The interview goes on to discuss Sir Patrick's personal life -- including his youth and relationship with his father who likely suffered PTSD after serving in the war, his start in acting, and what's different for him now as an 80 year old actor vs when he was 35. It's a fascinating insight into the man, so be sure to listen to the entire interview over at NPR. Links - of course - will be in the show notes.
Chabon Talks Nepenthe
By Elio LLeo
Star Trek's had more than hundreds of writers, over 50 years, to invent its worlds and try to flesh out their inhabitants. So color us impressed–and heartbroken––that Thaddeus Troi-Riker invented an entire planet before he could've gotten a 21st-century driver license. Picard's season one showrunner Michael Chabon took to Medium to expand on Thad's early life aboard the Titan, briefly mentioned in the episode "Nepenthe", and his formative interactions with its diverse crew. It'd be in that early life, where "home" began at Fore and ended at Aft, that the linguistic prodigy started building his own homeworld. And as a natural linguist, he started with its language, Kelu – based on the crew's own native languages, and eventually adopted as the ship's unofficial slang.
Before his early death, Thad would build his fictional world of Ardani based on this early exercise in, well, world-building. And when we say world, we're not talking Ardani's mere geography: its resident civilizations (six in total), their languages (six, plus the four spoken by non-humanoid "animal" species), and over 5,000 years of shared cultural and political history. The link will be in the show notes – there's a Tolkeinesque-level of sociopolitical analysis to go through.
Now Elio, I remember you being unsatisfied by story content like this being put in novels and comics like Countdown, rather than on the actual shows. Nothing in Chabon's post is important to understanding Picard. And we never even get to meet Thad in the show because of his terminal case of Plot Syndrome. But do we leave Ardani feeling enlightened by what we've learned about the show, or frustrated by what we couldn't have in its 13-episode season?
Doohan Smuggled into Space
By Cat Hough
On December 19, Chris Doohan, son of James Doohan, tweeted that he had been keeping a secret for over 12 years. What was this big secret? Well, back in 2008, his father's ashes were smuggled onto the International Space Station. His father, James Doohan, better known as Chief Engineer Montgomery Scott, died in 2005 at the age of 85, had always wanted to go to space, so his son Chris concocted a plan to get him there.
He enlisted the help of Richard Garriott, who was one of the first private citizens to make it to the ISS. Garriott carried 3 laminated cards that included some of his ashes and a photo of Doohan. One of the cards was brought back to give to Chris and is now framed in his California home, another card, Garriott let float off into space, the other was hidden in the space station's Columbus module. Garriott stated, "James Doohan got his resting place among the stars."
Notable Notes
Star Trek Gaming News
by Thomas Reynolds & Shane Hoover
Is Today A Good Day For Dice?
By Thomas Reynolds
You're stuck at home. You've gone through your bookshelf twice. And your goldfish don't have any more good Netflix recommendations. Computer: set course for immersion.
If the pandemic has been a boon to anything, it has to be online gaming. But this crisis too shall pass, leaving tabletop RPG players wondering: is online play where it'll be at from now on? Are the days of dead tree sourcebooks, clacky dice, and actual physical interactions behind us? Apologies to our vast Vulcan audience, but the answer's a perfectly illogical yesno.
Michael Dismuke's recent poll on the Star Trek Adventures TTRPG Facebook site posed a simple question: how many players would stay online for their STA experiences? The benefits are clear: recent explosive growth of online STA platform support, relatively easier scheduling, all in the pantsless comfort of your own home.
The poll results were mixed, yet somewhat symmetrical. Half of the respondents (52%, technically) said they'd return to mixed platform play, while 18% said they were never going back or had always played online. Finally, 4% said they'd either stay on their online platform of choice, or never had used them in the first place.
But what the community universally appreciates is STA's unique roots in a hopeful message. As Dismuke notes, "While we sit amidst a bed of social unrest, Star Trek promises a better future where the problems of today have been solved in the 'morrow….[h]aving players walk away feeling like their characters have made a positive contribution to society is a big plus. Not all RPGs are designed to do this. Thank goodness we have STA. With respect to the dataset, we can conclude...meh. People will seek their own ways to the Final Frontier, we just want them to do it safely."