Dec 18, 2020
In the Star Trek Multiverse this week: We 'Trek Out' Star Trek Discovery's "cigarette-smoking man," Gersha's Mirror, how not easy it is to be green, and RUMORS. In Star Trek gaming, use the word Halcyon while previewing the new recon ships, before interviewing Star Trek Online's Executive Producer Andre Emerson. Then we look "On Screen" to review Discovery's Season 3 episode, "Terra Firma: Part 1"ry."
This Week's Community Question is:
CQ: What do you think of the Emerald Chain? Are they menacing, or do they leave something to be desired?
Of course, as always, before we wrap up the show, we'll open hailing frequencies for your incoming messages
Let us know on social media like Facebook, Twitter, or by visiting our website!
TREK IT OUT
by Jake Morgan
David Cronenberg is Back for Discovery Season 4
"The mysterious stranger" is a long running trope, but it's a pretty cool one. The cigarette smoking man from "The X-Files" and Strider from "The Lord of the Rings" come to mind, men whose motivations are always in question . Now Star Trek has its own mysterious stranger, and just like so many others, he's a riddle. We're - of course - talking about David Cronenberg's Kovich. This week, Cronenberg sat down with Variety to talk about his newest role.
The Fly, directed by David Cronenberg, Via Bloodydisgusting.com
Before the interview got rolling, Variety broke the exclusive news that Kovich - and by extension David Cronenberg - would not only appear in more season 3 episodes, but also return for Discovery season 4! The 77 year old Canadian director shared how he got the part of Kovich, telling Variety's Adam Vary "I'm cheap and I'm available. I live in Toronto, and it's being shot in Toronto. I think that's my main qualification. But I just got a note through people that I know, casting people, saying that [executive producer] Alex Kurtzman was really thinking of having me do a spot on the show. I said, of course, I'd be absolutely delighted."
Cronenberg noted that he was a Original Series fan, but only dabbled in the spin-offs - and hadn't watched any of Discovery before joining the show. He never expected to be a part of the franchise, and when asked if he had interest in directing an episode of Star Trek, Cronenberg said bluntly "No, really not. It's a very different kind of directing. It's almost like another job entirely, you know, and that's another thing that I was very interested to see. [...] If I do direct again, it wouldn't be to direct an episode of a series."
David Cronenberg as Kovich via Variety
Gersha Phillips Looks in the Mirror - Or Something Like That
SPOILER ALERT - if you haven't seen Star Trek Discovery season 3 episode 9 "Terra Firma Part 1", you may want to skip this story! Where starting...NOW
Much like Georgiou went back to the Mirror Universe, we are going back to Variety. Okay, the two really aren't that much alike, but you get what we're going for. This time around - at Variety, not the Mirror Universe - we hear from Discovery's Costume Designer, Gersha Phillips, and her re-imagining of the Mirror Universe uniforms.
Burnham Via Variety
Phillips talked about the challenges of her first go around with the Mirror Universe and her thoughts this time around, tellin Jazz Tangcay "It's supposed to be an alternative version of what took place the last time we were there the last time — the team said it was a few days before. The idea was the Emperor was in her prime. I called it the 2.0 version because this time we wanted to do it better. Last time, on our first pass there, we didn't have the time or budget. I talked about wanting to elevate everything."
In talking about designing Georgiou's look, Phillips may have dipped that Trek nugget, saying "We knew we were going to jump into the future because of Michelle Yeoh, and how she was getting out of our world and into the 'Section 31' world which is the next series, so it was an early conversation,"
If you're interested in costume design, Phillips dives deep into the process, so be sure to trek out the link in our show notes for more!
Georgiou via Variety
Janet Kidder Reminds Us It Isn't That Easy Being Green
It's not that easy bein' green
Having to pillage each day
Hearing whining and pleas
When I think it could be nicer
Stealing dilithium or gold
Without the moaning and griping like that
Poor Osyraa, all that belly-aching she has to listen to! This week, Osyraa actress Janet Kidder sat down with comicbook.com to talk about her time in the green make-up, and what's next for the leader of the Emerald Chain.
Image of Janet Kidder as Osayraa
Janet Kidder, niece of the late Margot Kidder, discussed Osyraa's motivations telling Jamie Lovett "The best for her people. How to create a powerful and a strong empire for the race that was typically enslaved. [...] I think it's about just striving to support her people. And I'm not saying that she makes the best choices in doing that. She's a tough cookie, but she definitely feels that she's doing it for the best for her people."
As for what's next, Kidder says "They can just definitely look forward to seeing more of her and possibly she puts on her business shoes later on, and you can see her actually stepping up and trying to put into action what she feels is motivating her. She'll be back. She'll be around. I think that she's a wonderful character and I just hope that everyone enjoys seeing her as much as I enjoyed playing her. And they'll see lots of fun stuff from her in later episodes."
Rumor Report!
Finally this week - it's the RUMOR REPORT! As is always the case, any story that shows up in the rumor report should be taken with a grain of salt - so with that said - Manifest!
Our first story comes from the Spanish speaking Star Trek website NacionTrek. On December 9th, the team tweeted an image of a sign that read "Strange New Worlds. Cast and Crew Testing Area". According to the translated tweet "The pre-production of #StarTrekStrangeNewWorlds in Mississauga, Canada. Filming will begin in mid-February 2021.". This hasn't been confirmed by anyone anywhere, so we're calling this a rumor; though the evidence - including production magazine listings - points to this being accurate. SQUEE!!!
Our next stop is Gossip site WeGotThisCovered.com. Scott Campbell is "reporting" that A-lister Chris Evan's is in talks to appear in Star Trek. According to the site "insider Daniel Richtman is claiming this week that Chris Evans is in talks to join Star Trek, but the tipster doesn't expand on the role in question or even which one of the many projects in development he's interested in.". That's it. That's the rumor.
Star Trek Gaming News
by Thomas Reynolds & Shane Hoover
A Re(con)naissance for Allied Shipbuilding
By Thomas Reynolds
Cast your minds back to the halcyon year of 2018: we were still hesitant about Anson Mount as Captain Pike (which in retrospect, whoo!). Picard had just been announced to great fanfare at STLV (which in retrospect, oof). And in 2411, Recon Destroyers hit Star Trek Online and proved that you could never have too many nacelles. The Lafayette and Kefka Ketha classes put a jubilant cadence in our hearts, yet allied factions were left out of the fun. At long last, Cryptic has addressed that imbalance with the Jem'Hadar Vanguard and Romulan Rahhae Recon Destroyers. Now Dominion and Republic captains can unleash hyper-trinary hell on unlucky targets in a faction flavor-appropriate manner. The Rahhae and Vanguard Recon Destroyers are, in all other respects, identical to their Fed and KDF counterparts. For our overall impression of the Recon Destroyer class, slingshot around to Episode 379 of Priority One Podcast.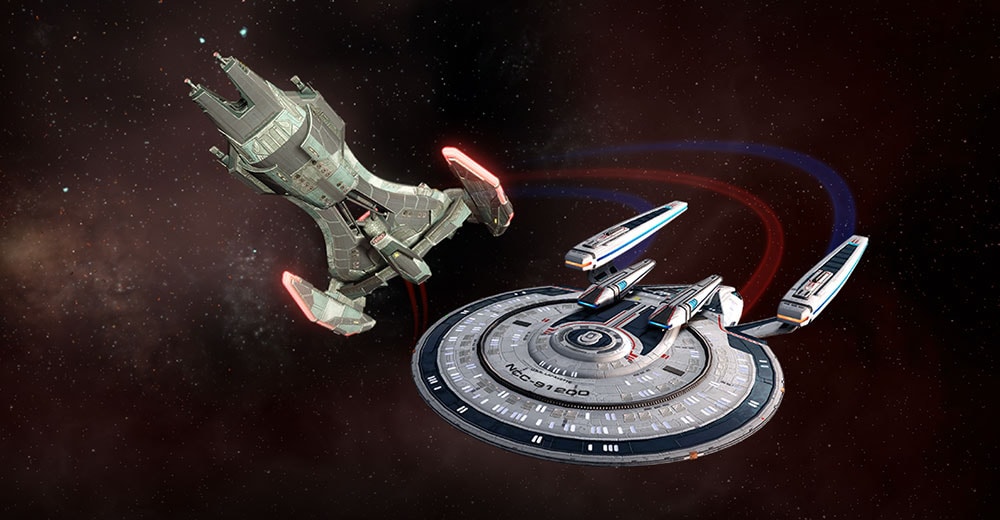 Recon Ships Via Star Trek Online
Ship Packs on Earth and Goodwill Towards Players
By Thomas Reynolds
Well captains, have you been good this year? Yes? No? Is humanity a dangerous, savage child race and all morality an artificial construct anyway? Who cares! It's time to buy stuff! Until January 3rd, Cryptic is selling packs of 3 T6 Ship Coupons and 3 Experimental Ship Upgrades for 7500 Zen. But before you drop that Zen, know that price will change during sales that just might happen during that time. You might want to wait and see if this already great deal gets even better.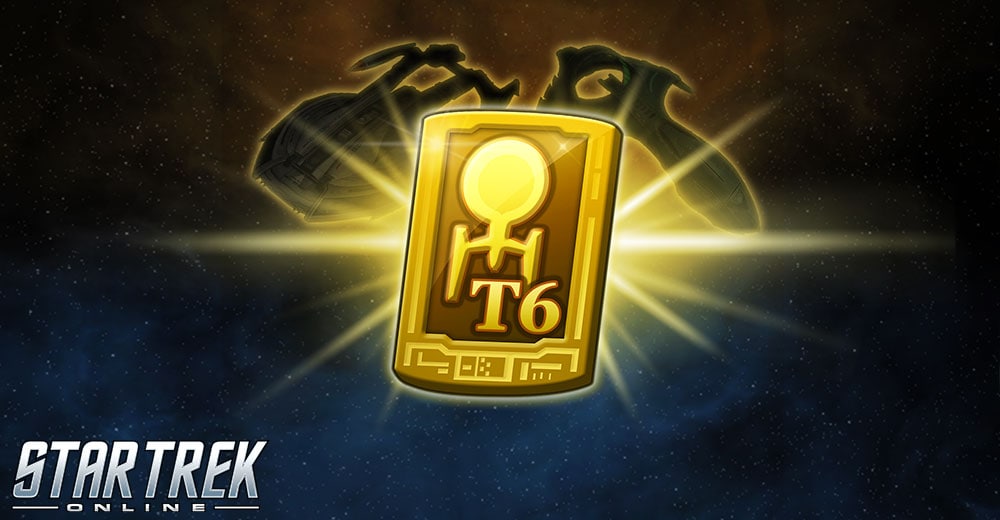 T6 Coupn image Via Star Trek Online
Do Bad Robots Make Good Games?
By Shane Hoover
As recently reported by Variety.com, J.J. Abrams' Bad Robot has made a significant hiring to boot up its in-house gaming studio. Bad Robot Games has hired Mike Booth to GM the new studio tied to the Bad Robot production company. Booth was most recently at Facebook as social VR director, though he's perhaps most well known as the creator and lead designer of the game "Left 4 Dead." Reporting to Bad Robot Games CEO, Anna Sweet, Booth is tasked with developing original games to accompany Bad Robot's film and TV projects. Booth has this to say about his new position, My career has been driven by a desire to innovate new ways of bringing people together for epic adventures online, leaving them with exciting stories they can tell their friends afterwards. The games I create center around people working together to survive and thrive in fantastic worlds, which seems an excellent fit for J.J. Abrams' approach to movie making.
Mike Booth Via Variety