Dec 11, 2020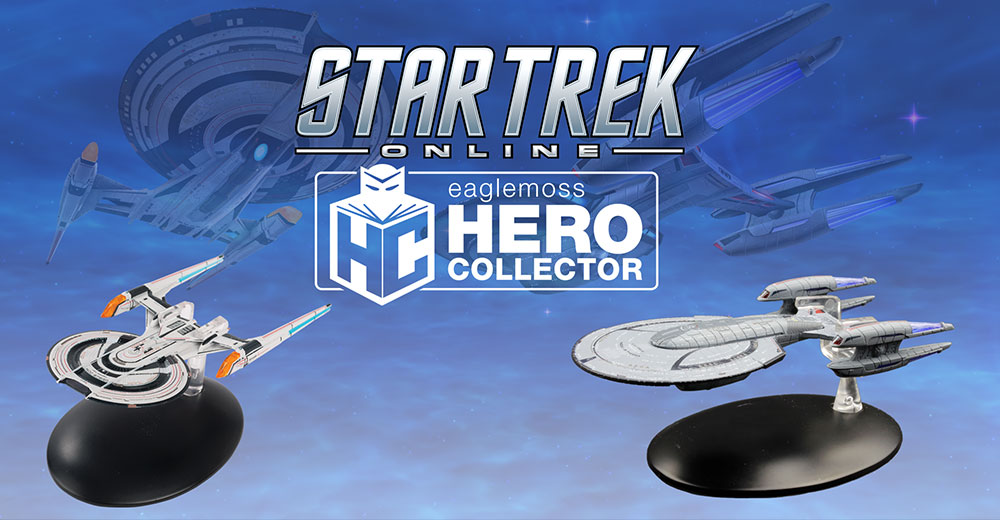 This episode of Priority One is brought to you by Eaglemoss Hero Collector and the brand new Official Star Trek Online Starship Collection. Check out all the exclusive ship models – including the U.S.S. Gagarin and the U.S.S. Chimera – at priorityonepodcast.com/ships and use code PRIORITY10 at checkout to get 10% off your purchase with FREE SHIPPING.
This week on Episode 489 of Priority One ~ We 'Trek Out' Mike McMahan's new deal, the start of Star Trek-ish-y filming, Manny Coto worship, and Star Trek actors get - wait for it - political *gasp* . In Star Trek gaming, we preview the new synth ship - but not the one you think- and we trek out the tribble giveaway. Then we look "On Screen" to review Discovery's Season 3 episode, "Sanctuary."
Of course, as always, before we wrap up the show, we'll open hailing frequencies for your incoming messages
This Week's Community Question is:
CQ: Are you more excited for Star Trek Discovery Season 4, Picard Season 2, Lower Decks Season 2, or The Orville Season 3?
Let us know on social media like Facebook, Twitter, or by visiting our website!
TREK IT OUT
by Jake Morgan & Elio LLeo
Star Trek Gets Political *GASP*
By Elio Lleo
Although the United States General Elections happened a month ago -- and Joe Biden is our President Elect -- all eyes are focused on the state of Georgia where a critical run-off election is about to take place in January. Two seats are up for grabs in the Senate… two. very. important. seats. So, just because you might have already voted, your state's been counted, and recounted, and counted again… that doesn't mean you shouldn't care about what's going on in Georgia… Especially when Star Trek gets involved.
On December 12th, a virtual event will take place with guests that include fan favorites from all generations of Trek. TOS's George Takei. TNG's Frakes, McFadden, Burton, Spinner. NuTrek's Pill, Cruz, Rap, Cabrera, Martin-Green. That's just naming a few. Headlined by one of Georgia's leading activists and former gubernatorial candidate, Stacey Abrams, the goal is to raise funds for the two Democratic Candidates, Jon Ossoff and Raphael Warnock.
For more information on how you can watch the event and show your support visit the ActBlue website and donate! According to Deadline "Tickets start at $5 per person, at the "Tribble" level, and rise to $500 per person at the "Vulcan" level. Proceeds go to the Georgia Senate Victory Fund."
Image of
U.S. Senate Raphael Warnock, left, and Jon Ossoff, right
Via Deadline
Mike McMahon Inks a New Deal With ViacomCBS
By Elio Lleo & Jake Morgan
So -- Star Trek: Lower Decks has had a couple months to simmer in the grander lexicon of Star Trek television. It turns out, the show, and its creator, are nowhere near being done. Variety's Will Thorne reports Mike McMahan has just signed a two-year deal with Paramount/CBS. The announcement was made by CBS Studios Senior Vice President Alec Botnick, who said of the signing "We feel so fortunate that Mike chose to partner with us for this next stage of his career. He is a true savant whose passion for and knowledge of animation is inspirational. Being able to be a part of his journey and helping him realize the stories he wants to tell, and how he wants to tell them is the reason many of us got into this business.".
The deal locks up the creator/writer for two years, and includes exclusive rights to produce all of McMahon's TV content. McMahon expressed his feelings on the signing, saying "I'm so excited to continue my television journey with my friends at CBS. I've always wanted to be allies with a corporation whose logo is a giant, unblinking eye. I think we'll be able to make some truly weird stuff together."
Mike McMahan via Variety
The Orville Restarts Production
By Jake Morgan
If Star Trek: Discovery or its counterpart Star Trek: Picard aren't reaching your nostalgic Star Trek itch, The Orville is likely your go-to back-scratcher - and if that's the case, we've got some good news for you. Season 3 has begun filming!
The Orville's official twitter handle tweeted on December 4th "And we're back! Season 3 filming has officially started. #TheOrville 💫".
The show's senior editor and co-executive producer Tom Constantino joined the Twitter fun, giving us a behind the scenes image of a personal-protective-equipment wearing crew hard at work.
Later, a mask-clad Chad Coleman - the one and only Bortus - hit Instagram with a video message proclaiming "Even Mockled's mask up!"
While no official announcement regarding release dates have been made, it is likely that we won't get to watch The Orville's third season until the end of 2021 - at the earliest. But it's nice to know it's coming!
Manny Coto Reflects on His Time With Enterprise
By Jake Morgan
If you've listened for any length of time to this podcast, you probably know our feelings on Star Trek: Enterprise's fourth season - right Tony? This week, the man responsible for some of that season 4 magic - showrunner and writer Manny Coto - sat down with Looper to talk about his prolific career, and reflected on his time with Enterprise.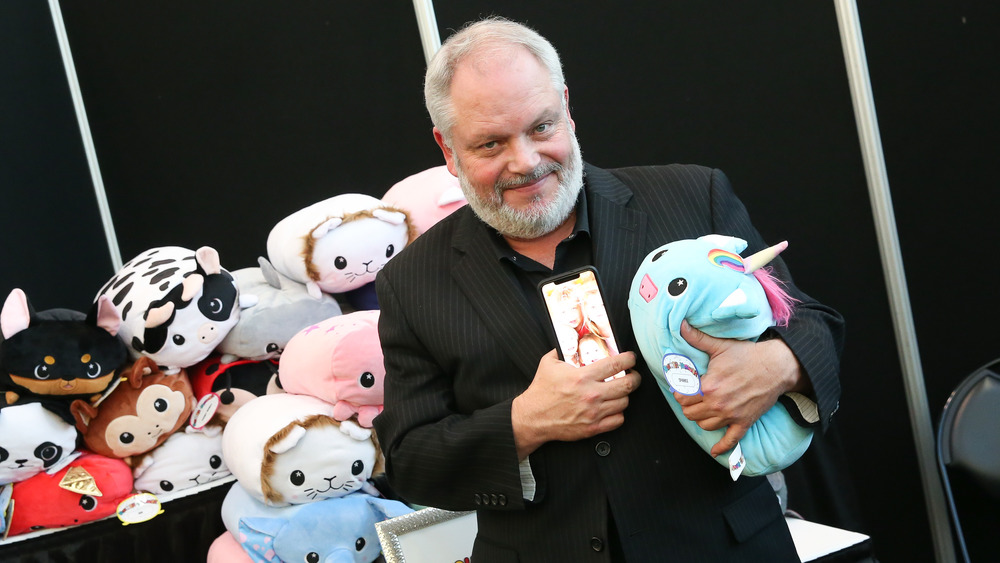 Manny Coto via Looper
Coto recalled that the series was all-but cancelled prior to his taking the reins, and he used the opportunity to tell stories he felt were worth telling. "my goal wasn't to really patch anything up; it was simply to kind of do the episodes that I would want to see because I knew this was going to be one season. [...] I knew and everybody knew that it was not going to come back. And Paramount was already thinking of the next incarnation. So, I just set about trying to have as much fun and do as many interesting episodes as I possibly could."
But did the experience of Captaining a damned ship sour Coto's possible return to the franchise? Would Coto return to Star Trek? "Oh, definitely. I would jump on it. I mean, Trek was what got me into the business as a kid and it's what... "got me in" meaning it's what I fell in love with that made me want to do this. And so, it's in my genes and I will never really properly escape it."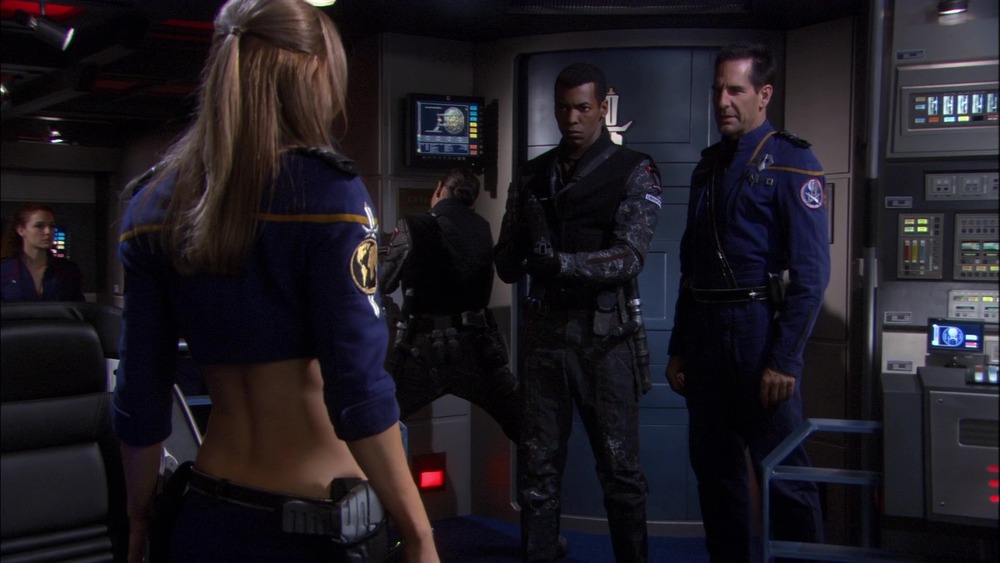 Via Looper
Star Trek Gaming News
by Thomas Reynolds & Shane Hoover
The Doctrine of Original Synth
By Thomas Reynolds
As the Angel's Wake Lockbox pops back into the far future, the Infinity Lockbox gains a new old ship with a somewhat checkered past. The Deimos-class Pilot Destroyer [T6], possibly familiar as a "synth frigate," reflects the 2411 Federation's focus on restoring older classes for duty. True, these ships took part in the 2385 Mars attack, but they were being piloted by suborned Soong synths at that time. Alliance engineers have retooled them for squishy organic hands now, so it's fine. It's fine! This is fine, everything's fine.
The Deimos sports the standard 5/2 Destroyer weapon layout with 3 device, 5 tactical, 4 engineering, and 2 science console slots. For organic commanders, it hosts stations for Commander Tactical/Pilot, Lieutenant Commander Tactical/Intelligence, Lieutenant Commander Engineering, Lieutenant Science, and Ensign Universal bridge officers. As a Destroyer it supports Experimental Weapons like the Kinetic Feedback Matrix, hitting targets hard and buffing Energy Weapon Haste with every hit. Like you'd expect, the Deimos' console is another weapon: an Immolating Phaser Lance that stores and fires off in charges like the Omega Torpedo Launcher. Finally the Deimos's Ship Mastery trait, "Formation Flying," summons two allied Destroyers that fire their Lances in time to yours, because the real treasure were the shipyards we destroyed along the way. Maybe.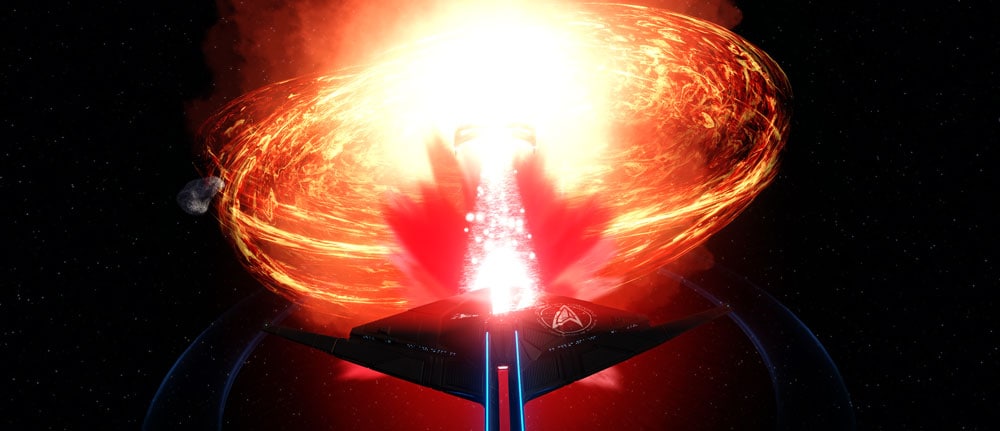 Via Star Trek Online
Note that the Deimos-class isn't the "synth frigate" we blew out of the Martian sky during the "Synthwave" TFO event. That synth frigate may or may not be part of the game in the future. Be sure to follow the link in our shownotes to see the proper ship model.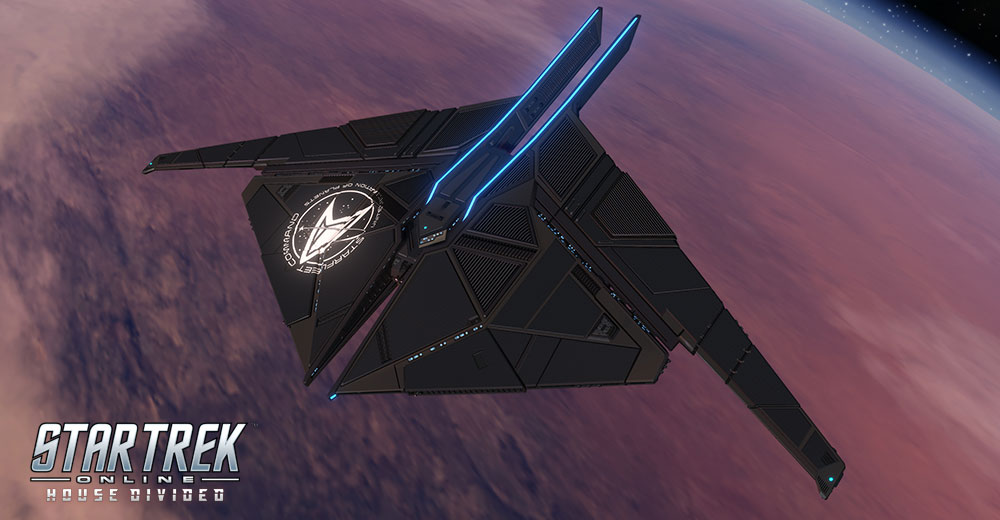 Synth Frigate Via STO
Winter Tribble Giveaway
By Shane Hoover
What's red and white, furry all over, and probably killed Edward Larkin? That's right, it's a Tribble! And from now until December 22nd, Cryptic and TribbleToys are running a sweepstakes to give a large Winter Tribble to twelve lucky winners. Each winner also receives a PC-Only code for an in-game Black Alert Tribble. Head on over to STO's tweet announcing the sweepstakes via the link in our show notes. Rumor has it Winter Tribbles are especially fond of peppermints and gingerbread. So keep it away from your holiday candy stash or you'll be up to your Santa hat in Tribbles.