Oct 31, 2020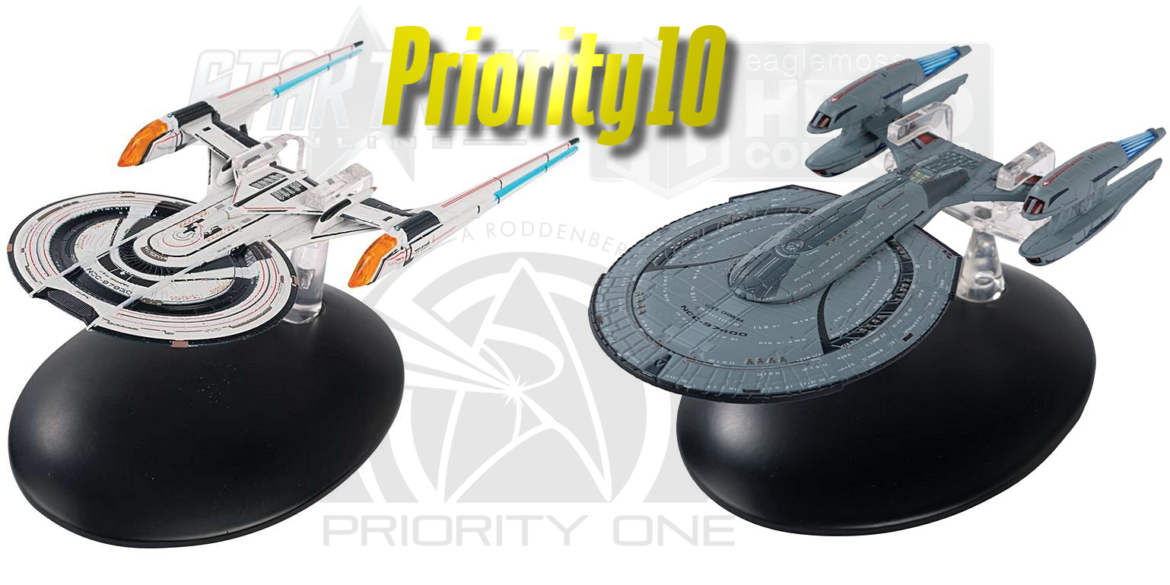 This episode of Priority One is brought to you by Eaglemoss Hero Collector and the brand new Official Star Trek Online Starship Collection. Check out all the exclusive ship models – including the U.S.S. Gagarin and the U.S.S. Chimera – at priorityonepodcast.com/ships and use code PRIORITY10 at checkout to get 10% off your purchase with FREE SHIPPING.
This week on Episode 484 of Priority One --- We 'Trek Out' Janeway's monumental day, a ProDigy Composer, Michelle Hurd's reference to Medea, and an itsy-bitsy-teeny-weenie-grayish-printed-ship-in-3D! In Star Trek gaming, we dive even deeper into Star Trek Online's "Partisans" before heading "On Screen" to trek out - "Far From Home"
Of course, as always, before we wrap up the show, we'll open hailing frequencies for your incoming messages
Let us know on social media like Facebook, Twitter, or by visiting our website!
This Week's Community Questions are:
CQ: What did you think of Star Trek Online's new episode "Partisans"?
AND
CQ: What has been the highlight of the Year of Klingon content revamps for you?
TREK IT OUT
by Jake Morgan
Janeway's Monumental Unveiling!
It was a cool, cloudy Saturday morning in Bloomington, Indiana. The spectators would have huddled closer, were it not for the virus - the Pandemic. But they gathered nonetheless, mindfully social distancing and donning the standard facial accoutrements. What kept them warm that brisk morning wasn't coats, or capes, or coffee - it was hope. Though to be fair, the coats, capes and coffee probably helped!
On Saturday October 24th, the Captain Janeway Bloomington Collective unveiled the reason for the gathering - the Captain Kathryn Janeway Monument and Statue. We told you about the fundraiser back in January, but here's a quick recap. The Captain Janeway Bloomington Collective fundraised for a proposed Captain Janeway Statue and Plaque to be erected at her fictional-birthplace, Bloomington, Indiana. The unveiling featured "A bronze sculpture atop a limestone base, plated in steel, as well as an accompanying educational display was designed to serve as a monument to Captain Janeway."
But what would the party be without the woman of honor? It'd be like a nebula without coffee. So, it was good that Captain Janeway herself - Kate Mulgrew - joined the unveiling via the magic of the internet. She shared that she is a first-time grandmother, thanked the attendees, and then she dished a bit about what brought her to the upcoming "Star Trek: Prodigy".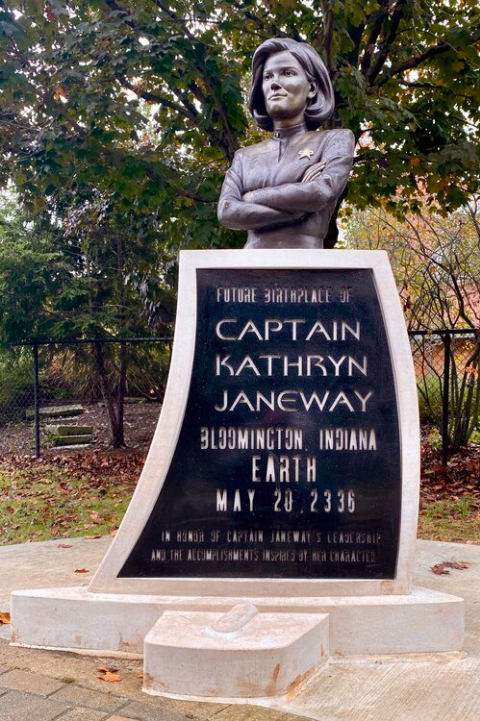 Photo Courtesy of janewaystatue.com
Star Trek Prodigy's Composer Announced
Speaking of Prodigy, Star Trek's newest animated series is looking - or sounding - like it is coming together. This week, another piece of the proverbial puzzle has been added - the series theme has a composer!
The Film Music Reporter announced on Tuesday October 20th that Israeli-Dutch composer Nami Melumad would Compose for the anticipated new series, Star Trek: Prodigy. The 31-year-old Melumad's recent work includes composing for Seth Rogen's "American Pickle", The Amazon series "Absentia", and Star Trek: Short Trek's "Q&A" - The one with Spock and Number One rocking "The Pirates of Penzance".
According to the article, "Q&A" isn't Melumad's only Star Trek association. "Melumad has also recently collaborated with Michael Giacchino on the score for the upcoming video game Medal of Honor: Above and Beyond, which is set to be released on December 11, 2020.". Giacchino, of course, is the composer of the Kelvin-Timeline films and Director of the Short Trek "Ephraim and Dot" - the one with a tardigrade and a robot rocking the history of the Enterprise.
Trek nuggets.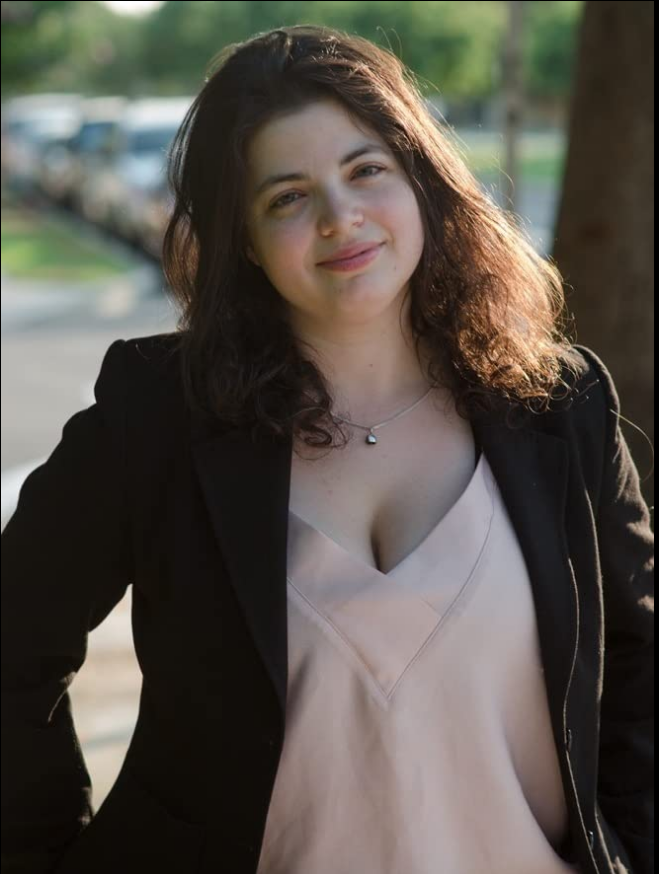 Photo Courtesy of IMDB
Michelle Hurd Talks With Inverse
Lower Decks wrapped, Discovery is airing, Prodigy has a new composer - but what about Picard?
This week, "Star Trek: Picard" star Michelle Hurd sat down with Inverse, and she shed some light on Picard's production timetable and - more importantly - on her character, Raffi.
In regards to when she plans on getting back on set, Hurd told Inverse's Jen Glennon "I believe we are going to be going back in January. That's the last thing I heard. So we're really excited about that. We just want to make sure that everybody's safe, and the protocols are in place so that we can keep our our captain as safe as we possibly can."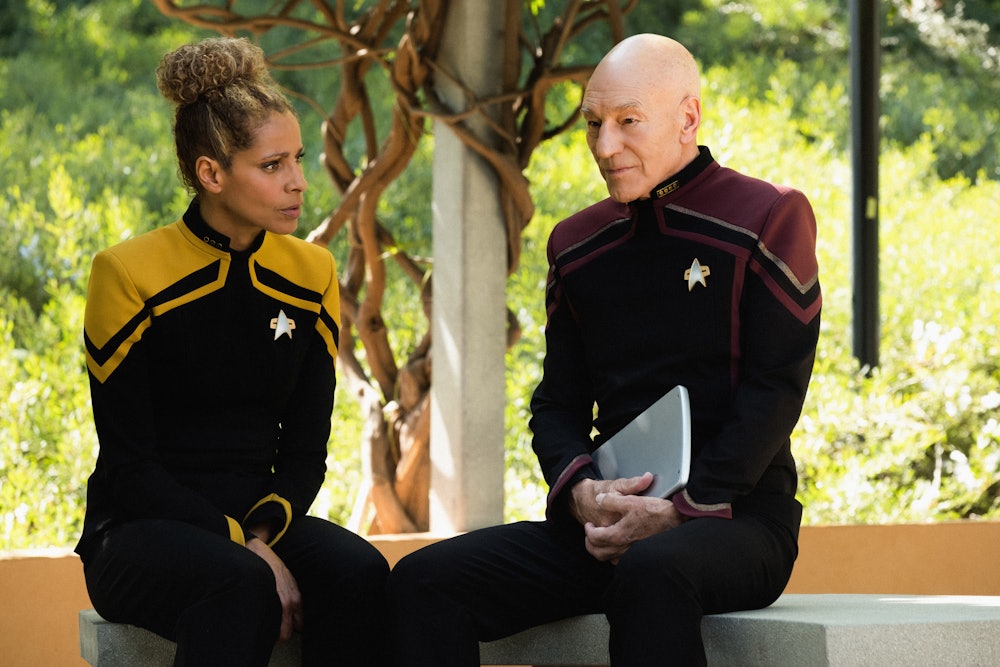 Raffi and Jean-Luc, before they both parted ways with Starfleet.Trae Patton/CBS
Hurd Talks More About Raffi
Hurd compared her character Raffi's journey - and rejections - to that of the tragic Greek character, Medea. "when Raffi makes that call to Starfleet, the last line of her friend saying, "Do me a favor, lose my number," that's another door that's closed. This comes right after her son — rightly! — tells her, "you don't get to be absent from the majority of my life, then jump in saying you're better."". Hurd went on to say "The truth is that everybody's story may not be as happy as we assume. People struggle, and we should take the time to have more patience and empathy for people who are hiding their pain. I loved that juxtaposition, of Raffi being very blunt, clever, dramatic and fun, when the reality was it was just a facade."
Hurd later discussed the budding relationship of Raffi and Seven, telling Inverse "I'd love to see a fluidity to their relationship. It's about connection — seeing someone, hearing someone, allowing those people to affect us — and acting upon that without judgment, without labels, without stigma. I have no idea exactly what will be happening in the future for Raffi and Seven. But I really have faith in the in the writers and their vision. I would really love to see that relationship taken to a place where that love is explored and embraced and celebrated."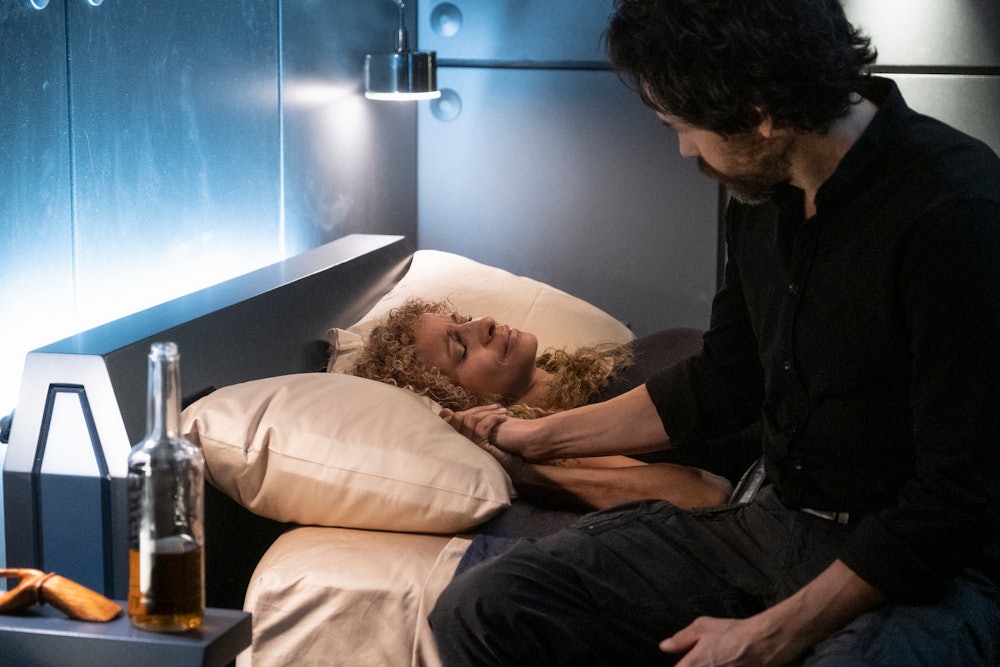 Rios (Santiago Cabrera) comforts Raffi after a double-whammy rejection from her estranged son and an old friend sends her reeling.Trae Patton/CBS
Tiny Voyager Flies!
Okay, Voyagers cool, but have you ever seen a self-propelled micro-Intrepid class ship? That's exactly what PC Gamer brought us this week, and it's just too damned cute not to share. But also SCIENCE!
When we say tiny, we mean TINY. This 3d printed Intrepid class vessel measures a mere 15 micrometers - that's about 0.0006 inches for our stubborn non-metric users. TEENY TINY. But, why would anyone want to 3d print such a itsy-bitsy-teeny-tiny starship? Artificial Microswimmering!
From the PC Gamer article, artificial microswimmers are "3D printed, synthetic "colloidal particles" (solid objects suspended in liquid) [that] have no moving parts, [but] instead [...] propel themselves through liquid by way of chemical reaction—platinum that reacts with hydrogen peroxide."
So now we know what a microswimmer is, but why bother making them? Researcher Daniella Kraft explains that research with ARTIFICIAL microswimmers could help understand BIOLOGICAL microswimmers. That includes white blood cells, sperm, and bacteria.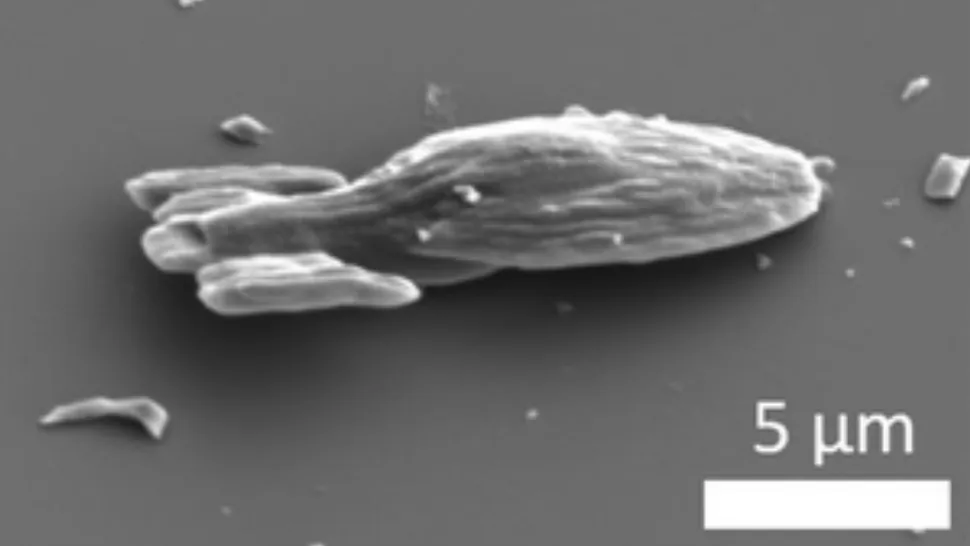 (Image credit: Soft Matter Journal)
Star Trek Gaming News
by Shane Hoover and Thomas Reynolds
Priority One Review: "Partisans"
By Thomas Reynolds
The latest episode in the Klingon Civil War arc, "Partisans" picks up sometime after the disastrous Khitomer conference. Adet'pa works her Witchy ways on J'Ula's behalf, digging up a ragtag team of scoundrels with hearts of latinum and very particular sets of skills. Together you venture deep into J'mpok's web of conspiracies to clear your name, and discover some fascinating new opportunities in pet ownership along the way. But the fight for truth, justice, and to remain Klingon goes disastrously well–and what you break might never be restored.
Mission Structure
In terms of mission structure, "Partisans" is familiar and unfortunately repetitive. Ground combat is favored over space, which makes sense for character-centric stories that take place in a few locations. However the fights in both environments get tiresome, as you protect NPC X from infinite waves of Enemy Y while they do Plot Thing Z. The bar fight on Nimbus feels even longer, as it lacks a clear endpoint, and then suddenly it's Oops! All Nausicans! Consider playing this mission in a team with AoE and control powers, so you can quicker pick off enemies that won't acknowledge your aggro.
Production Value
Production values are likewise familiar, following the overall improvement we've seen since Victory is Life. The voice acting quality varies between decent and excellent, with show characters turning in professional work and others sincerely trying their best. Whether Wilkins' heavy Southern drawl works for you or not depends more on personal taste than strength of performance. And we have to call out the impact of Westin's animation work in making collections of polygons look alive.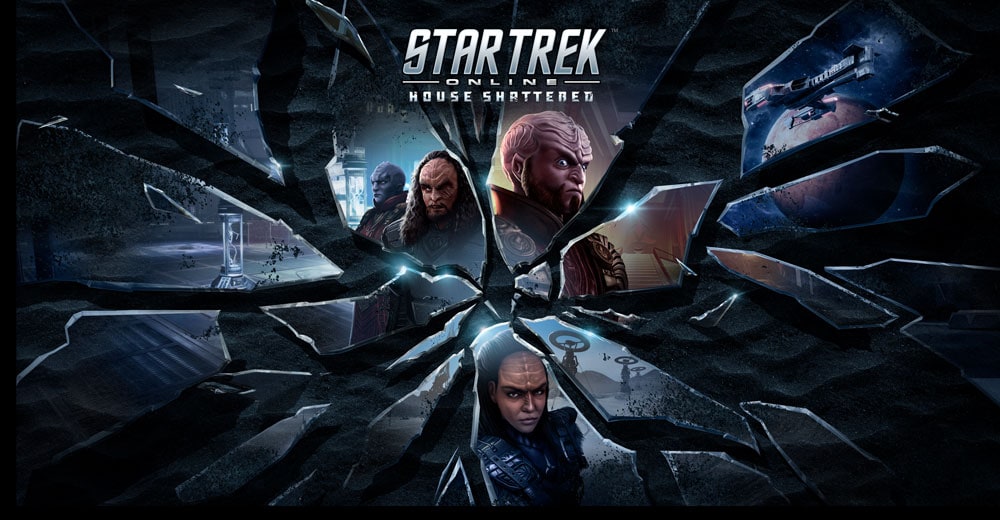 Storytelling
But what of the story itself? Star Trek Online's writing has always been one of its strengths, and "Partisans" is bookended with particular excellence. Opening the mission in Shangdu reinforces the permanence of this world, with all its minigun-wielding dancers and pet Vibriosaurs. These locations exist with their own positions and trajectories, even when we're not there to observe them. Besides, everyone loves a good bar fight.
On the other end, the narrative swerve into an Imperial free-for-all is intriguing and devastating. You might have expected J'Ula's broadcast to draw the final battlelines, as the Great Houses finally choose sides in the fight for the Empire's soul. Instead it precipitates a rush for the exits, with every House for themselves and J'mpok's ambitions vaulting ever higher. That's not the outcome we're expecting but, as contentiously fractured as Klingon society is, could it have gone any other way?
Conclusion
Just as much a surprise is J'Ula's transformation from a menacing figure to a tragic one. She's a violent anachronism, fighting for a worldview centuries behind us. Yet we pity her for her success, as her good intentions destroy the unity her brother died to create. Whether you yourself are Klingon or just an interested observer, the disintegrated Empire has no safe harbors–only knives wherever you turn. "Partisans" gives us no rock, no hiding place, and nowhere to stand in the coming storm. It is profound and staggering, and we can't wait to see what happens next.
Star Trek Online Year of Klingon Recap and Impressions
By Shane Hoover
At this point, we're well into Star Trek Online's "Year of Klingon". So let's take a quick look at the work Cryptic have done so far to freshen up some of the oldest Klingon content in the game. For starters, the art teams have brought their usual "A" games to this Year of Klingon party. This is one of the first things you'll notice if you haven't created or played a Klingon character in a long time. Right from the character creation wizards, you see all new, more detailed costume and character models. It may not seem like a big deal, but as you play through mission after mission you really appreciate it.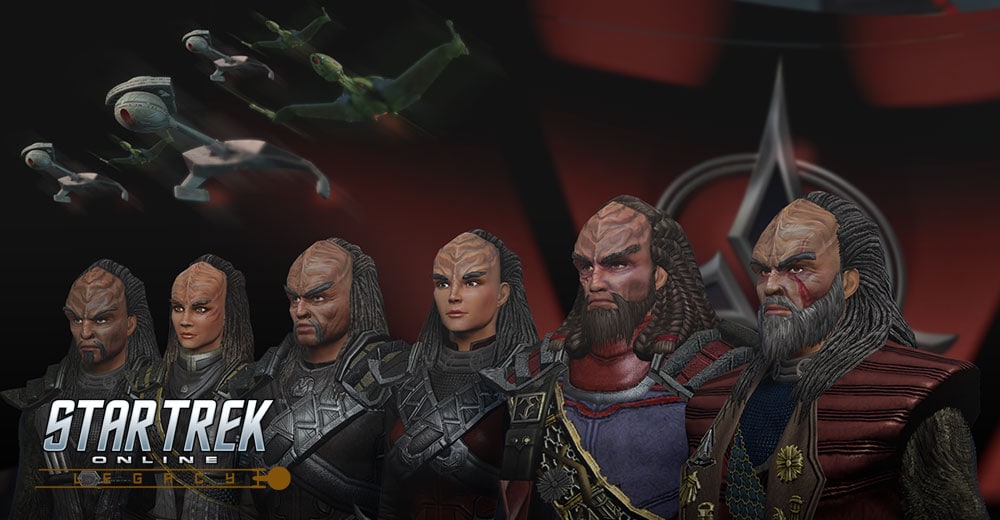 Year of Klingon - Star Trek Online
Art Updates
It's especially noticeable when you start encountering NPCs that have been around the game a long time. J'mpok has never looked so unlikable! Worf has never looked so… WORF! Then there are the old generic NPCs like Aakar, Sirella, and Adet'pa who are now modeled in amazing detail after their real voice actors.
The art updates certainly don't stop there, either. The environment art team have updated a lot of old maps for the Year of Klingon. Some parts of the Qo'nos social zone have been updated, like the sky and the lighting. There's even a new Great Hall map, but you only see that inside episode missions for now. The mission maps used in the Tutorial and the Empire and Warzone story arcs have been remastered, too. These new maps really go a long way toward improving the sense that you're playing a 10 year old game.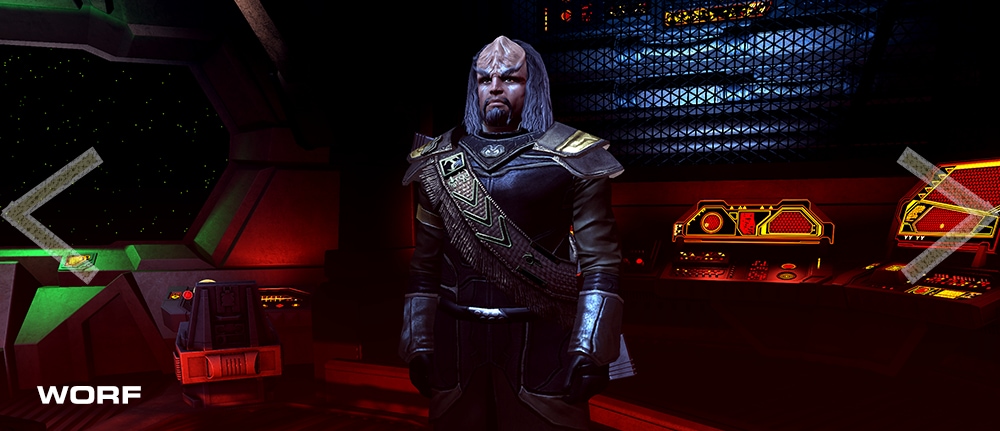 Reworked Mission Arcs
The other revamps they've made to improve that "really old game" feel are the reworked Klingon Mission Arcs "Empire" and "Warzone". In the "Empire" arc, the mission progressions aren't changed too drastically. But all of the new art, new voiceover work, and the amazing new cinematic cutscenes really stand out. The Khitomer and Rura Penthe ground maps are especially nicely redone. Then you hit the "Warzone" arc, and there's some real change in progression.
Where the old content often laid out mission objectives to leave you feel like you're covering as much of the map mileage as possible, the revamps give a much more streamlined progress. To that end, what used to be 3 different missions are now merged into one, "Mars, the Bringer of War". Instead of feeling like you're wasting time covering ground all the time, you're definitely moving the story ahead. And the story has some great improvements, too.
Klingon Culture
For one thing, it's clear that the writers wanted to deep dive more into Klingon Culture with the new revamps. As an example, they devoted an entirely new cutscene to the Klingon Ak'Voh funeral rituals. Which brings us back to those new cutscenes. This has to be one of the biggest improvements in the Year of Klingon. With the much more expressive facial animations and motion capture of STO's new generation of cutscenes, the drama factor gets kicked way up. Whether the High Council is arguing and slinging insults, or Torg is betraying the Empire with a knife in the back, or Worf is gripped with mourning, these new Klingon story beats feel a lot more invested than they used to.
There's still quite a bit to come from the rest of the Year of Klingon, too. So we're definitely excited to see what comes next!